What is flagging? What flagging certifications am I required to have?
What is flagging?
A "flagger" or "flagging" is a person on a construction site or zone who controls the flow of traffic. Flaggers maximize the flow of traffic while protecting motorists from accidents when the normal flow of traffic is interrupted due to construction, accidents, shipments or anything else that is disruptive to the normal operation of traffic flow in a location. Most states require any person that acts as a flagman or flagging and controls traffic to be certified by that state to ensure they operate within the guidelines set forth by that particular state. A permit is usually required to temporarily control traffic in any location. However, some circumstances require immediate action, thus obtaining a permit isn't probable. In this type of circumstance it is expected of the individual who decides to control the traffic have the mandatory certifications as well as appropriate equipment to do so. Since over-dimensional shipments have a higher probability of potentially creating a temporary situation where traffic may require a flagger to ensure the safety of motorists some states do require pilot car and escort vehicle operators to be properly certified by them and carry the tools required to do so with them when operating. In this article we'll have a look at what states require and expect of pilot car and escort vehicle operators while working in their states.
What flagger certifications am I required to have?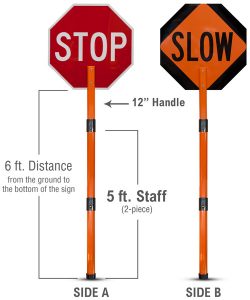 Every state we know of requires flagger certification for individuals and companies who intend on controlling traffic or acting as a traffic controller. Many community colleges offer affordable flagger certification classes that are approved by the state. Most flagger certification classes that we are aware of take a minimum of 40 hours of classroom time. If you are interested in becoming a certified flagger or traffic controller the best place to get more information is from the department of transportation or the department of motor vehicles. They should be able to provide you with contact information for state approved flagger certification programs. It is very important for anyone considering controlling traffic at any time to become certified as it is against the law to control traffic without proper authority. You may be able to contact your local police department for assistance in getting connected with a state certified flagger certification program if you are unable to get in contact with the Department of Motor Vehicles or the Department of Transportation. If you would like more information on obtaining your flagging certification or which states require certain certifications you can visit our regulations pages for more information.
What is the proper way to flag traffic?
Flagging traffic is a pretty straight forward thing to do. Obviously you want to protect yourself so you're not accidentally hit by any oncoming vehicles. Outside of that you want to follow basic standard procedures which seem to be fairly universal anywhere you go. You definitely want to make sure that the motorist has a good distance to see you in advance. We suggest a minimum safe distance of about 300 feet. This allows approaching traffic to have sufficient distance and time to reduce speed before they approach you. In urban areas where speed limits are lower you may not need to have such a long distance so use your best judgement.
Stand with your body facing the traffic on the edge of the road but not on the curb. So you should be just right outside of the traffic lane. Always stand in a location where you can see and be seen by approaching motorists.
If you just need to slow the traffic down position your flagging sign so the word slow are facing the oncoming traffic. Never wave or sign when using the sign always hold it up right towards the oncoming traffic so they can see the word slow. It needs to be clear to the motorist exactly what you are wanting them to do. The drivers should never have to guess what you want them to do so never wave your your sign. Simply hold it up straight and firmly with your body facing the traffic.
If you need to slow the traffic down so you can then stop them you will want to make sure your sign is facing them with the word stop on it from me nice clear distance. Let's for instance say you are chasing 120 foot long load and the turn radius will require the truck to almost come to a complete stop in order to make the turn then you are probably going to decide the traffic needs to come to a complete stop. In some cases you can use your freehand by holding it up in one position with your palm facing towards the oncoming traffic. This should instill confidence in the motorist that you are protecting them by wanting them to stop and that you are clearly paying attention to them. Always be very courteous and very brief. You will find over all being candid towards motorists pays off as they appreciate what you are doing for them.
Now let's say do you want to get the traffic moving again. You may decide if they need to move slowly to use your slow sign. In this case with your body facing the traffic flip your sign so the word slow is facing the oncoming traffic with your body. With your freehand you can also wave for them to proceed. Once you get the traffic flow going again simply lower your sign so it is upside down and below your waist. It's also a good idea to consider holding your sign below your waist with the flat side facing the traffic so they don't see either of the words slow or stop.
Keep in mind that some states may require you to set up as many as three safety cones or triangles and in some conditions even road flares near the position where you will be flagging from. So it's a very good idea to have your flagging certification so you are aware of the laws and can abide by them. This article covers just the basics and is by no means to be anticipated under any circumstances as state law. Each state has a specific set of rules and instructions that will need to be obeyed. Make certain you are familiar with the flagging and traffic control laws in the state you are operating in.