Trustworthy Excavation Equipment Transport
Excavation equipment is handy for construction sites, road work, mining fields, and more. Companies need a reliable company to ship excavation equipment to a different location once a project is done. Excavation equipment easily maneuvers around job sites but can't be driven over long distances. A professional and experienced excavation equipment transport company like Wide Load Shipping transports excavation equipment safely and delivers on time. The trailer used is determined by the weight and dimensions of your excavation equipment. Large excavation equipment is driven onto the trailer with care. A professional driver operates it, and the rigging crew on the ground guide him, ensuring it sits on the trailer safely before it's secured for transport. We offer transport services for single oversize excavators or bulk transport to ship several excavators at once. Let's ship your excavation equipment today!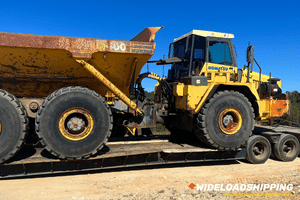 Uses of Excavation Equipment and Trailers Used for Transport
At Wide Load Shipping, we transport excavation equipment from all manufacturers. These include mini excavators, wheel excavators, midi excavators, hydraulic excavators, mobile excavators, long-reach excavators, and crawler excavators. Below are the uses of each excavation equipment and trailer used for transport.
Mini Excavators
Mini excavators help in the repair of sewers, digging holes, landscaping, demolishing small structures, digging swimming pools, plowing snow, and more. The best trailers to ship mini excavators include flatbed, hotshot, or step deck trailers.
Wheeled Excavators
Wheeled excavators are used for road work, scrapyard work, waste handling, material handling, utility installation, and much more. We transport wheeled excavators on a flatbed, step deck, or hotshot trailer.
Midi Excavators
Midi excavators are used to demolish asphalt, shape ground surfaces, drainage and utility trenching, demolish small structures and construction materials. We transport midi excavators on step decks, flatbeds, or hotshots.
Hydraulic Excavators
The uses of hydraulic excavators are to rotate, excavate, mobilize, load, move, and demobilize objects. We transport hydraulic excavators using RGNs or double-drop deck trailers.
Mobile Excavators
Mobile excavators are used for demolition, digging work, material handling and as a support frame for different attachments, such as ditch cleaning buckets and hydraulic hammers. We transport mobile excavators using flatbeds, step decks, and hotshots.
Long-reach Excavators
Long-reach excavators are used to demolish buildings, dig wells, do metro construction, and do river cleaning. We transport them using RGNs and double-drop deck trailers.
Crawler Excavators
Crawler excavators are used to excavate foundations, trenches, and holes, dredging, grading, landscaping, demolition, digging, picking, and moving debris. We use RGNs to transport crawler excavators from one location to another.
Transport Excavation Equipment with the Experts
Wide Load Shipping provides quality and stress-free excavation equipment shipping services. We fully insure your excavation equipment and make you a holder of the insurance cover. We understand that your excavation equipment is valuable, which is why we adhere to top safety standards. Your dedicated excavation equipment shipping expert gathers transport documents and dispatches your excavation equipment on time. We pull the shipping permits required to transport oversized and overweight excavation equipment. Permits are necessary when a load exceeds the maximum legal dimensions or weight for road travel. We provide pilot cars when shipping oversize and overweight excavation equipment to guide our drivers on the roads. This provides an extra measure of safety, both for the driver and for other motorists on the road.
How to Load and Unload Excavation Equipment on a Trailer
Loading and unloading excavation equipment is done with care to avoid any accidents or bruising. We use professional drivers familiar with your excavation equipment and rigging crews to guide them during the loading process. Excavation equipment is loaded on a trailer by driving it through a ramp at a slow speed for precision. Once the excavation equipment balanced, all the attachments are lowered, and the engine is turned off. It's then secured using strong chains or straps for transport. The unloading process is similar, but the driver reverses the excavation equipment over the ramps with the guide of a rigging expert on the ground. Small excavators aren't always driven on a trailer. Sometimes, they're lifted using a crane. Once the shipment is dispatched, our drivers make regular integrity stops to tighten the straps and chains securing the excavation equipment. Before we load excavation equipment on a trailer, we inspect it and fill out a Bill of Lading (BOL) form.
Your Excavation Equipment Delivered on Time
Wide Load Shipping works with expert drivers who have years of experience hauling excavation equipment. They're familiar with different makes of excavation equipment and the best routes used for safe travel and on time delivery. Our affordable transport rates are all-inclusive with no hidden fees. Several factors determine the cost of shipping excavation equipment, including the distance, route, season, mode of transport, size, and dimensions. In addition, we offer expedited transport for urgent excavation equipment shipping services at an added fee. Wide Load Shipping provides excavation equipment transport that's tailored to fit your needs. Ship your excavation equipment today!
Get Your Wide Load Shipping Quote!
Haul your heavy load with the best transporters in the industry!
Wide Load Shipping offered amazing services. They transported my excavator from Rhode Island to Louisiana and I couldn't be happier with the transport.
This was the third company I called. After having so many problems with the first two, I was grateful to find a hauling company that was professional and affordable. Will go with Wide Load Shipping every time!
I needed a last minute oversize load transport for cold milling machine. Wide Load Shipping expedited the permits, found a reliable driver, and got my freight delivered on time.