Does Your Forklift Need To Be Insured During Transport?
Insurance is the glue that keeps the transport industry running. The carriers are more confident while loading, transporting, and unloading your forklift because if something happens to it in the hands of a professional, the insurance company will compensate for the losses. Transporting a forklift without insurance is risky and stressful since you will be responsible for any damages incurred. Insurance is one of the qualifications of a professional and reliable shipping company. They will include your name on their insurance cover at a small fee, and the insurer will fully cover any damage that happens when your forklift is under their care. Wide Load Shipping offers transport insurance for your single, or multiple forklifts .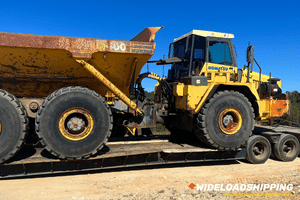 What's the Cost of Forklift Hauling Insurance?
When transporting a forklift, insurance costs vary depending on the model, manufacturer, year, and other factors. For example, the shipping insurance for the latest forklift model will be higher than that of an old model because of its high market value. Wide Load Shipping also offers forklift transport insurance to carriers who need to insure forklifts for transport. At a fee, we hand the carrier a copy of our insurance cover, and if a forklift is damaged while under their care, they can go directly to our insurance company to claim compensation. Having a copy of our insurance as a carrier or shipper means that you can contact the insurer before transport to confirm if your forklift is fully insured.
How to Claim Forklift Transport Insurance After an Accident
When a carrier arrives at the pick-up location, they will inspect your forklift and fill out a bill of lading form. That form shows the condition of your forklift before transport and is used at the drop-off location to confirm if it was delivered safely. Taking photos of your forklift is wise because you can make the comparison easy to see if there are new dents. If you confirm your forklift has been damaged during transport, contact the insurer immediately with a copy of our insurance to claim compensation. You should never sign a bill of lading form if your forklift hasn't been delivered safely. Otherwise, you can't claim compensation. However, signing a bill of lading at the drop-off location is a form of confirming safe delivery. To acquire forklift transport insurance with us, you can call, email, or fill out a form on our site.
Get Your Wide Load Shipping Quote!
Haul your heavy load with the best transporters in the industry!
Wide Load Shipping offered amazing services. They transported my excavator from Rhode Island to Louisiana and I couldn't be happier with the transport.
This was the third company I called. After having so many problems with the first two, I was grateful to find a hauling company that was professional and affordable. Will go with Wide Load Shipping every time!
I needed a last minute oversize load transport for cold milling machine. Wide Load Shipping expedited the permits, found a reliable driver, and got my freight delivered on time.