Boat shipping quotes.
Learn boat shipping basics.
To discuss our available options and opportunities contact us or get a boat shipping quote now. You could have new customers contacting you before the end of this day. Serious opportunity with a company that's been online 18+ years. More info.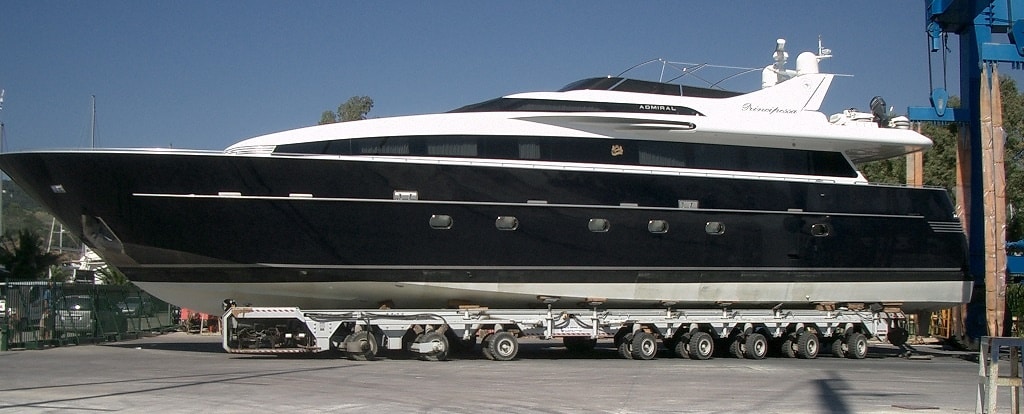 Boat transport.
We know when it comes to shipping your boat, you want the safest transport at the best rate. With the WideloadShipping.com network that is exactly what you're going to get. We'll help you figure out how to transport a boat, help you find reliable transporters at the best rates, and give you tips on preparing your boat for transport. If the waters get choppy, we're here to navigate you back on course with your boat transport.
Through our huge network, you can communicate with boat shipping companies direct, read ratings and reviews, see transport history, and get rate quotes all in one place. Create your listing with the needs of your shipment, the make, and model of your boat, and be as detailed as possible. Once you've completed your shipment listing, transporters who specialize in boat hauling will start sending you quotes as they compete for your business.
How to prepare to ship your boat.
There are a couple of things you can do to prepare your boat for shipping and ensure a successful boat transport. This includes securing any loose items and taking precautions to avoid travel damage. Before dismantling anything on your boat, take photos so that you have something to reference when reassembling the boat after the transport. Then, remove all personal items from your boat. Clean your boat's exterior and inspect for any damages. It is also advised that you have it inspected by a licensed marine surveyor.
1. Pick a loading spot that has a minimum of a 14′ clearance.
2. Secure all loose gear above and store it below the deck.
3. Close, secure and lock your boat hatches making sure to seal them to avoid any possible water damage.
4. All of your cabin windows will need to be latched shut.
5. Drain all water tanks and remove all of the drain plugs from the deck and hull as well as open through hull valves. You must completely drain every drop of fuel from the vessel or be faced with a very steep fine that only you will be responsible for.
6. Disconnect all batteries and secure any/all cables to prevent contact with any surfaces.
7. Measure your boat accurately to ensure it is exactly the measurements stated. A half-inch is not worth it when officials are verifying your dimensions.
How to properly measure your boat.
Providing the correct measurements for your boat will ensure you get safe boat transportation. We advise manually measuring your boat even if you have the manufacturing information from the owner's manual.
Overall Length is measured from the tip of the bow to the center of the stern. Include bow pulpits, swim platforms, motor brackets, and the length of the motors or outdrives in the raised position.
Overall Height is measured from the bottom of the keel to the highest non-removable part of the boat.
The beam is measured from the widest point of the boat, including the rub-rail.
The legal loaded height of your boat is required to be at or under 13'6″. If this is not possible, expert transporters can offer alternative choices that will require slower travel on non-interstate routes. If your boat is over 8'6″ wide, it will require an oversize load permit to be transported. A boat sized over 12′ wide will require a certified escort which will also add to your hauling charges.
The proper trailer to ship you boat.
Communicate with your service provider about boat transport trailer options, as they will need to know how you want your boat to be transported. You can have your boat transported on its own trailer. However, most companies can provide one for you.
Your Own Trailer: If you use your own trailer or cradle, you must take full responsibility for any damage or mishaps that may occur as a result of your trailer not being fit for transport. Be sure to inspect your trailer thoroughly, checking the securing devices, lights, and tires. Note: It is suggested that wooden boats be transported in their own custom cradle because these are made to spread the boat's weight properly.
The Carrier's Trailer: If using one of the transporter's boat trailers, discuss with them any specific details they may need you to comply with. Provide your transporter with accurate dimensions of your boat. The transporter will also inform you about how they will load and unload your boat. Research and inform yourself about the different options of boat trailers there are, as you may end up picking one company over another based on the boat trailer transport they offer.
How to ship your boat in North America.
Domestic boat shipping is the act of transporting a boat within the same nation. In regard to the U.S, this can be city to city or state to state transportation. Furthermore, when transporting a boat domestically, the most likely method will be through inland transportation. Depending on which state your shipment is coming from, there is a range of domestic boat shipping options available.
Below are several factors to keep in mind when deciding to ship your boat domestically:
Type of carrier needed for pickup and delivery.
The most effective route.
Required permits and insurance depending on the state.
Equipment needed during pickup and delivery.
Weather during transportation
Boating competition
How to ship your boat internationally.
When planning to ship your boat overseas, there are a couple of different options to explore:
Roll-on/Roll-off: Also called "RO/RO" allows your boat to stay on the actual custom trailer that was made for it. Your trailer is simply loaded onto the roll-on/off trailer and remains there from start to finish. This is a fairly popular option when shipping over water such as on barges or container ships for international boat shipping. The taller your boat is the more it will cost to ship it. In order to to keep your shipping costs at a minimum by reducing the overall height and volume of your boat. It is definitely worth your time to remove any towers, booms, wind generators, etc. Many people go as far as removing upper decks completely in order to save on shipping costs.
Enclosed Container: Most large shipping vessels carry these containers. You may want to choose this option if your boat fits within the standard dimensions (40' long, 7'10" high, 7'8" wide). Containerized services are usually much less expensive than RO/RO, but the height requirement includes any trailer height as well. Make sure to ask carriers about different containerized options available.
A flat rack trailer is typically used for shipping oversized boats. Every boat is shipped in its own custom cradle in order to properly secure it, strapped into the flat rack, and secured to the chassis of the vessel. It is highly recommended that items such as arches or the bridge be removed and safely secured. By removing bulking items you can save hundreds of dollars on your freight.
Submersion: Your boat is loaded and unloaded directly from the water.
Whenever shipping anything overseas, make sure to prepare any legal and customs documents ahead of time. A good place to start would be with the foreign embassies or consulates in the country to which you are transporting your boat for more information about proper documentation. By investigating and following the correct registration procedures you will save yourself from undue stress, wasted time, and any potential hazards.
Winterizing your boat before shipping is highly recommended. Failure to do so can result in ruined engines and interior damage. Shrinkwrapping is an option that is highly valued for keeping your boat clean and safe as well as provide a level of deterrence and safety while your boat is in transit. It is also a good idea to ship your valuable electronic components separately so they do not get "lost" during shipping.
As always, make sure you are comfortable with your shipper. Don't be afraid to ask questions about transporting your boat or asking for advice on how to best ship your boat internationally. Most carriers have decades of experience and can guide you to the cheapest, safest way to ship your boat overseas.
How to transport your boat using our services.
Navigating your boat shipment is as easy as 1, 2, 3!
1. POST YOUR BOAT IN ORDER TO GET MULTIPLE QUOTES.
When creating your listing, the first thing you'll want to know is your shipping needs and your budget. Consider your time frame and communicate whether your boat will be on its own trailer or if it will need to go on the carrier's trailer. When you're listing your shipment, you will need to know the measurements of your boat. The needs of boat transportation are partially determined by the measurements of your boat, so it is very important that the dimensions are accurate in your shipment listing.
2. CHOOSING  THE BEST BOAT TRANSPORTING COMPANY.
After you've got your listing up in the wideloadshipping.com marketplace, boat haulers will start sending you quotes as they compete for your business. Get to know the carriers by asking them questions in response to their quote and reviewing their carrier profiles.
Each carrier that uses wideloadshipping.com has its carrier profile with transport history, safety records, and customer-rated feedback. See the kinds of experiences previous customers have had with the transporters and review previous shipments completed through here. Most carriers also provide photos of their equipment. We encourage you to use these profiles to feel confident you're choosing the most reliable boat transportation.
3.  BOAT TRANSPORTATION AND DELIVERY.
Once you have selected a transporter, you'll receive their contact information so you can reach out and discuss any additional details, questions, or concerns directly with your boat hauler. Set up a good meeting place for pick up and delivery and share contact information for any third parties or marinas involved. Have payment ready at the agreed-upon time and let us know if you run into any issues.
How much does boat shipping cost?
The cost of boat transportation depends on the distance and the need for your boat to be safely transported. The average cost is around $60000 to $1,20000 for longer hauls and $150 to $350 for shorter distance transport. You get the idea.
Would you like to make a whole lot more money? I mean a lot more? Boat brokerage is serious and makes very large returns.
Lease this page with your number on it basically start our with a 16+ year website that takes huge traffic
See also:
Boat shipping quotes
February 1, 2021