Providing Insurance for Oversize Loads and Heavy Equipment Transports
It is extremely important to have the proper insurance for oversize load transport. A legitimate carrier will have you listed as a certificate holder by their insurance company. This ensures your equipment will be fully insured for transport. The coverage of your heavy equipment is based on its value. When you speak with a transport agent at Wide Load Shipping, they will inform you of our insurance policies. They'll also tell you how much your equipment will be insured for, and make you a certificate holder. While Wide Load Shipping always plans for a quality and safe transport, there are sometimes unforeseen circumstances, and having the proper oversize load transport insurance can give you peace of mind.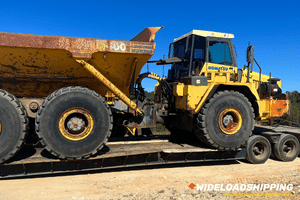 Reliable Oversize Loads and Heavy Equipment Transport Insurance
A Bill of Lading (BOL) is filled out at the beginning of each oversize load transport. This document notes the condition of your heavy equipment. You'll also want to take pictures. The driver will do this as well for their own records. If there is an accident, or something happens and your equipment arrives in a different condition than it was picked up, this needs to be noted on the BOL, and new pictures should be taken, to compare them with the equipment at pickup. The insurance company will need all of this information to ensure you're properly compensated for any damages that may occur. All of this is why working with a legitimate carrier company, like Wide Load Shipping, is imperative. You need full insurance coverage and an experienced team to ensure the safest oversize load transport possible. Call us now to ship your heavy equipment!
Get Your Wide Load Shipping Quote!
Haul your heavy load with the best transporters in the industry!
Wide Load Shipping offered amazing services. They transported my excavator from Rhode Island to Louisiana and I couldn't be happier with the transport.
This was the third company I called. After having so many problems with the first two, I was grateful to find a hauling company that was professional and affordable. Will go with Wide Load Shipping every time!
I needed a last minute oversize load transport for cold milling machine. Wide Load Shipping expedited the permits, found a reliable driver, and got my freight delivered on time.