NaviLow bridge height for pilot cars and trucking companies.
A few years back we realized that we would need to put together some sort of routing software that above many wishes for functionality would have bridge heights and utility obstructions. Bridge weights would be great too but will come in the future. Slowly but surely we've been collecting bridge heights on our own as well as got thousands of them submitted from you. We managed to save every single coordinate submitted and today that list continues to grow. With the anticipation of sharing this data someday we even came up with a name for it, "NaviLow". With the help of technology we are now able to collect this data faster and more efficiently than before which is why we created a free phone app.
With this free ad free app that is available for both Android and iPhone one can click a button that will automatically collect the GPS coordinates. Then select the height of the obstruction and click submit. This will send the height and location data to us pinned to a map that you can't see called a ESRI map for us to verify. Once verified it goes into our database that we will share with everyone else soon.
Types of overhead data to submit.
We're looking for all data that crosses over the road or highway. If it crosses over the road or highway or any other route a truck might take then we want to know about it. That includes bridges, power lines, traffic lights, cable lines, fast food and fuel island covers, trees, railroad bridges, you name it we want it. Anything at all over head that may come in the route of a truck.
Using the application in your phone.
First and foremost for your own safety we do not wish for users to use the program while driving. The best thing you can do is to pull over at the overhead obstruction and then submit the data. If not and you have a co-pilot let them handle reporting the overhead data submission. In most (if not all) states and provinces it is illegal to use your cell phone while driving and that includes texting or using apps. The reason we are gathering this data is for public safety and to prevent accidents. Let's not get hurt while collecting the data either.
At this point we're assuming you have already went to iTunes or Google Play and downloaded the application. It's a pretty easy what you see is what you get app. When you push the red button it collects your location data within milliseconds.
When you open up the current NaviLow APP in your phone this is the first thing you will see. When you click this red button it collects the Longitude and Latitude data from your location. The next screen will allow you to select the height.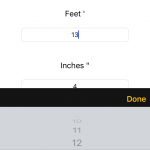 Once you click the red button and capture the data you will be taken to this screen which will allow you to select the height of the utility (or otherwise) obstruction you are reporting. Simply scroll down to select the proper height. Once selected you are ready to submit it.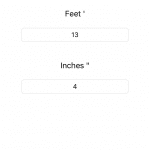 Once you have completely selected the height data for the overhead obstruction you are reporting your screen will look like this. In addition at the bottom there is a button that says "submit data". For some reason it didn't show up on our screen capture but it's there. Once you click this button of course it will submit the data and you will be completed. Below are a couple of other messages you may see.
If you see this you are fully completed with the overhead obstruction utility reporting process and can either close the app or wait until you come across the next obstruction you wish to report.
Make sure you have location data turned on for this individual application in order to capture your locations and for the application to work properly. If you see this error pop up you will know that location data is not turned on for this app. Simply go into your settings, locate the app and then enable it in order to proceed. You may need to restart the app after doing so.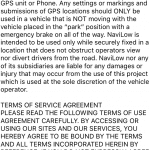 This screen is our terms of service agreement (TOS). It is located in the app as well as online. Make sure you agree to these terms before using the app. If you do not agree to them simply uninstall the application from your device and do not continue. The basics of our TOS is that we will respect your privacy and will not share anything other than the data collected with anyone else. You also agree to not use the application while operating a moving vehicle or machinery. It covers liability and usage of the product as well as other legal issues and you are encouraged to read all of it.
We hope that you will choose to participate in the gathering of overhead clearance and obstruction data. This information is good for the industry to have access to and will help reduce accidents as well as damages to both private and public property. If you have any comments, concerns or ideas that you would like to share with us please do so. Eventually in the future we will include more tools in the application and users will be able to see the location of all of the obstructions reported as well as update them and continue to report new ones as well as other functions.