Is My Load Oversize and Can You Ship It?
Yes! Wide Load Shipping can transport your oversize load. Oversize loads are freight, heavy equipment, or any type of cargo that exceeds the maximum legal load dimensions in width, height, or length. Because an oversize load is outside of legal dimensions, permits and other regulatory precautions are required for safe transport. Wide Load Shipping has over twelve years of experience transporting oversize loads. Our website provides solutions for all shipping needs, and resources to inform you of what to expect. Wide Load Shipping provides everything for oversize load transport, including permits, pilot cars, load assistance, and more. Speaking with one of our oversize load transport agents is the best way to have all your questions answered and get the process started. Call now for an oversize load transport quote!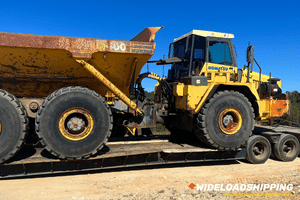 Oversize Load Minimum Dimensions
Oversize loads may vary from state to state, but there are standard dimensions you can go by.
Width of 8.5ft or more.
Height of 8.5ft or more.
Length of 50ft or more.
Weight of 46,000lbs or more.
Travel Restrictions for Oversize Load Transport
Certain states may have hourly restrictions for oversize load transport, which is why it's imperative to work with a company that has the necessary experience and knowledge. For instance, if an over-width load is wider than 12ft, it may have extra restrictions, such as travel time restrictions. These types of oversize loads often require pilot cars or escort vehicles as well. If your load is more than sixteen feet wide, it generally falls into the super load category, which requires even more regulations for safety. There are several factors that go into oversize load transport. Wide Load Shipping handles every aspect of oversize load shipping.
With our expertise and experience, Wide Load Shipping transport oversize load with top safety standards. Your dedicated transport agent will pull the proper permits, provide pilot cars, and any other amenities you need for oversize load shipping. We provide step-by-step instructions on how to prepare your heavy equipment for transport. Everything you need is included in your oversize load shipping quote–no hidden fees. Call Wide Load Shipping and get your oversize load transport rate today!
Types Oversize Load Freight and Equipment
Construction Equipment: excavators, bulldozers, cranes, and more.
Aircrafts and Fuselages: airplanes, helicopters, wings, fuselages, and more.
Agricultural Machinery: tractors, combines, loaders, and more.
Railroad Equipment: box cars, cabooses, rail gear, and more.
And much more!
Get Your Wide Load Shipping Quote!
Haul your heavy load with the best transporters in the industry!
Wide Load Shipping offered amazing services. They transported my excavator from Rhode Island to Louisiana and I couldn't be happier with the transport.
This was the third company I called. After having so many problems with the first two, I was grateful to find a hauling company that was professional and affordable. Will go with Wide Load Shipping every time!
I needed a last minute oversize load transport for cold milling machine. Wide Load Shipping expedited the permits, found a reliable driver, and got my freight delivered on time.