Professional Overweight Trucking Services Across the Country
Transportation of overweight loads is time-consuming and requires a lot of planning and resources. Therefore, it's advisable to always use a reputable professional like Wide Load Shipping. With over 15 years of experience, we understand the requirements for successfully transporting overweight loads. Our team of specialists is experienced and ready to process your overweight load transport request any time of the year. We transport overweight loads across North America and worldwide. Our services are business to business, port to port, business to port, port to business, and any other location of your choice.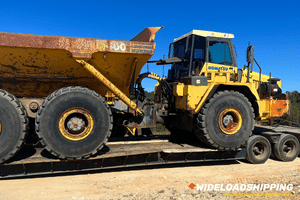 Transport Your Overweight Load on the Right Trailer
When you book with us, an expert specializing in transporting your overweight load is assigned to your shipment. They will gather all the necessary shipping documents, identify the best trailer for transport depending on the weight and dimensions of your overweight load, pull permits, and dispatch your shipment on the agreed date. Working with a specific expert is advantageous because you can contact them anytime for updates. That way, no important information is lost. In addition, Wide Load Shipping will fully insure your overweight load for transport. We add each client's name to our insurance cover so that if their overweight load doesn't arrive safely, they can claim compensation directly from the insurer. We understand overweight loads are expensive, and we handle them with the utmost professionalism to avoid damage.
Affordable Overweight Load Trucking Services
When our carriers arrive, they will inspect your overweight load and fill out a BOL form that's later used to confirm if it's delivered in similar condition. Ensure you're present to verify the details filled out are correct and take photos of your overweight load for comparison during delivery. The cost of hauling an overweight load with us is affordable without hidden charges. It varies depending on the shipment's size, weight, distance, season, and mode of transport, among other factors. Don't hesitate to contact us for reliable and convenient overweight load trucking services at (877) 792-5056.
Get Your Wide Load Shipping Quote!
Haul your heavy load with the best transporters in the industry!
Wide Load Shipping offered amazing services. They transported my excavator from Rhode Island to Louisiana and I couldn't be happier with the transport.
This was the third company I called. After having so many problems with the first two, I was grateful to find a hauling company that was professional and affordable. Will go with Wide Load Shipping every time!
I needed a last minute oversize load transport for cold milling machine. Wide Load Shipping expedited the permits, found a reliable driver, and got my freight delivered on time.