Pilot Cars, states and cities.
Are you looking for a pilot cars?
If you are in need of a pilot car company to escort your oversize shipment we've created the PiloTrac system to assist you in doing just that. Not only will it show you where pilot car companies are located but it will show you where they have pilot cars located live in real time. Pilot car companies simply post their existing available locations and they show up on our live map. It's very easy to use and only takes a few click. If you would like to locate pilot cars in North America you can see how easy it is below: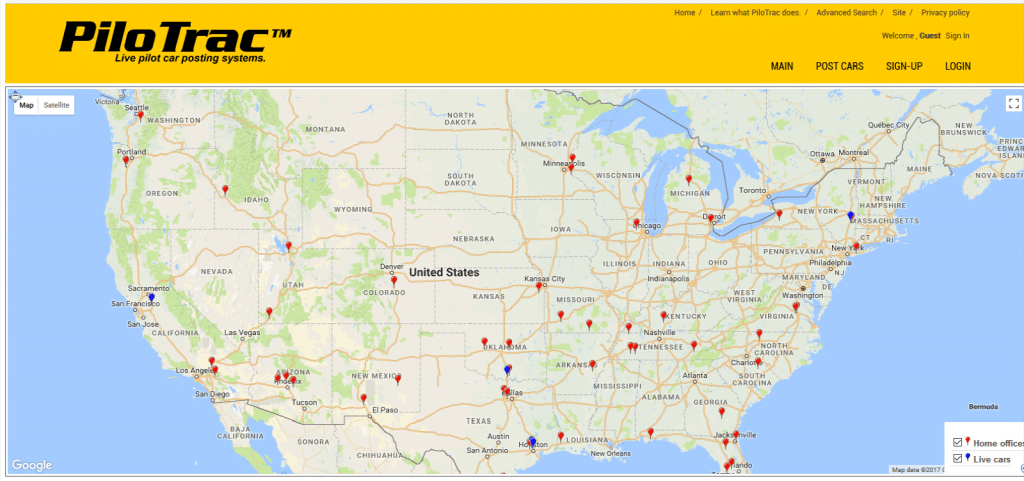 Our history with pilot cars has evolved.
Over the years the needs of pilot cars and trucking companies has evolved. The amount of effort spent locating the right pilot car company takes a lot less. Thanks to technology oversize trucking company dispatchers, owner operators, etc. aren't required to "data mine" and call all over the place trying to locate a company that is the closest to their shipment. With PiloTrac it's simple; instead of a pilot car company directory that shows you where the company is based out of we've designed a system that allows the pilot car drivers to post their actual locations. Not only where they are today, but where they'll be in 10 days from now. This way shippers can locate them based on where they are at and not where they are based out of. Have a look for yourself. Below is a picture that is typical of what you will find when searching for a escort for your oversize load:
North America, Alaska, Canada and Mexico
Alabama pilot cars:
Birmingham, Alabama
Huntsville, AL
Mobile, AL
Montgomery, AL

Alaska pilot cars:
Anchorage, Alaska
Fairbanks, AK
Juneau, AK
Arizona pilot cars:
Flagstaff, AZ
Kingman, AZ
Phoenix, Arizona
Tempe, AZ
Tucson, AZ
Yuma, AZ
Arkansas pilot cars:
Fayetteville, AR
Hot Springs, AR
Little Rock, Arkansas
Pine Bluff, AR
California pilot cars:
Bakersfield, CA
Beverly Hills, CA
Fresno, CA
Los Angeles, California
Mendocino, CA
Malibu, CA
Oakland, CA
Palm Springs, CA
Redding, CA
Sacramento, CA
San Diego, California
San Francisco, California
Colorado Springs, CO
Denver, Colorado
Greeley, CO
Steamboat, CO
Vail, CO
Hartford Connecticut, CT
Middletown, CT
New Haven, Connecticut
Newport, CT
Washington, D.C.
Dover, DE
New Castle, DE
Wilmington, Delaware
Fort Myers, FL
Jacksonville, Florida
Miami Florida, FL
Orlando Florida, FL
Pensacola, FL
Tallahassee, FL
Tampa , FL
Americus, GA
Atlanta Georgia, GA
Columbus, GA
Macon, GA
Savannah, GA
Boise Idaho, ID
Nampa, ID
Lewiston, Idaho
Pocatello, Idaho
Chicago, Illinois
Marion, IL
Springfield, IL
Fort Wayne, IN
Gary, Indiana
Indianapolis, IN
Cedar Rapids, IA
Des Moines, Iowa
Dubuque, IA
Ottumwa, IA
Sioux City, IA
Kansas City, Kansas
Leavenworth, KS
Topeka, KS
Wichita, Kansas
Lexington, KY
Louisville, Kentucky
Billings, MT
Great Falls, Montana
Helena, MT
Missoula, MT
Lincoln, NE
Omaha, NE
Fernley, NV
Las Vegas, Nevada
Reno, NV
Manchester New, NH
Portsmouth, NH
Atlantic City, NJ
Avon, NJ
Clinton, New Jersey
Franklin Lakes, NJ
Jersey City, New Jersey
Newark Airport, NJ
Elizabeth, New Jersey
Albuquerque, NM
Clovis, NM
Las Cruces, NM
Roswell, New Mexico
Albany, NY
Buffalo, New York
Long Island, NY
New York City, NY
Quoge, NY
Rochester, NY
Southampton, NY
Charlotte, North Carolina
Fayetteville, NC
Greensboro, NC
Raleigh, NC
Bismarck, North Dakota
Fargo, ND
Grand Forks, ND
Minot, ND
Portland, Oregon
Salem, OR
Eugene, OR
Medford, OR
Bend, OR
Baton Rouge, LA
Marien, LA
New Orleans, LA
Oakdale, LA
Shreveport, LA
Bangor, ME
Mars Hill, ME
Portland, Maine
Baltimore, Maryland
Bethesda, MD
Salisbury, MD
Boston, MA
Braintree, MA
New Bedford, MA
Quincy, MA
Springfield, Massachusetts
Worcester, MA
Ann Harbor, MI
Detroit, Michigan
Grand Rapids, MI
Pontiac, MI
Saginaw, MI
Traverse City, MI
Duluth, MN
Minneapolis, Minnesota
St. Paul, MN
Rochester, MN
St. Cloud, MN
Biloxi, MS
Hattiesburg, MS
Jackson, Mississippi
Tupelo, MS
Columbia, MO
Kansas City, MO
Springfield, MO
St. Louis, Missouri
Philadelphia, PA
Bedford, PA
Pittsburgh, PA
Dallas, Texas
Austin, Texas
Houston, TX
San Antonio, TX
WideloadShipping.com carriers can most definitely benefit from using the PiloTrac system as it's free. For more information on that topic see our earlier article.
Unfortunately, we created a "loadboard" within the PiloTrac system however pilot cars were confused by it so we decided to remove it. They expected all of the oversize trucking companies to post their loads rather than "click and call".
What exactly is a pilot car?
Anytime you hear the word "pilot car" (differs from Honda Pilot) it is referring to a vehicle that either leads (pilots) or follows (chases) oversize or heavy haul shipments. It is acting as a "escort" for trucking companies that are hauling shipments in excess of the legal maximum size or weight determined by the state it is being shipped within. Trucking companies that specialize in oversize and heavy haul freight typically have a very powerful tractor unit combined with a trailer that is usually flatbed oriented in order to accommodate the item being shipped. Typical items are large tanks, airplanes, passenger and cargo jets, wind energy parts, rocket parts, etc.
Drivers of pilot cars are usually certified by a state training class and have knowledge of the roads and bridges they are travelling on in order to ensure the shipment is not blocked by any bridges or utility obstructions however the state usually determines the routing. At times if the state has difficulties with the routing they may require a route survey be completed prior to authorizing the shipment to proceed with movement. In this case the pilot car company will be required to use a height pole and determine the best route for the shipment and submit it to the state for approval which allows for the oversize shipping permit to be approved so the actual transport of the item may proceed.
The pilot cars primary responsibility is to ensure the safety of motorists first and second to protect both public and private property.