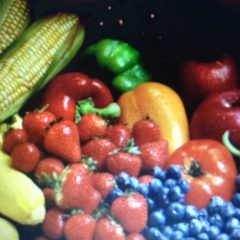 Part 2.
Preparing for healthy eating on the road.
It's Mr. Miles here sending out warm wishes and safe travels again!
The last time we chat (see; part 1.) we talked about eating healthy foods and what that can do to your overall well being – both mental and physical. It's important to always have an idea of what you're putting in your body and what that can mean. No one wants to feel sluggish and lack energy when getting a  load down the byways and highways. Let's talk about preparing for healthy eating on the road as it will take some effort but with a little bit of effort can become routine. Now that you're aware of some of the health implications of "quick food" there are almost endless and countless healthy options and alternatives to consume when you're away from home. So, let's slip this rig into overdrive and start breaking down how you can cook up tasty treats and chow down in no time!!!
Storing food and preparing meals is a lot easier than it sounds when you're away from home. Since your ride is essentially your home for long stretches of time, you have to treat it that way.  Of course a mini-fridge is a big bonus but if you don't have one, get a good camper cooler that runs on 12 volts – there super efficient which means easy on your battery and alternator. Plus, it'll pay for itself quicker than you may think if you're not seeking ice every day. Even without a fridge, you can still whip up some mean dishes that pack plenty of punch. Where the real fun starts in "Flavor Town" is with creativity and low energy consumption. Ever consider how much heat your engine produces? More on that later but heck, blenders are even a possibility. Who doesn't want a fresh strawberry smoothie to start your day?
Smart storage of your smart food.
Where do you store your food? That all depends on your rig space, but there's room – trust me. That's the beauty of storage containers. They take up little to no space and are as convenient as they come. On the floor, in your seat, or in trunk or sleeper bunk there are always spots to secure your food. Cereal, pasta, breads and canned goods can all be at your disposal with the help of containers.
Now of course perishable foods need to be kept cold, but proper storage of your food and ingredients can be simple and very effective. The freezer Ziploc bags are my very first choice when it comes to ensuring my food is stored safe and well preserved. You can call me cheap but I've even washed these out and re-used them before. Costco has great deals on them (as low as .03 per bag). The Betty Crocker storage containers sold at Dollar Tree  are second on my list and are cheap. They're also great for storing grapes, watermelon, blueberries, pineapple – basically any kind of fruit or vegetable can maintain its flavor and freshness is these modern marvels of creation. With just two items you're on your seriously on your way to many a side dish or main course. Plus you've got storage. Just like Emeril says: Bam!!!! Don't forget to go easy on the salt and try your best to make sure those veggies non-GMO. Many genetically modified foods are missing important components of complex vitamins, can cause allergies and all kinds of disorders – possibly even cancer!!! Also, to keep your mind and body in tip-top shape, stay away from gluten. It's best avoided and can turn your stomach and insides into a carnival ride you don't want to be on! The bumpy road has enough potholes and danger areas. Don't make your gut an up-and-down roller coaster
Aluminum foil is another weapon that can turn a boring Monday into creations that would even have 5-star chefs doing a double take. Seriously. The uses are endless with this master invention. Don't have a portable burner or stove? No problem. Throw some potatoes, carrots and onions, to go along with seasonings and your choice of lean beef, pork or chicken, wrap it in foil and place it on your manifold. Look who's got engine stew in no time!!!
While mentioning "master inventions" I found this photo on the web. Now these folks have the right idea:
Planning is preparing. Preparing is planning. Make your meals in advance if you have the time. This saves you money and time. I'm not proposing you don't go and check out that roadside diner once in awhile but the less you do the more your body will be thankful and your wallet will like your decision to keep the pedal to the metal. The $8.99 tenderloin with a side of greasy fries can find another home in someone else's stomach. You'll feel better and even look better by eating right. It's like anything else; you get out what you put in.
Last but not least. We gotta keep everything clean. The last thing you need is to be barreling down the road
So keep your gas tank full, your eyes on the road and keep pounding that pavement. You're a driving machine and you know how to recharge your batteries and the proper fuel you need to keep your engine running as smoothly as possible. Just remember – everything in moderation.
Stay tuned for tons of recipes I have waiting on the back burner that are gonna blow your socks off that won't blow your budget. They're easy as pie to make and you'll be a Master Chef in no time. Now Mel over at the diner might miss some business from you, but old Flo can kiss somebody else's grits!!!
Happy Trucking. Have something you'd like to add or ask? Feel free to jump in online and comment at the bottom of any of my posts and have your voice heard. NO taxes, NO surcharges and NO fees! If I can't get you up and running properly I'm certain our readers can.
Keep'n it real and keep'n' it high and wide!
Mr. Miles for
WideloadShipping.com