Expert Oversize Equipment Shipping Services in Guadalajara
Our company takes immense pride in offering expert oversize equipment shipping services in Guadalajara. We have built a strong reputation for being a reliable and efficient partner for businesses in need of transporting their heavy and bulky cargo. Our team of seasoned professionals possesses extensive knowledge and experience in oversize load transport, ensuring that your equipment is handled with utmost care and precision throughout the shipping process. We understand the unique challenges involved in oversize load hauling and are committed to providing tailored oversize equipment shipping services that meet your specific requirements.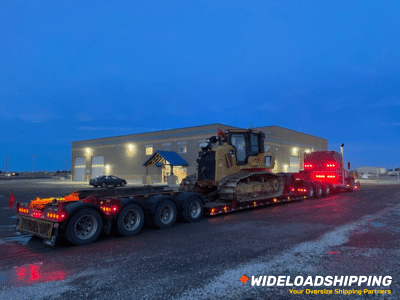 Everything You Need To Know About Guadalajara
Nestled in the heart of Mexico, Guadalajara is a city teeming with life and energy. With a population of over five million, it stands as the second-largest city in the country. Guadalajara is renowned for its rich cultural heritage, giving birth to iconic Mexican traditions such as mariachi music and tequila production. The city also boasts a thriving industrial sector, contributing significantly to Mexico's economy. As industries continue to grow and expand, the demand for oversize equipment shipping services in Guadalajara has increased. Companies rely on efficient and dependable transportation solutions to move their machinery, products, and components seamlessly across the city and beyond. We are proud to offer relentless and reliable oversize equipment shipping services to a richly cultured city.  
Get a Free Transport Quote Today!
Transport Your Oversize Equipment with a Dedicated Team
When you choose our oversize equipment shipping services in Guadalajara, you're enlisting the expertise of a dedicated and proficient team. We go above and beyond to ensure the smooth transportation of your valuable cargo. Our fleet includes specialized trailers equipped to handle even the most challenging loads, and our experienced drivers are skilled in navigating the intricacies of transporting oversized equipment. We take a proactive approach to route planning, using advanced technology to optimize paths and avoid potential obstacles, ultimately reducing transit times and minimizing delays. To make the shipping process faster and easier, there are certain steps clients can take. First, providing accurate and detailed information about the oversize equipment is vital. Precise dimensions, weight, and any special handling requirements enable us to design the most suitable transportation plan. Second, early engagement with our team during the planning phase allows us to anticipate potential challenges and devise the best course of action for the journey. Third, obtaining all necessary permits and paperwork ahead of time prevents last-minute hold-ups. Lastly, maintaining open and clear communication throughout the process fosters a transparent and efficient experience for both parties. Our experts will hold your hand as you navigate through the complexities of the oversize load hauling process.
Transport Your Load On The Right Trailer With Us
Double Drop Deck Trailer
Max Weight: 45,000 lbs. | Max Length 29 ft. | Max Width 8.5 ft. | Max Height 11.5 ft.

Step Deck Trailer
Max Weight: 48,000 lbs. | Max Length 53 ft. | Max Width 8.5 ft. | Max Height 11 ft.

Removable Gooseneck Trailer (RGN)
Max Weight: 150,000+ lbs. | Main Deck Length 29 ft. | Well Width 8.5 ft. | Legal Height Limit 11.6 ft.

Flatbed Trailer
Max Weight: 48,000 lbs. | Max Length 53 ft. | Max Width 8.5 ft. | Max Height 8.5 ft.

Your Reliable Oversize Equipment Shipping Services Provider in Guadalajara
Our company stands ready to be your trusted partner for oversize equipment shipping services in Guadalajara. With our wealth of experience and commitment to excellence, we ensure that your load reaches its destination safely and on schedule. As the demand for oversize load transport grows in Guadalajara, we are well-prepared to meet the evolving needs of businesses and industries across the city. Reach out to us today to discuss your shipping requirements, and let us show you why we are trusted as the leading oversize load hauling service provider in Guadalajara. Together, we can make your transportation process smoother and more efficient, ensuring your valuable cargo arrives at its destination without a hitch.
2008 Delmag RH20 Foundation Drill Haul
Specs: 72L 10W 11.1H
Weight: 108,000lbs
Origin: Guadalajara
Destination: Cancun
Broker Name: David I.
Transporting a CAT 637E Scraper On an RGN Trailer
Specs: 47L 13W 14.8H
Weight: 114,000lbs
Origin: Zapopan
Destination: Guadalajara
Broker Name: Jay H.
Shipping a 2015 Doosan DX300 Excavator
Specs: 36L 10.6W 11.6H
Weight: 70,000lbs
Origin: Tijuana
Destination: Guadalajara
Broker Name: Roger C.
Your dedicated transport agent provides you with an all-inclusive quote tailored to fit your needs. We pull the permits, handle route surveys, find the best driver, and more.
Once everything is in place, a driver is dispatched to pick up your heavy equipment. Your equipment is safely loaded and secured before setting off.
Your dedicated agent is available throughout the entire journey to answer any questions you may have. Your oversize load is delivered safely and on time. Get your transport quote now!