Ensuring Safe Oversize Equipment Transport in Puebla
If you're looking for safe and reliable oversize equipment shipping services in Puebla, you can count on us to get the job done. Our oversize equipment shipping services in Puebla are multifaceted, allowing clients with different needs to find a solution to their oversize load hauling needs. We pride ourselves as the company industry leader you can trust. We take safety as our top priority and have a proven track record of delivering secure and reliable transportation solutions for heavy and bulky cargo. With our team of experienced professionals, specialized equipment, and a thorough understanding of oversize load hauling, we ensure that your valuable equipment reaches its destination without any incidents or delays.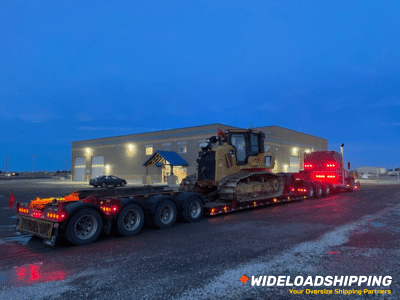 A City of Rich History and Growing Hauling Needs
Situated in central Mexico, Puebla is a city steeped in history and culture. With a population of over three million, it is one of the country's major urban centers. Puebla is renowned for its stunning colonial architecture and UNESCO World Heritage sites, including the historic city center. The city is also famous for its culinary delights, particularly the traditional dish, "mole poblano." As Puebla's economy continues to expand, industries require dependable oversize equipment shipping services to cater to their transportation needs. Whether it's moving machinery for the automotive sector or large-scale equipment for construction projects, safe and efficient oversize load transport is in high demand. Safety is at the core of everything we do, and we leave no stone unturned in implementing strict safety protocols throughout the shipping process. You can count on our team of experts to take you through our strict safety protocol. 
Get a Free Transport Quote Today!
Timely Oversize Equipment Hauling Services in Puebla
Our services center around safety first in oversize equipment hauling. When you choose our oversize equipment shipping services in Puebla, you can rest assured that measures are taken before the process begins. Our experienced team is well-trained in handling oversized equipment, ensuring that every step of the transportation process adheres to strict safety measures. From securing the equipment properly on specialized trailers to planning the optimal route that minimizes potential risks, we leave no room for compromise. Moreover, our drivers are skilled and certified in oversize load hauling, guaranteeing that your load is in the hands of a professional throughout the journey. Safety in oversizeequipment  hauling also extends to the maintenance and condition of our equipment. We regularly inspect and service our trailers and vehicles to ensure they are in top-notch condition, reducing the risk of any mechanical issues during transit. In addition to safety, we focus on timely delivery and open communication with our clients. We understand that time is of the essence in the business world, and our efficient transportation services ensure that your equipment arrives at its destination on schedule.
Transport Your Load On The Right Trailer With Us
Double Drop Deck Trailer
Max Weight: 45,000 lbs. | Max Length 29 ft. | Max Width 8.5 ft. | Max Height 11.5 ft.

Step Deck Trailer
Max Weight: 48,000 lbs. | Max Length 53 ft. | Max Width 8.5 ft. | Max Height 11 ft.

Removable Gooseneck Trailer (RGN)
Max Weight: 150,000+ lbs. | Main Deck Length 29 ft. | Well Width 8.5 ft. | Legal Height Limit 11.6 ft.

Flatbed Trailer
Max Weight: 48,000 lbs. | Max Length 53 ft. | Max Width 8.5 ft. | Max Height 8.5 ft.

Your Trusted Partner for Safe Oversize Equipment Shipping Services in Puebla
 When it comes to oversize equipment shipping services in Puebla, we are your trusted partner. With an unwavering commitment to safety, efficiency, and customer satisfaction, we take pride in delivering top-tier oversize load transport solutions. Puebla's thriving economy and diverse industries demand a reliable logistics partner, and we are ready to meet and exceed those expectations. Whether you need to transport heavy machinery or oversized industrial components, our team is well-equipped to handle the task safely and efficiently. If you value safety and seek dependable oversize equipment hauling services in Puebla, look no further. Contact us today to discuss your shipping requirements and let us provide you with a tailored transportation solution that prioritizes the safety and security of your valuable cargo. Your satisfaction and the safe delivery of your equipment are our primary goals, and we are ready to show you why we are trusted by many clients in Puebla for oversize equipment shipping services. 
Transporting a 2008 Delmag RH20 Foundation Drill
Specs: 72L 10W 11.1H
Weight: 108,000lbs
Origin: Guadalajara
Destination: Puebla
Broker Name: David I.
Shipping a 2010 CAT D6N Crawler Dozer On An RGN Trailer
Specs: 22L 11.1W 10.5H
Weight: 41,000lbs
Origin: Puebla
Destination: Cancun
Broker Name: Jackson W.
Hyundai HX300L Excavator On An RGN Trailer
Specs: 35L 11.6W 11.1H
Weight: 72,000lbs
Origin: Mexico City
Destination: Puebla
Broker Name: Sam D.
Your dedicated transport agent provides you with an all-inclusive quote tailored to fit your needs. We pull the permits, handle route surveys, find the best driver, and more.
Once everything is in place, a driver is dispatched to pick up your heavy equipment. Your equipment is safely loaded and secured before setting off.
Your dedicated agent is available throughout the entire journey to answer any questions you may have. Your oversize load is delivered safely and on time. Get your transport quote now!