About Wide Load Shipping and Our Services
Established over twelve years ago, Wide Load Shipping started as a small team and has grown to a well-recognized company across the country with over 85 employees as of 2021. We've always been a one-stop-shop for any information regarding oversized and overweight loads, heavy hauling and trucking, shipping permits, pilot/escort cars, specialized trailers, and everything in between. We've transformed our experience and knowledge into resourceful information for clients and transporters alike. Besides that, we offer trucking services to anyone looking to move a wide load or a heavy load. Your transport solutions are customized to fit your needs. Each load is transported safely and delivered on time. Wide Load Shipping is equipped with modern trailers of all capacities to handle all oversize loads, wide loads, and super loads.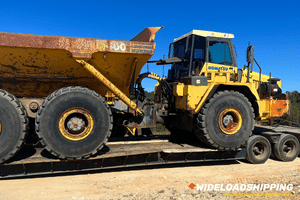 Transport Your Heavy Load with the Professionals
Wide Load Shipping transport agents are experienced in all forms of oversize load transport. Our agents will determine the best trailer to ship your heavy equipment. Your agent will also gather the permits necessary to transport your oversize load safely. Whether you're looking for heavy machinery or equipment transport services, you're in the right place. Wide Load Shipping has the capability to transport every oversize load, wide load, and super load. Our heavy haul shipping experts oversee every aspect of your oversize load transport, from dispatch to delivery. We deploy escort vehicles when shipping your overheight or overwidth load to guide the driver through the journey. Oversize loads make it hard to see oncoming traffic, which is dangerous. Pilot cars and escort vehicles guide the driver safely through traffic and tight areas. 
Oversize Load Shipping Rates
The oversize load transport process varies from one shipment to another. That's because it depends on the weight, dimensions, distance, mode of transport, season, etc. The larger the load, the more you will pay. A more extensive trailer is needed to accommodate it, and escort vehicles are used. In addition, the cost of acquiring shipping permits increases with the size and weight of a load. Wide Load Shipping is a transparent company, and our shipping quotes are free with no hidden fees. Our goal has always been to help you transport an oversize or overweight load without stress. We understand your heavy load is valuable. We take good care of your equipment until it's safely delivered. Our specialists coordinate everything to ensure your load is delivered safely and on time. Transport an overheight, overweight, or overwidth load locally or long-distance with Wide Load Shipping now!
Get Your Wide Load Shipping Quote!
Haul your heavy load with the best transporters in the industry!
Wide Load Shipping offered amazing services. They transported my excavator from Rhode Island to Louisiana and I couldn't be happier with the transport.
This was the third company I called. After having so many problems with the first two, I was grateful to find a hauling company that was professional and affordable. Will go with Wide Load Shipping every time!
I needed a last minute oversize load transport for cold milling machine. Wide Load Shipping expedited the permits, found a reliable driver, and got my freight delivered on time.