Transparent Wide Load Shipping Estimates
Several factors affect the cost of oversize and overweight shipping. Typically, the costs are determined by the weight, size, load type, distance or destination, and the necessary and mandatory permits. You want the most accurate and affordable wide load shipping estimate. Our expert logistics agent will find the best price to ship your equipment.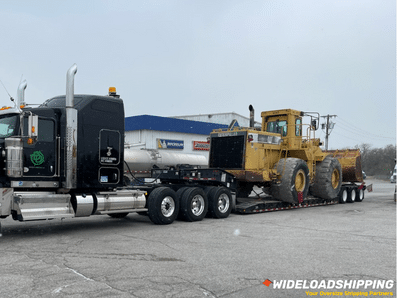 Information Needed To Get An Accurate Estimate
To get a free shipping estimate, you can contact Wide Load Shipping through a call, email, or fill out the form on our website. When you speak to one of our shipping agents or fill out the form, you need to have all the details about your equipment. That includes the name of the item, make, model, pick-up and drop-off locations, dimensions, weight, shipping date, email, phone number, and any other helpful information.
With that information, we're able to determine the cost of shipping your equipment. So ensure you don't leave out any important details about your equipment to avoid a shipping fee increment or inconvenience during the transport date. When you send us information about your shipment, we're not only able to determine the shipping cost, but our experts identify the right trailer for transport and any other resources needed. 
Get Your Shipping Estimate
Transport Your Load With The Best Company In The Industry
How to Determine Equipment Shipping Cost


The cost of shipping equipment will depend on its dimensions, the number of miles to be traveled, season, route, weight, and condition. The larger and heavier the equipment, the more the cost. That's because a more extensive and specialized trailer is needed to accommodate the size and weight.  The more miles, the higher the fuel consumption, meaning you will pay more. During the peak seasons, it's recommended you make a booking early. You will not only pay an affordable cost but also secure a spot. Do not hesitate to contact us through the website, call, or email to get a free equipment shipping estimate.
Federal oversize and overweight regulations are standard nationwide, but state rules and permits vary from region to region. Wide Load Shipping determines estimates by first considering such factors and taking all the vital details of the client's cargo. This includes: 
Item name
Model and make
Pick-up drop-off location
Dimension
Weight
Shipping date
Email and phone number

When you provide all the information, we determine the rates and pick the appropriate truck or trailer for your oversized load. Wide Load Shipping also considers the miles traveled, route, season, and the equipment's condition.
Other Factors To Consider for a Wide Load Shipping Estimate


While the heavier and bulkier your shipment, the more it may cost, we make it affordable by considering a suitable route, truck, or trailer that lowers consumption and with lesser highway restrictions and regulations. We also recommend booking early in peak seasons to secure a place to pay at an affordable rate.
As we determine the standard cost of your oversized load, our experts also consider the mandatory permit requirement. The cost may vary since permits differ from one state to another. What is considered overweight in one state could be within standard weight in another. However, we will guide you on these requirements and give you the most cost-effective estimates.
If you need other amenities, such as escort services or pilot cars, our team will guide you on the most suitable and affordable for your shipment and give you the expected fee. After giving us all the vital information to determine an estimate, we will provide an all-inclusive quote without hidden costs.
Get Your Shipping Estimate
Transport Your Load With The Best Company In The Industry
Examples of  Wide Loads We Transport

Wide Load Shipping transports wide loads of all sorts to and from every state, Canada, and Mexico. Below are examples of wide loads we transport and the states we serve.
Construction Equipment e.g., bulldozers
Boats
Mobile homes and prefabricated houses
Agricultural equipment e.g. harvesters and threshers.

Alabama; Alaska; Arizona; Arkansas; California; Colorado; Connecticut; Delaware; Florida; Georgia; Hawaii; Idaho; Illinois; Indiana; Iowa; Kansas; Kentucky; Louisiana; Maine; Maryland; Massachusetts; Michigan; Minnesota; Mississippi; Missouri; Montana; Nebraska; Nevada; New Hampshire; New Jersey; New Mexico; New York; North Carolina; North Dakota; Ohio; Oklahoma; Oregon; Pennsylvania; Rhode Island; South Carolina; South Dakota; Tennessee; Texas; Utah; Vermont; Virginia; Washington; West Virginia; Wisconsin; Wyoming.
Your dedicated transport agent provides you with an all-inclusive quote tailored to fit your needs. We pull the permits, handle route surveys, find the best driver, and more.
Once everything is in place, a driver is dispatched to pick up your heavy equipment. Your equipment is safely loaded and secured before setting off.
Your dedicated agent is available throughout the entire journey to answer any questions you may have. Your oversize load is delivered safely and on time. Get your transport quote now!