Does My Load Require Overweight Permits?
Permits must accompany loads heavier than the weight the department of transportation allows. Sometimes, a single pilot car or more must lead the way to help clear the roads. The Federal government allows 80,000lbs gross vehicle weight, 20,000lbs single axle weight, and 34,000lbs tandem axle weight. Overweight permits are acquired from the state's department of transportation at a fee. Using a professional like Wide Load Shipping will save you the trouble of acquiring overweight permits, and the price is included in the final shipping estimate.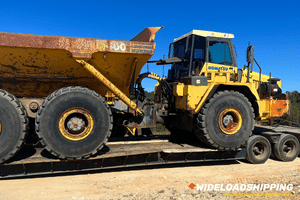 Why Do You Need Overweight Permits?
By acquiring overweight permits, you notify the state's department of transportation about your shipment. That means they recommend the best highway to avoid damaging roads and remove all the hindrances along the way. Your load must be accompanied by the overweight permit to show the highway patrols when stopped. Failure to have one will lead to fines. The Federal bridge weight formula is used to determine if commercial vehicles are complying with the rules. The formula used is W=500(LN/N-1 + 12N + 36). W is the overall gross weight of two or more consecutive axles to the nearest 500lbs, L is the distance between two extreme or more axles in feet, and N is the number of axles in the group. 
Information Needed When Acquiring Overweight Permits
Your transportation company should help you acquire overweight permits before the transport date. To facilitate the process, provide accurate information about your load to acquire tight permits. We provide the following information to the department of transportation to acquire overweight permits. 
US DOT number
Year, make, and model of the equipment
Unit number
Type of trailer and number of axles
Overall dimensions (L, W & H) of the trailer 
License number and state
Description of the load
Load dimensions 
Origin and destination
Routes to be used
Serial number
Overall weight (truck, trailer, and load)
Overall length (truck and trailer or load), whichever is longer
Overall width (truck and trailer or load), whichever is wider
Overall height (from ground to the load)
Individual axle spacings 
Individual axle weight when loaded 
Contact us today to help you acquire overweight permits and haul your load anywhere in the country or world at (877) 792-5056.
Get Your Wide Load Shipping Quote!
Haul your heavy load with the best transporters in the industry!
Wide Load Shipping offered amazing services. They transported my excavator from Rhode Island to Louisiana and I couldn't be happier with the transport.
This was the third company I called. After having so many problems with the first two, I was grateful to find a hauling company that was professional and affordable. Will go with Wide Load Shipping every time!
I needed a last minute oversize load transport for cold milling machine. Wide Load Shipping expedited the permits, found a reliable driver, and got my freight delivered on time.