Oversize and Overweight Trucking Permits
Wide Load Shipping not only educates you about oversize and overweight load shipping permits, but we also help you acquire them. When a load is oversize, overweight, or both, it means it has exceeded the standard weight or size to be transported on public highways. In that case, oversize and overweight load shipping permits are mandatory.  Overheight, overweight, and overwidth limits differ from one state to another. Through Wide Load Shipping, you will know whether your load qualifies as oversize or overweight depending on the states it will be passing. It's important to note that a load can be oversize or overweight in one state but not in another. In that case, you will only need to acquire shipping permits for the states where your load exceeds the maximum size and weight limit.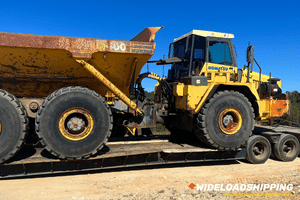 How Much Oversize and Overweight Permits Cost?
When your load exceeds the legal weight or size limit, the cost of the shipping permits will be determined by the difference. For example, if you're transporting an overheight load of 16' from California to Colorado, you will need to acquire shipping permits from the states of California, Nevada, Utah, and Colorado. The cost of shipping permits from California, Nevada, and Utah will be determined by 16' – 14' (legal height limit for each of those states), while that of Colorado will be 16' – 14.6' (legal height limit for Colorado). Keep in mind the height of a load is achieved by adding the height of the trailer and that of the actual load. For example, if the load is 10' and that of the trailer is 6', the height of the load will be 10' + 6' = 16'. Wide Load Shipping will acquire shipping permits for your load from the right offices. 
The cost of oversize and overweight load shipping permits is all-inclusive in our transport cost. For the oversize and overweight loads that hinder the truck driver's view, we assign escort cars to guide them along the way. In the event of really huge loads, we deploy more than one pilot car. One escort car leads the way guiding the truck driver on the route to use, while the second one behind the trailer controls the traffic to help the driver turn without a problem. Therefore, communication between the pilot cars' drivers and the truck's driver is uninterrupted because a slight mistake can lead to fatal accidents and losses. Flags on the escort vehicles and trailers are orange fluorescent and about 18 inches. The cost of shipping permits caters to any damage caused during transport. We use specialized trailers to transport oversize and overweight limits. For example, we use lowboy trailers to ship overheight loads because they're low, giving your load a reasonable height allowance before it reaches the maximum limit. 
Some Types of Over Dimensional Load Permits
Single Trip Oversize/Overweight Permits


Trip and Fuel Permits
Single Trip Oversize Load City and County Permits


Divisible Load Permits
Annual Oversize/
Overweight Permits

 

Super Load Permits
Non Divisible Load
Permits

 

Over Width Permits
Oversize Permits By State
Need a Full Service Permit Company? Call Today!
Get Your Wide Load Shipping Quote!
Haul your heavy load with the best transporters in the industry!
Oversize Permits Quick Reference
When a load is oversize, overweight, or both, you must acquire a permit for transport.


Oversize load and wide load permits vary by state. You will need the proper permits for each state the load goes through.
Oversize loads often require pilot cars to help guide drivers safely on the highway.


A load may be oversize in one state and not another, so it is important to acquire the proper permits for safe and legal transport.
Wide Load Shipping offered amazing services. They transported my excavator from Rhode Island to Louisiana and I couldn't be happier with the transport.
This was the third company I called. After having so many problems with the first two, I was grateful to find a hauling company that was professional and affordable. Will go with Wide Load Shipping every time!
I needed a last minute oversize load transport for cold milling machine. Wide Load Shipping expedited the permits, found a reliable driver, and got my freight delivered on time.