Reliable Canada Equipment Shipping Services
Canada equipment shipping involves moving oversize and overweight cargo and machinery for industrial, commercial, or personal use. Transporting such goods requires permits because specialized trailers like flatbeds, RGNs, and other heavy-duty trucks and equipment are needed. Still, shipping equipment in Canada will need compliance with federal and provincial transport laws. These regulations depend on weight, height, width, safety, and load-type restrictions. Also, the Canadian equipment transport company you choose requires licenses and permits to handle such loads. An experienced expert like Wide Load Shipping should help you successfully ship your equipment to Canada.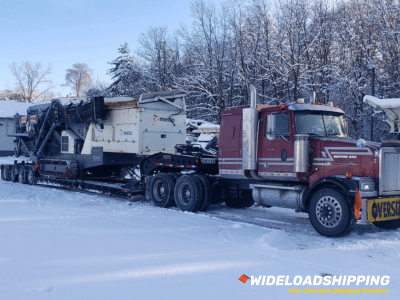 Get Your Shipping Estimate
Transport Your Load With The Best Company In The Industry
A Professional Canada Equipment Transport Company
While there are several shipping providers, only a Canada equipment transport company expert like Wide Load Shipping will do the job satisfactorily. That's because we are an internationally trusted company with over 12 years of experience. Our expertise and skills make us suitable to provide a wide range of heavy-load transport services, including insurance coverage, safe shipping, loading, and off-loading. Choosing a reputable and reliable company for Canada equipment transport is essential, and Wide Load Shipping is the best option.
Shipping equipment to or from Canada can be hectic and complex if you don't understand the requirements or deal with an inexperienced company. In addition, most overweight regulations, rules, and laws in Canada are broad and must be understood. Our professional team at Wide Load Shipping has been consolidating vital information for all provinces in Canada to ensure you get a reliable, affordable, and trouble-free experience. The required permits depend on the dimensions of the oversize and overweight loads. For instance, over-dimensional farming tractors, harvesters, planters, machinery, and Self-Propelled Implements of Husbandry (SPIH), hauled by plated vehicles or trailers drawn by motor vehicles, must acquire an over-dimensional permit.
Overweight permits are required in Canada if your cargo dimensions and weight surpasses the Highway Traffic Act limits. But, when you work with our experts at Wide Load Shipping, you will understand better what Canada equipment shipping entails. Below are the four types of permits,
Annual
Project
Single Trip
Special Vehicle Configuration

 
Additionally, the permit holder accepts responsibility for any destruction or damages to structures, highways, railways, overhead cables, and encroachments. You can only learn about these standards and processes if you hire our experienced professionals at Wide Load Shipping.
Canada Equipment Transport You Can Rely On 
Our Canada equipment shipping services include commercially licensed drivers, dedicated local and international agents, free learning resources to help you understand more, route surveys, and all-inclusive quotes without hidden fees. Since we are familiar with Canadian equipment transport regulations and requirements, your cargo will arrive safely and on time. In addition, we will choose the right trailer to transport your equipment to or from Canada safely.
This way, we simplify the shipping of agricultural, construction, manufacturing machinery, mining and excavation equipment, large building supplies, and other oversize and overweight finished or raw materials. Regardless of the location in Canada, Wide Load Shipping experts will successfully and safely haul it. We are careful when loading, transporting, and off-loading because a slight mistake or misstep can cause fatal accidents.
Also, to exercise extra care shipping heavy equipment to Canada, our internationally qualified and skilled agents will organize a pilot car for your shipment. When the driver cannot ship your oversized and overweight cargo alone, a pilot car must accompany it to help control traffic, warn other motorists, and guide the driver on the best route without delays or getting stuck. Wide Load Shipping is the option to ship your heavy load to Canada. Your shipment will be fully insured, and you will work with the best specialists. No matter your oversize load and destination, we will serve you excellently and satisfactorily.
Border Crossings Used When Shipping Equipment To and From Canada
Wide Load Shipping will help you transport a piece of equipment from the United States to  Canada and vice versa safely. We know the right border crossings to use based on the state the equipment is coming from and the province it's to be delivered. When shipping equipment across the border, we cater for the customs fees at the crossing. Below are common border crossings we use when transporting equipment to and from Canada. 
Warroad / Sprague Border Crossing
Detroit-Windsor Tunnel
Ambassador Bridge
Blue Water Bridge
Fort Kent / Clair Border Crossing
Blaine/Surrey
Highgate Springs / St Armand Border Crossing
Edmundston / Madawaska Bridge Border Crossing
Fortuna Oungre Border Crossing
Highgate Springs / St Armand Border Crossing
Get Your Shipping Estimate
Transport Your Load With The Best Company In The Industry
Equipment Shipping Services Across Canada
Wide Load Shipping offers province to province and city to city equipment shipping services across Canada. Our equipment transport services are available across every province all year round. Call us for equipment shipping services in any of the following provinces in Canada. (877) 792-5056
Your dedicated transport agent provides you with an all-inclusive quote tailored to fit your needs. We pull the permits, handle route surveys, find the best driver, and more.
Once everything is in place, a driver is dispatched to pick up your heavy equipment. Your equipment is safely loaded and secured before setting off.
Your dedicated agent is available throughout the entire journey to answer any questions you may have. Your oversize load is delivered safely and on time. Get your transport quote now!