Shipping Equipment in Northwest Territories with Us
Wide Load Shipping offers affordable equipment shipping services in and out of Northwest Territories. With over a decade of experience, we know how to handle equipment of all kinds and ensure they're delivered safely. All heavy equipment shipped by us is fully insured against every damage. In addition, we add your name to a copy of our insurance to give you the power to confirm if your load is insured before it's dispatched, and you're able to claim compensation if your load isn't delivered safely. We have modern state of the art trailers to help us safely transport loads of all weights and dimensions. Call us today to transport heavy equipment to or from Northwest Territories and get a free quote.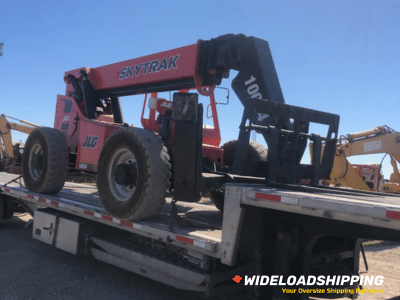 Get Your Shipping Estimate
Transport Your Load With The Best Company In The Industry
Types of Equipment We Transport in Northwest Territories
Wide Load Shipping transports all types of construction equipment, mining equipment, agricultural equipment, forestry equipment, and more. Regardless of the size, weight, and shape of the equipment, we will move it. Our services are available all year round, including during winter when the roads are inaccessible and slippery. We're familiar with the shipping regulations in Northwest Territories and will ensure they're followed to avoid being fined for non-compliance. Below are the common types of equipment we transport to and from the Northwest Territories.
Oversize Excavator Transport

Oversize Backhoe Transport

Oversize Dump Trucks

Oversize Bulldozer Transport

Oversize Grader Shipping

Oversize Wheel Tractor Haul

Oversize Trencher Transport

Oversize Loader Haul

Oversize Crane Shipping

Oversize Paver Transport

Oversize Compactor Shipping

Oversize Telehandler Transport

Oversize Scissor Lift Shipping

Oversize Forklift Transport

Oversize Crane Transport

Oversize Tractor Transport

Container Transport

Oversize Boom Lift Transport

Semi Truck Transport

Oversize Box Truck Shipping
Oversize Wheel Loader Transport
How To Transport Equipment To and From Northwest Territories 
To transport equipment in Northwest Territories, you need to start by contacting a reputable company like us. Always remember that a cheap one shouldn't be your first choice. Do your thorough research to get a company that's qualified and equipped with the right resources to haul your equipment. Below are some of the information to provide your company for a shipping estimate. 
Name of equipment

Manufacturer

Model

Year

Pick up location

Drop off location

Dates

Dimensions

Weight 


When you provide us with the above information, we're able to determine the best trailer for your equipment and apply for permits if they're oversize or overweight. With Wide Load Shipping, your shipment is handled by a specific specialist whom you can contact at any time. They've handled thousands of shipments and will ensure yours is handled with utmost professionalism for its safety. When shipping heavy loads that can't be driven on and off a trailer, we use cranes to load them on and off trailers. Our rigger crew is qualified and will ensure your heavy equipment is well-secured before its dispatched. Call us now to transport equipment from the United States to Northwest Territories and vice versa.
Get Your Shipping Estimate
Transport Your Load With The Best Company In The Industry
Why Book Our Equipment Transport Services in Northwest Territories 
Wide Load Shipping is a reputable equipment shipping company with over a decade of experience. We offer equipment shipping services to and from Northwest Territories all year round. Our specialists know the best way to handle equipment during transport and ensure they're delivered on time. Below are more reasons for working with us.
Dedicated Specialists

12+ Years of Experience

Free Quotes

Free Consultation

Zero Booking Fee

Wide Array of Resources

Licensed

Fully Insured Services
Equipment Transport Services To and From Northwest Territories 
Wide Load Shipping is familiar with highways leading to every city in Northwest Territories. In addition, we know the best border crossings to use when shipping equipment to and from Northwest Territories. We provide the right paperwork at the crossing and cater for the customs fees. Below are some of the cities Wide Load Shipping serves in the Northwest Territories.  
Yellowknife, NT; Hay River, NT; Inuvik, NT; Fort Smith, NT; Behchoko, NT; Fort Simpson, NT; Tuktoyaktuk, NT; Norman Wells, NT; Fort McPherson, NT; Fort Providence, NT;
Your dedicated transport agent provides you with an all-inclusive quote tailored to fit your needs. We pull the permits, handle route surveys, find the best driver, and more.
Once everything is in place, a driver is dispatched to pick up your heavy equipment. Your equipment is safely loaded and secured before setting off.
Your dedicated agent is available throughout the entire journey to answer any questions you may have. Your oversize load is delivered safely and on time. Get your transport quote now!