Transport Your Equipment with a Reputable Company
A professional like Wide Load Shipping should transport equipment from one location to another. That's because we have the resources and experience required to deliver your equipment on time. However, equipment transport can be stressful, especially when dealing with large equipment. During equipment transport, the right trailer has to be used to accommodate the weight and size. Among the equipment we transport includes; excavators, cranes, backhoes, tractors, skid steers, and more. Each piece of equipment is handled with care during the loading and unloading process.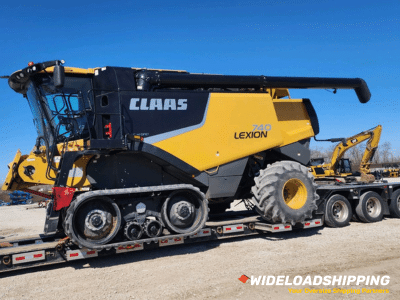 Get Your Shipping Estimate
Transport Your Load With The Best Company In The Industry
Equipment Shipping Services You Can Trust
When you trust professionals to ship your equipment, you're able to go about your day-to-day business without having to worry. At Wide Load Shipping, we understand your equipment is valuable, and we shall take good care of it until it's safely delivered. Our equipment shipping services are available door-to-door and terminal-to-terminal. Equipment shipping saves you a lot of time since you can't drive your equipment over a long distance. 
With Wide Load Shipping, your equipment shipping request is assigned to a specialist with knowledge of handling it. They acquire the needed paperwork and shipping permits if your equipment is oversized or overweight. In addition, they identify the best trailer for transport depending on the dimensions and size of your equipment. We fully insure every piece of equipment we transport and make you a holder of the insurance. That's to ensure if your equipment isn't delivered safely, you can claim total compensation directly from the insurance company without passing through us. The process is easy and fast. When our team arrives at the pick-up location, they thoroughly inspect your equipment and fill out a BOL form. That form is later used at the delivery location to confirm if your equipment is delivered safely. To make the inspection process easy and fast, clean your equipment to see dents and scratches. Doing that means you have an easy time comparing the state of your equipment to the details on the BOL form at the delivery location because it will arrive clean.
Transport Your Equipment on the Right Trailer
A team of professionals does the loading and unloading of your equipment. Your equipment can be driven onto the trailer if it has wheels or lifted using a crane if it's inoperable. Depending on the weight and dimensions of the equipment, we use RGNs, step decks, flatbeds, and lowboys, among other specialized trailers. When you trust your equipment transport to a professional like Wide Load Shipping, nothing can go wrong. Once your equipment is loaded on a trailer, it's well-secured for transport. We ensure all the attachments are lowered and well secured to create stability. A piece of equipment that's not well secured or secured at all is bound to cause an accident. In addition, we deploy pilot cars to guide the trailer driver when shipping oversized or overweight equipment. The work of the pilot car is to control traffic, keep motorists at a safe distance, and instruct the driver of the trailer on the routes to use. Shipping oversize equipment without pilot cars can be dangerous because drivers can't see oncoming traffic or know the best routes to use without being stuck.
Get a Free Quote For Equipment Transport Services
Wide Load Shipping only uses professional drivers with years of experience. They know how to handle different equipment and the best roads to use. They make regular integrity checks throughout the journey to ensure the equipment is well secured because the chains quickly get loose due to too much movement. The cost of shipping equipment with us varies from one shipment to another. That's because it's affected by the distance, size, weight, season, route, and mode of transport. The larger the equipment, the more you will pay because it requires more workforce and high fuel consumption. Equipment transport is demanding. Therefore, it's good to prepare early enough to be smooth. We offer expedited equipment transport services at an added fee. In addition, our equipment shipping quotes are free without any hidden fees. We guarantee safe and timely equipment shipping services. To transport equipment anywhere across the country, Canada, or Mexico, contact one of our specialists through our toll-free number (877) 792-5056.
Below Are Some Of The  Equipment We Transport
Your dedicated transport agent provides you with an all-inclusive quote tailored to fit your needs. We pull the permits, handle route surveys, find the best driver, and more.
Once everything is in place, a driver is dispatched to pick up your heavy equipment. Your equipment is safely loaded and secured before setting off.
Your dedicated agent is available throughout the entire journey to answer any questions you may have. Your oversize load is delivered safely and on time. Get your transport quote now!