Power Only Trucking Services Across the Country
Power only trucking services might not be similar to regular transport services, but they're very common. Unlike the regular hauling services where we provide the trailer and driver, power only trucking services only require a driver and tractor because the owner already owns a trailer. This form of transport is commonly used by people in business and RV owners who only require shipping services once in a while. To use power only trucking services, you must own the trailer, and we offer you the power and manpower to move it to any destination across the country.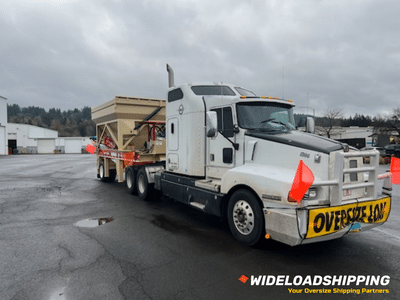 Get Your Shipping Estimate
Transport Your Load With The Best Company In The Industry
What is Power Only Trucking?
Power only trucking is a complete truckload shipping strategy where a provider like Wide Load Shipping offers only a driver and a tractor. This transport solution is also called a power unit. The driver doesn't come with a trailer but hauls or hooks to one provided or leased by a third-party (3PL) shipper. The third-party logistic provider, shipper, or leasing option in power only transport must provide the trailer.
Power only trucking may run an open-deck, dry van, reefer, flatbed or shipping container. Primarily it's utilized by companies that mainly move goods and materials in a dry van or open deck. The companies usually need a driver and semi-tractor to set the trailers in their yard or transfer them from dock to dock. Generally, this gives brokers, carriers, and shippers higher flexibility. Since a power unit, also called a drop and hook, doesn't require you to own a trailer, it's cost-effective for many. The flexibility and affordability enable shippers to meet deadlines and maximize their budgets and business model.
Power only transport has stood the test of time to emerge among the top shipping solutions in the industry. This is mainly because of its efficiency and convenience to clients, especially supply chains. The differentiating factor from other trucking or shipping solutions is that regardless of the trailer type, it is a power unit if the carrier doesn't own it. We will guide you on this strategy at Wide Load Shipping with our expertise and over 12 years of experience. You will get the best services and safe cargo delivery through our dedicated agents and team.
How Much is Power Only Trasport?
Like every other form of transport, the cost of power only trucking services varies from one shipment to another. However, the factors that affect the cost of power only transport services are slightly different due to factors such as deadhead distance which is the number of miles the driver has to travel before getting to where the trailer is located. These miles affect the cost of transport, and the longer the driver travels to get to the pick-up location, the more you will pay.  The other two big factors affecting power only trucking costs are weight and size. The heavier and larger the shipment is, the more the cost is due to high fuel usage. Therefore, despite power only trucking services needing a trailer and driver-only, it doesn't mean they're always cheaper. Once the deadhead distance, weight, and size are considered, it might cost you more than regular shipping services. However, it's still cost-effective if you only use power only trucking services once in a while. Trailer type and commodity are among the other factors affecting the cost of power only trucking services. Power only transport services are cost-effective since you only need to hire a driver and tractor when you need them, as opposed to hiring a full-time driver and buying a tractor that you only get to use a few times a year. In addition, you get to save money since you don't have to pay huge detention fees. Once the driver delivers your trailer to the asked location, he leaves immediately and doesn't have to wait around.
Get Your Shipping Estimate
Transport Your Load With The Best Company In The Industry
Professional Power Only Trucking Services You Can Rely On
The power only trucking solution presents several benefits. For instance, it's a quick alternative if you encounter last-minute adjustments to your trucking needs due to unexpected issues. Power only shipping is also the best solution if a trailer is available. Also, when working with a particular carrier, their capacity to handle what you have may limit your expectations. With our trained team, you will always have a standby solution to your situation. Moreover, with power only transport, you can scale up or down to meet your objectives successfully. You don't have to worry about additional equipment maintenance since third-party providers usually cover these obligations. On the other hand, the shipper must ensure the trailer meets all federal or state regulations, which include permits, insurance, and other requirements. Still, with Wide Load Shipping, we help our clients acquire all vital documents in such situations.
Wide Load Shipping has over a decade of experience offering power only transport services and different state-of-the-art trailers to move trailers of different makes and sizes. Our resources are distributed across all cities in the country, making us fast, efficient, and reliable. Once you make a booking, we contact our affiliates near you and give them the location of your trailer, delivery location, dates, and other necessary information for easy pick up. Having our resources near you reduces the deadhead distance to your trailer, making our power only shipping services affordable. Our drivers are highly experienced and trained to safely hook up the tractor to your trailer and move it safely to a destination of your choice. You can contact us for single or multiple power-only shipping services, and we will offer you a free and accurate shipping estimate. If you have multiple trailers that require to be moved to a nearby location, you can contact us for a driver and have him take all the trailers to a new location.
City to City And State to State Power Only Shipping Services 
Wide Load Shipping has a team of professional drivers who will drive your load anywhere you need it safely and on time. Whether it's within the city, across the city, or state to state, we're here to do it. Talk to one of our logistics specialists for a free estimate.  (877) 792-5056
Alabama; Alaska; Arizona; Arkansas; California; Colorado; Connecticut; Delaware; Florida; Georgia; Hawaii; Idaho; Illinois; Indiana; Iowa; Kansas; Kentucky; Louisiana; Maine; Maryland; Massachusetts; Michigan; Minnesota; Mississippi; Missouri; Montana; Nebraska; Nevada; New Hampshire; New Jersey; New Mexico; New York; North Carolina; North Dakota; Ohio; Oklahoma; Oregon; Pennsylvania; Rhode Island; South Carolina; South Dakota; Tennessee; Texas; Utah; Vermont; Virginia; Washington; West Virginia; Wisconsin; Wyoming.
Frequently Asked Questions
Are Power-Only Shipping Services Cheaper?


Despite you owning the trailer, power-only shipping services aren't always cheaper. That's because of the deadhead distance the driver will drive without the load.
      2.  What Are The Benefits of Power Only Shipping Services?
Power-only shipping services are ideal for shippers who don't need to hire full-time drivers. It's a good way to save money and reliable way to ship loads that require to be moved once in a while.
Your dedicated transport agent provides you with an all-inclusive quote tailored to fit your needs. We pull the permits, handle route surveys, find the best driver, and more.
Once everything is in place, a driver is dispatched to pick up your heavy equipment. Your equipment is safely loaded and secured before setting off.
Your dedicated agent is available throughout the entire journey to answer any questions you may have. Your oversize load is delivered safely and on time. Get your transport quote now!