Transport a Dump Truck with the Professionals Today!
Hiring a dump truck transport company gives you peace of mind and saves your dump truck from wear and tear. In addition, you don't have to worry about your dump truck arriving late because Wide Load Shipping will deliver it on time and safely. We're a fully insured and experienced company that will help you transport your dump truck across the USA, Canada, and Mexico. Driving your dump truck across the country is risky because you can get in an accident or experience severe wear and tear. Wide Load Shipping offers door-to-door and terminal-to-terminal dump truck shipping services.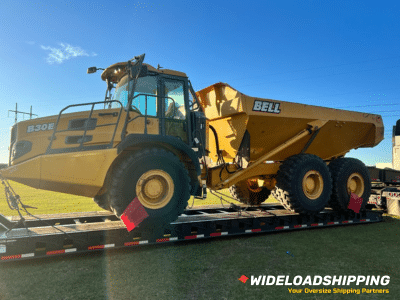 Get Your Shipping Estimate
Transport Your Load With The Best Company In The Industry
Get to Learn the Uses of Different Dump Trucks
We work tirelessly to ensure we meet your dump truck is delivered safely. We have a team of professional specialists ready to acquire transport documents and dispatch your shipment. In addition, they will keep you updated until your dump truck is delivered. Once you make Wide Load Shipping your dump truck transport partner, you get to go about your day-to-day business without worrying. 
Wide Load Shipping isn't selective when it comes to shipping dump trucks. We ship dump trucks of all sizes from every manufacturer. These include standard dump trucks, super dump trucks, side dump trucks, roll-off dump trucks, transfer dump trucks, articulated dump trucks, off-highway dump trucks, semi-trailer ended dump trucks, triple trailer bottom dump trucks, bottom dump trucks, and more. Below is a description of each dump truck. 
Standard dump trucks are made of a truck chassis equipped with a dump body on the frame. A vertical hydraulic ram that is found under the front part raises its body, or a horizontal hydraulic ram and lever found between the frame rails allow them to dump materials. 
Super dump trucks are equipped with trailing axle and load-bearing axle that allows them to carry loads weighing upto 80,000lbs while still meeting federal bridge formula standard.
Side dump trucks are equipped with hydraulic rams that allow them to tilt the dump body to the side and pour material on the opposite side of the truck. As a result, they're incredibly versatile because they can transport anything. 
Roll-off dump trucks drop empty dumpsters at different locations and pick them up when they're filled. They have a winch and cable system to load the filled container onto the truck. 
Transfer dump trucks are equipped with a standard dump truck at the base that pulls a different trailer with a movable cargo container. They're mainly used at construction sites loaded with asphalt, sand, gravel, etc.  
Articulated dump trucks transport heavy loads over rough terrains such as mines, construction sites, quarries, and gravel pits. They're occasionally used on public roads despite being made for off roads. 
Off-highway dump trucks are either articulating frames or rigid frames. They're made for heavy dirt and mining transport jobs. 
Triple Trailer Bottom Dump Trucks 
Triple trailer bottom dump trucks are used for transporting groups of materials. They allow the driver to dump materials without leaving the cab or stopping the truck.
Bottom dump trucks release materials through the clamshell gate at the bottom or belly of the trailer. They have great precision when laying materials and are highly maneuverable. 
Fully Insured Dump Truck Transport Services Provider
When our team of professionals arrives at the pick-up location, they start by inspecting the dump truck and filling out a BOL form. That form acts as a reference at the delivery location to confirm if the dump truck is delivered safely. Before signing a BOL form at the pick-up location, read the information filled out to confirm everything is correct. After that, your dump truck is carefully loaded on a trailer and well secured for transport using chains or straps. Wide Load Shipping understands your dump truck is valuable. Therefore, we will fully insure your dump truck and make a copy of the insurance cover with your name on it. That means if your dump truck isn't delivered safely, you can claim total compensation directly from the insurance company. Once your dump truck is delivered, it's carefully unloaded to avoid any accidents or dents. Our specialists determine the dump truck to use based on the size and weight of a dump truck.
Your Dump Truck Will Be Delivered on Time
Our drivers are familiar with dump trucks from all manufacturers, making loading and unloading easy and fast. We plan the routes to use in advance to avoid traffic along the way. Our drivers are updated if there's a need to change a route. That could be due to an accident or heavy storms. We guarantee safe and timely dump truck shipping services and work round the clock to ensure that's what you get. Our drivers also make regular integrity checks to ensure your dump truck is well secured. Straps or chains used quickly become loose due to too much movement. Shipping permits are needed when shipping large dump trucks that exceed the legal weight or size. We acquire them from a trusted source so that we're allowed to transport your dump truck through public roads.
Pocket-Friendly Dump Truck Transport Services
Wide Load Shipping offers dump truck shipping services at an affordable cost. The transport cost is determined by the distance, route, size, weight, season, and route. The longer the distance, the more you will pay. Also, more extensive and heavier dump trucks will cost you more because they require larger trailers and consume more fuel during transport. Our shipping quotes are free and accurate without any hidden charges. In addition, we offer expedited transport services at an additional cost for clients in need of urgent dump truck transport services. For dump truck transport services across the states, cities, Canada, or Mexico, contact one of our reputable specialists through or toll-free number (877) 792-506.
Your dedicated transport agent provides you with an all-inclusive quote tailored to fit your needs. We pull the permits, handle route surveys, find the best driver, and more.
Once everything is in place, a driver is dispatched to pick up your heavy equipment. Your equipment is safely loaded and secured before setting off.
Your dedicated agent is available throughout the entire journey to answer any questions you may have. Your oversize load is delivered safely and on time. Get your transport quote now!