Frost laws, also known as season weight restrictions, are implemented by several northern states during the onset of spring, when the ground is thawing. The moisture, along with the consistent warming up and cooling down of the season, leaves certain roadways more vulnerable, because the pavement is prone to weakening. Oversize loads that are too heavy, or trucks that are driving too fast can cause structural damage to the road, or even find themselves in an accident. Frost laws were created to avoid road damage and protect drivers from potentially hazardous situations.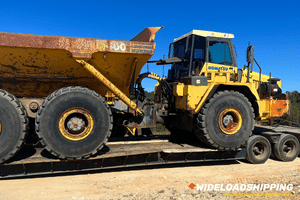 When frost laws are in effect, drivers must reduce axle weight limits and reduce speeds on specific highways. Frost laws not only vary from state to state, but they also vary year to year, depending on the weather. Because frost laws can fluctuate, it's important to check with each state your oversize load may travel through, so you can make amendments as necessary. While sixteen U.S. States have frost laws, Canada has them in nearly every province. It's extremely important to be aware of these laws if you're traveling in these areas.
Why Do We Have Frost Laws, Thaw Laws, and Winter Weight Restrictions?
The Northern US states and Canadian provinces rely on engineers and scientific data to determine when frost laws will be in effect to keep the trucking industry operating. Data is much more reliable, with pretty recent advances in science and technology. That helps implement "Frost Laws" or "Seasonal Weight Restrictions" to ensure they aren't implemented too early or late. While no State or Province desires to delay transporting goods through their territory, it's crucial to protect public assets.

In areas that constantly get to below zero temperatures, the amount of damage has forced the Northern US States and Canadian Provinces to create and enact frost laws and weight restrictions. That restricts vehicle weights during the spring and winter months, specifically for trucking companies, since the roads and bridges are thawing out. There are all kinds of things that can go wrong with different types of roads and pavements. For example, the State of Michigan has implemented permanent frost laws that go into effect from March through May ( in some cases, even June). As a result, some routes require legal axle weight limits to be decreased by up to 35%. Some areas and local governments may also limit heavy-haul vehicle speeds to 35 miles per hour during frost/thaw law months, regardless of posted limits.
U.S. States With Frost Laws
Click On The State to Find Out More
Canada Provinces with Frost Laws
Click On The Province to Find Out More
Your dedicated transport agent provides you with an all-inclusive quote tailored to fit your needs. We pull the permits, handle route surveys, find the best driver, and more.
Once everything is in place, a driver is dispatched to pick up your heavy equipment. Your equipment is safely loaded and secured before setting off.
Your dedicated agent is available throughout the entire journey to answer any questions you may have. Your oversize load is delivered safely and on time. Get your transport quote now!
Get Your Wide Load Shipping Quote!
Haul your heavy load with the best transporters in the industry!
Wide Load Shipping offered amazing services. They transported my excavator from Rhode Island to Louisiana and I couldn't be happier with the transport.
This was the third company I called. After having so many problems with the first two, I was grateful to find a hauling company that was professional and affordable. Will go with Wide Load Shipping every time!
I needed a last minute oversize load transport for cold milling machine. Wide Load Shipping expedited the permits, found a reliable driver, and got my freight delivered on time.