2023 North American DOT Regulations, Rules, Limitations for Oversize and Overweight Trucking Permits
The following states/provinces have laws that govern specialized shipments. They define maximum sizes, weights, and requirements to legally transport objects through their jurisdiction. The process of categorizing these limits must comply with the federal bridge formula (disbursement of weight) and permissible travel times combined with length, width, height, and weight restrictions to be transported over the interstates, highways, and roads within each jurisdiction. To determine the shipping regulations set forth by each state or province you wish to ship in, click on the desired location below.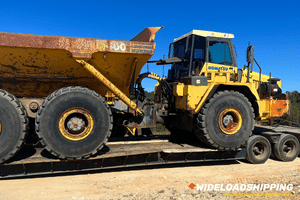 2023 Regulations for Heavy-haul (Maximum Weights) and Oversize Trucking Permits | Pilot Car Regulations
Heavy haul (maximum weights) and oversize trucking regulations are determined individually by each state or province.
The Federal government does not issue permits or regulations for heavy haul, oversize, or overweight shipments. Each state is required to maintain its own set of regulations. They also issue special trucking permits on a case-by-case basis. If you need to research state regulations or laws for oversize and over-weight shipping limitations or need general information about these regulations' limits and restrictions, simply click on the desired state or province for more information. We also have road closure information and tire chain laws.
Get Your Wide Load Shipping Quote!
Haul your heavy load with the best transporters in the industry!
2023 United States Heavy Haul Trucking (Maximum Weights) & Oversize Load Shipping Regulations Are Listed for the Following States
2023 Canadian Province Heavy Haul (Maximum Weights) & Oversize Load Shipping Regulations Are Listed for the Following Provinces
WideloadShipping.com updates the heavy haul trucking and oversize shipping regulation pages regularly. However, it should be noted laws are continuously changing. These pages aim to give our readers a solid guideline of the rules and regulations. Legal requirements (and suggestions) that will be helpful for viewers that conduct heavy haul or oversize trucking operations in the United States and Canada. Companies and individuals engaged in the transportation of heavy haul or oversize items within these countries should observe all of the regulations and be familiar with them. Any questions about variations should be directed to the appropriate entity within the state or province.
YOU SHOULD ALWAYS COMPLY WITH THE INSTRUCTIONS ON YOUR PERMIT.
If you wish to comment or correct us, we welcome your suggestions. On the bottom of each listing page is a location to leave comments and read the comments left by others. We appreciate our user-submitted content, so please feel free to leave any comments you wish so others can reference your notation.
We have recently added the frost law regulations to the applicable states and provinces. Simply refer to the bottom of each regulations page for more information.
Q: What is the maximum width allowed to travel on Interstate highways?
A: 102″ or 8'6″ is the maximum legal width that may be transported without a permit.
We offer the most extensive, comprehensive rules and regulations guide for shipping heavy equipment and moving oversize objects and machinery online. There are rules for limits on length, height, width, and weight for trucking companies, shippers, and pilot cars.
Heavy haul trucking regulations.
Oversize trucking regulations.
Heavy haul shipping regulations.
Maximum weights
Oversize shipping regulations.
Pilot car regulations.
Wide Load Shipping offered amazing services. They transported my excavator from Rhode Island to Louisiana and I couldn't be happier with the transport.
This was the third company I called. After having so many problems with the first two, I was grateful to find a hauling company that was professional and affordable. Will go with Wide Load Shipping every time!
I needed a last minute oversize load transport for cold milling machine. Wide Load Shipping expedited the permits, found a reliable driver, and got my freight delivered on time.