2023 Saskatchewan Trucking Laws, Regulations, Permits, Rules for Heavy Haul and Oversize Loads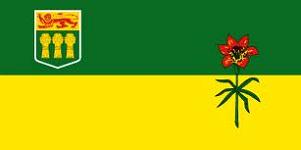 Please share your knowledge of Saskatchewan Province shipping laws with other visitors below.
Oversize Legal Load Limits in Saskatchewan
Saskatchewan maximum load limits until a trucking permit are required.
Length: 75 feet (22.86 meters) overall length. The trailer length maximum is 53 feet (16.1544 meters).
Width: 8 feet 6 inches wide (2.5908 meters).
Height: 13 feet 6 inches (4.1148 meters) tall.
Weight: 12,100 pounds (5488.4677 kilograms) on steer axle, 20,200 pounds (9162.5659 kilograms) on a single axle, 37,400 pounds (16964.355 kilograms) on tridem axles.
Overhang: Kingpin settings and trailer wheelbase positions are important.  Call to clarify.
Routine Oversize and Heavy-haul Trucking Permits in Saskatchewan
These maximum dimensions/weights are considered routine oversize or heavy-haul trucking permits in Saskatchewan.
Length: Since Saskatchewan Province has no said length restrictions your overall length approval will depend on your proposed route.
Width: No set maximums, depends on routing.
Height: No set maximums, depends on routing.
Weight: Saskatchewan is tough.  No single axles numbers, 48,000 pounds (21772.434 kilograms) on tandem axles, 72,000 pounds (32658.651 kilograms) on tridem axles, if you are over 60,000 pounds (27215.542 kilograms) on tridem axles prepare for a bridge survey as it will probably be required..
Overhang: No set limits, depending on routing.
Saskatchewan Superloads Information
Requirements for extra heavy or extra-legal/dimensional (superloads) in Saskatchewan
Typically so we're not publishing too much information a superload is defined by Saskatchewan Province as any shipment with weights and dimensions that exceed those published above in "Routine Permits". There are exceptions but everything depends on proposed routing and road/weather conditions and if frost laws are in effect.
Required Flags and Markers for Oversize and Overweight Shipments  in Saskatchewan
Know how to mark your load and what signs are required by your permit.
Lights, flags, and markers:
If over 120.078 inches wide (3.05 meters) you will need amber lights for night running and flags for daytime travel.  A WIDE LOAD or "D" sign is required for all wide loads over 120.078 inches wide (3.05 meters) however an "OVERSIZE LOAD" banner is NOT allowed.  If you are moving at night any required banners must be illuminated with additional amber light in the center of the rear.  If over 10′ 9″ (3.2766 meters) wide the cab of the tractor must be mounted with an amber light.  If over 82 feet (24.9966 meters) long you MUST have a "D" sign or LONG LOAD banner mounted on the rear.  If not transporting a load you must cover ANY signs.
NOTES:  Lift axles are not permitted.  Flip axles can be used if trailer kingpin to center distance is less than 45′ 5″, the trailer is no longer than 53′, and the load is classified as NON DIVISIBLE.  A tractor wheelbase from the center of the steer axle to the center of the drive axle can not measure over 244″ unless you permit the load with a longer wheelbase AND IF they approve it.  This only applies to oversize permits and overweight will not be eligible.  A tridem drive tractor is NOT recognized by the Province of Saskatchewan except for moves that are large and NON-DIVISIBLE, IF a tridem drive tractor IS allowed it MUST have a wheelbase of no less than 260″ and no greater than 268″.  A spread axles trailer that has axles spacings of greater than 6′ is considered a single axle for weight calculations and is not allowed to carry more than a combined total weight of 20,000 pounds or 10,000 pounds per axle.  EXCEPT when in the case of when the object being shipped is NOT over 37,500 pounds loaded on the spread.  Please leave Saskatchewan experiences below.  This is a tough Province to get solid numbers out of and our viewers can use your experience to help them.
Will Your Shipment Be Delayed Due to Frost and Thaw Law Restrictions in Saskatchewan?
Frost and thaw laws constantly change due to weather conditions in Saskatchewan. Find out if they're in effect:
Saskatchewan Province does have spring weight restrictions and the roads and highways are dependent on conditions.  These restrictions usually apply to all secondary roads and not main highways.  Overall weight reductions may be imposed in some areas.  Check with the Saskatchewan Province permit office for clarification.
Oversize and Overweight Load Travel Times and Restrictions in Saskatchewan
Make certain you don't ship oversize or heavy-haul loads during restricted movement hours:
Travel times and restrictions:
Holiday restrictions vary, contact SGI permit office to see if you can travel or not.  Daytime travel only for loads over 82′ in length, 12′ 2″ in width and 16′ in height.  No movement is allowed on Friday after 3:00 pm from July 1 until Labor day.  Night time travel is permitted if under the above maximums but must have amber lights on all 4 outer most corners and reflective sign on rear indicating OVERSIZE or LONG LOAD.
When are Pilot Cars or Escort Vehicles Required in Saskatchewan?
Heavy-haul or oversize loads may be required to be accompanied by an escort vehicle or pilot car if:
Length: If load is over 98′ on 2 lanes 1 rear pilot car (escort) is required.  If over 118′ in length 1 front and 2 rear pilot car (escort vehicle) is required.
Width: If a load goes beyond the center line of the road then 1 front escort is required.  If over 16′ 4″ wide you will be required to have 1 front and 1 rear escort.
Height: Up to the permit office depending on route.  If over 17′ 2″ in height you will be required to have a bucket truck travel with you.
Weight: For over weight shipments it looks like an escort vehicle will not be required.
Overhang: Case by case basis.  Contact permit office for clarification.
Pilot Car and Escort Vehicle Requirements in Saskatchewan
Pilot car or escort vehicle mandatory operator certifications and vehicle requirements:
All pilot cars/escort vehicles must display a bumper or roof mounted "OVERSIZE LOAD" sign visible from both the front and rear of the vehicle. Sign must be at least 5′ long and 12″ in height, yellow in color with black letters no less than 10″ tall and 1 1/2″ in width. Vehicle must have 2 safety flags red or orange in color and be a minimum of 18″ of length and/or height mounted at a 40 to 70 degree angle on all 4 corners of the vehicle. Company identification signs must be placed on both sides of the pilot car (escort vehicle) displaying the name of the company, phone number and be placed on both the left and right hand sides of the vehicle. These signs must be no less that 8″ tall x 12″ wide and identity writing must be plainly legible. Vehicle must be equipped with a horizontally mounted rotating (or strobe) amber colored flashing light which must be visible from a 360 degree angle from a minimum of 500 feet. Vehicles must be equipped with a CB radio or 2-way communication device, 2 – 5 pound fire extinguishers type A, B and C, a sign with the word "STOP" on one side and "SLOW" on the other with dimensions of no less than 18″ in diameter with a minimum of 6″ letters. A red safety colored flag with handle no less than 18″ square, 3 reflective emergency road triangles or 18″ traffic cones, 2 OVERSIZE LOAD banners (yellow with black lettering) and a safety colored (red, orange, yellow or lime green) vest, jacket or shirt (used while directing traffic).
Saskatchewan Province DOT Trucking Information
Physical address:
SGI
Over-dimensional Trucking Permits
2260 – 11th Avenue
Regina, SK  S4P 0J9
Email: CarrierSafetyPrograms@sgi.sk.ca
Help telephone line: 306-775-6969 or 800-665-7575
Fax: 306-775-6909
Hours: Monday – Friday 8:30 am – 4:30 pm
Central Time Zone.
MORE USEFUL RESOURCES 
The information contained in these pages is research information primarily for use by oversize and overweight trucking company drivers, dispatchers and pilot car companies. While every effort is put into maintaining the accuracy of this information you must absolutely verify this information with the Saskatchewan Province DOT Permits office before commencing movement.