International Import and Export Services
Wide Load Shipping has a specialized import and export transport team. They are trained and experienced to transport your oversize load overseas. Shipping heavy equipment internationally requires specific paperwork to ensure the load travels safely through customs. One of the most common methods to transport oversize loads internationally is port-to-port shipping. This is where your load is picked up and transported to a port, where it will be loaded onto an awaiting ship.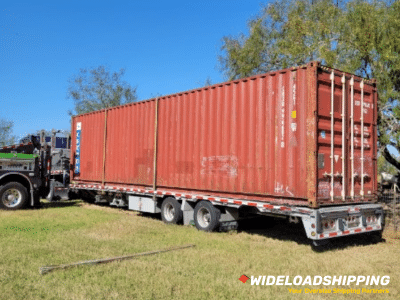 Get Your Shipping Estimate
Transport Your Load With The Best Company In The Industry
What's the Cost of International Transport Services?
The cost of shipping an oversize load varies. There are many things to take into account, including customs fees and shipping tariffs. Tariffs are the taxes applied to equipment and freight entering a country. Your international transport specialist will find the best international transport rate for your oversize loads. We have over twelve years of experience shipping heavy equipment overseas. Each client is provided a customized transport solution tailored to fit your needs. Wide Load Shipping provides the best international equipment transport in the industry. The most common options for port to port transport are flat rack and roll on / roll off methods. Your dedicated international transport agent will determine the best choice to ship your oversize load overseas. The oversize load travels over the ocean, arriving at another port, where it is then picked up and transported to the final destination. Not every country is on the coast, so the closest port to the final destination is chosen. Call now and get your international transport rate for an oversize load today!
Why You Need Our Experts for International Equipment Shipping
With more than 12 years of experience, our experts use the best and most common option for international equipment transport. Our commercially licensed drivers will safely ship your oversized and overweight cargo anywhere you need it. We are a trusted international equipment shipping company offering quality, efficient, and reliable overseas cargo transport. Our services include a committed team of skilled professionals to guide your transportation of oversized, super, and wide loads.
The core mission at Wide Load Shipping is to provide everything you need for safe, timely, and hitch-free international equipment transport. International clients in different regions enjoy our quality equipment shipping services, including Canada and Mexico. Our reliable experience transporting equipment overseas helps us understand the necessary paperwork, permits, and insurance. For international equipment shipping, customs duty extra paperwork is needed.
To determine the most cost-effective method for shipping equipment overseas, you will be assigned one of our dedicated international transport agents. The expert will guide you through all the paperwork and customs requirements. While we commonly use the port-to-port shipping method, we know that only some countries are on the coast. In such cases, the agent assigned to you will pick the nearest and most suitable port to your shipment's destination.
Get Your Shipping Estimate
Transport Your Load With The Best Company In The Industry
Common Loads We Transport Internationally 
Wide Load Shipping offers transportation services to and from every country across the world. We will deliver your load to the port nearest to you or at a terminal of your choice. Below are common equipment and loads we transport internationally. 
Construction Equipment e.g. bulldozers, excavators, backhoes, cranes, and wheel loaders.
Farm Equipment e.g. combines, tractors, balers, sprayers, and cotton pickers.
Machinery e.g. CNC machines, belt conveyors, paving stone machines, rotary, and machines.
Forestry Equipment e.g. skidders, log forwarders, tree trimmers, and yarders.
Oversize and Overweight Loads.
Containers
International Equipment Shipping Services
Your dedicated transport agent provides you with an all-inclusive quote tailored to fit your needs. We pull the permits, handle route surveys, find the best driver, and more.
Once everything is in place, a driver is dispatched to pick up your heavy equipment. Your equipment is safely loaded and secured before setting off.
Your dedicated agent is available throughout the entire journey to answer any questions you may have. Your oversize load is delivered safely and on time. Get your transport quote now!