Tennessee Oversize and Overweight Permits
Contact (877) 792-5056 for Oversize Permits in Tennessee.
Not sure if your load is considered oversize or overweight in Tennessee? Wide Load Shipping will help you know if your load is oversize or overweight and acquire shipping permits to avoid fines. Below is more detailed information about oversize and overweight permits, superloads, and pilot car requirements.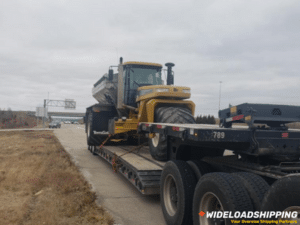 Oversize Legal Load Limits in Tennessee
Tennessee maximum load limits until a trucking permit are required.
Length
: 53 feet.
Width
: 8'6 feet.
Height
: 13'6 feet.
Weight
: 80,000 pounds gross (GVW).
Overhang
: 4 feet in the rear and 4 feet in the front.
When Pilot Cars or Escort Vehicles Are Required in Tennessee
Heavy-haul or oversize loads may be required to be accompanied by an escort vehicle or pilot car if:
Length:
75 feet to 85 feet, you may be permitted to use an amber strobe light.
85 feet requires 1 pilot car.
120 feet requires 2 pilot cars.
Width:
2-lane roads:
10 feet requires 1 pilot car unless the pavement is 24 feet wide from the edge line (white line on the side) to the edge line.
14 feet requires 1 pilot car and 1 escort vehicle.
4-lane roads:
12 feet 6 inches requires 1 escort vehicle.
14 feet requires 1 pilot car and 1 escort vehicle.
Height:
15 feet will require a pilot car equipped with a height pole.
Notes: 
Combination loads are not permitted if two oversize dimensions exist. Example: a bulldozer with a wide blade and another piece of machinery that is too tall on one single trailer. Blades and buckets on bulldozers or grading machinery are common examples. All oversize machinery must be loaded onto a trailer with extremities facing toward the rear of the trailer. Any machinery shipments with blades or buckets, etc. that are in excess of 13 feet and 6 inches will not be permitted unless removed from the machinery.  Mobile homes exception.  All mobile homes up to 16 feet wide will be required to have 1 front and 1 rear pilot car.  Mobile homes are also allowed to travel every day except for Sundays.  Travel times are from 9 am until 4 pm, with all-day travel permitted on Saturdays.
What's the Cost of Trucking Permits In Tennessee?
Below we have the costs of oversize and overweight trucking permits in Tennessee. Our specialists will help you acquire permits for your load on time. Call us at (877) 792-5056.
Width, not more than 10 feet: $10

Width between 10 feet and 12 feet: $15

Width between 12 feet and 14 feet: $25

Width between 14 feet and 16 feet: $30

Width over 16 feet: $30 plus $5 for every additional foot or fraction of

Height or length permit: $15

Overweight single trip permit: $15 plus $0.05 per ton/mile

Annual overweight permit for vehicles upto 120,000 pounds: $500

Annual overweight permit for vehicles over 120,000 pounds upto 150,000 pounds: $1000

Gross vehicle weight evaluation of bridges and similar structures: $100 or more, depending on the weight
We Offer Trucking Permits in the Following Cities in Tennessee;
Nashville, TN; Memphis, TN; Knoxville, TN; Chattanooga, TN; Clarksville, TN; Murfreesboro, TN; Franklin, TN; Jackson, TN; Johnson City, TN; Barlett, TN; Hendersonville, TN; Kingsport, TN; Smyrna, TN; Collierville, TN; Cleveland, TN; Brentwood, TN; Spring Hill, TN; Gallatin, TN; Columbia, TN; Germantown, TN; La Vergne, TN; Cookeville, TN; Mount Juliet, TN; Lebanon, TN; Morristown, TN
We Offer Trucking Permits in the Following Counties in Tennessee;
Shelby County
; Davidson County; Knox County; Hamilton County; Rutherford County; Williamson County; Montgomery County; Sumner County; Sullivan County; Wilson County; Blount County; Washington County; Bradley County; Maury County; Madison County; Sevier County
; Putnam County; Anderson County; Robertson County; Greene County; Hamblen County
; Tipton County; Cumberland County
; Coffee County; Hawkins County; Carter County; Jefferson County; Loudon County; Dickson County; Roane County
; McMinn County; Gibson County
Oversize and Overweight Permit Limits in Tennessee
Here's the maximum weight your load can be, even with a permit in Tennessee:
Single Axle Weight Permits: 20,000 pounds
Tandem axles Weight Permits: 40,000 pounds
Tridem axles Weight Permits: 60,000 pounds
Quadem axles Weight Permits: 80,000 pounds
Five axle Weight Permits: 100,000 pounds
Six axle Weight Permits: 120,000 pounds
Seven axle Weight Permits: 140,000 pounds
Eight axle Weight Permits: 160,000 pounds
Below are the maximum dimensions a load can be even with a permit in the state of Tennessee:
Max Length With Permit: 120 feet
Maximum Width With Permit: 16 feet
Maximum Height With Permit: 15 feet
Tennessee Superload Information
Requirements for extra heavy or extra-dimensional (superloads) in Tennessee:
Shipments that are defined as super-loads are typically any that exceed any of the weights or dimensions described above in routine oversize and heavy-haul trucking permits. Shipments that are in excess of  15 feet in height or 16 feet in width will not be allowed to travel via conventional permits if they are a public safety factor including potential property damages. Shipments that exceed 16 feet in height are seriously frowned upon in the state of TN and will require additional approval to be considered for permitting.
Legal Travel Times for Oversize and Heavy Haul Loads in Tennessee
Travel times and restrictions in Tennessee
:
The one-half hour before sunrise and one-half hour after sunset, the basic rule applies. No travel on Sunday. If overweight only continuous travel is permitted. Night time travel for overweight is not a problem as long as the minimum speed limit can be maintained by the carrier.  Anything other than overweight is daylight travel only for the most part unless otherwise specified on your permit.  In cities and high-density traffic areas, travel may be restricted between 7 and 9 AM and 4 and 6 PM on weekdays – be sure to refer to your permit. On the following holidays, no travel is permitted:
New Year's Day
Good Friday
Memorial Day
Independence Day
Labor Day
Thanksgiving Day
Christmas Day
The Tennessee state DOT permit office is closed on these days as well and additionally on:  Martin Luther King day, Presidents day, Columbus day, Veterans day, and the day after Thanksgiving. However, travel is not restricted on any of these days if it is not on a Sunday unless otherwise specified on your permit. Note that failure to comply with designated travel time restrictions can result in the carrier/shipment being placed on permit issue restriction for 365 days. Inclement weather such as ice, snow, rain, wind, and anything that restricts reasonable visibility is observed. For more information on
TN road conditions
.
Pilot Car and Escort Vehicle Requirements and Certifications in Tennessee
Pilot car or escort vehicle mandatory operator certifications and vehicle requirements in Tennessee:
NOTE BE ADVISED NEW LAWS FOR 2018 WILL BE RELEASED VERY SOON. Tennessee state shipping regulations state that all pilot cars/escort vehicles must display either both bumpers or 1 roof-mounted "OVERSIZE LOAD" or "WIDE LOAD" sign (whichever is applicable) visible from both the front and rear of the vehicle and only the displayed while working. The sign must be at least 5′ long but no greater than 7′ and 12″ in height but no greater than 18″ in height, yellow in color with black letters no less than 8″ in height but no more than 10″ in height and lettering must be a minimum of 1.4″ in width.  Vehicle must be equipped with 2 horizontally mounted rotating (if rotating 8″ base is required) (or strobe) amber colored flashing or strobe light which must be visible from a 360-degree angle from a minimum of 500 feet. Vehicles must be equipped with a CB radio or 2-way communication device and be in constant communication with all parties assigned to the movement.
It is our opinion that pilot cars also have a minimum of the additional items but not required:  2 – 5 pound fire extinguishers type A, B, and C, a paddle sign with the word "STOP" on one side, and "SLOW" on the other with dimensions of no less than 18″ in diameter with a minimum of 6″ letters. A red safety-colored flag with a handle no less than 18″ square, 3 reflective emergency road triangles or 18″ traffic cones, 8 burning road flares, 2 OVERSIZE LOAD banners (yellow with black lettering), and a safety colored (red, orange, yellow or lime green) vest, jacket or shirt (used while directing traffic). Also, see FHA Best Practices for pilot cars.
Recent Load Hauled in Tennessee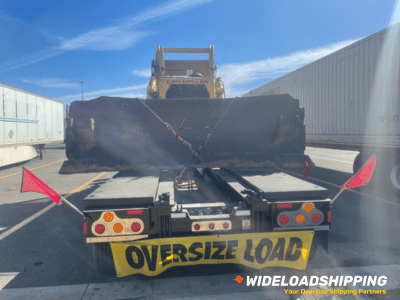 Freight:

CATERPILLAR D8H DOZER

Origin:

Ashton, SD, 57424

Destination:

Tucson, AZ, 64725

Specs:

20L x 13.5W x 10.5H

Weight:

80,000lbs
MORE USEFUL RESOURCES 
Tennessee Road Closures