West Virginia Oversize and Overweight Permits
Contact (877) 792-5056 for Oversize Permits in West Virginia.
Are you wondering whether a load you're transporting to or from West Virginia is oversize or overweight? You can contact Wide Load Shipping with the size and weight of your load to help you know if it qualifies as oversize or overweight and help you acquire permits for it. We have detailed information about superloads, permits, pilot car requirements, and more below.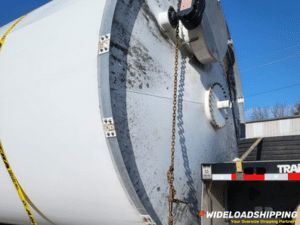 Oversize Load Limits in West Virginia
Below are the maximum load sizes in West Virginia before you need a permit. 
Length:  53 feet.
Width: 8' 6 feet.
Height: 13' 6 feet.
Weight: 80,000 lbs GVW.
Overhang: 3′ in the rear and 6′ in the front.
Pilot Car and Escort Vehicle Information in West Virginia
Length: If the load is 75′ to 95′ on a 2-load road, you will need one rear pilot car (escort).
Width:   10′ 6″ to 12′ wide on a 2-lane road requires 1 front pilot car.  On a 4-lane road, up to 12′ wide requires no escorts.  When the load is 12′ 1″ to 14′ wide 1 front and 1 rear pilot car (escort) is required on all 2 lane roads and 1 rear on all 4 lane roads.  For loads 14′ 1″ – 15′ wide, 1 front and 1 rear pilot car (escort) is required.  15′ 1″ to 16′ wide on 2 lane requires 2 front pilot cars (escorts) and 1 rear pilot car (escort).  On 4 all-lane roads 1 front and 2 rear pilot cars (escorts) are required.  If you do have a permit for weekend travel, you will be required to have a police escort.  Districts and Parkways (Turnpikes) may require additional escorts as well.  Vehicles traveling with a width of over 14′ wide will not be allowed to travel on Fridays except on Parkway (Turnpike).  The maximum width allowed on the Parkway is 16′, and it must be accompanied by a police escort if over 15′.
Height:  If the height of the load exceeds 15′, a front high pole card is required.
Weight:  Check with the State of West Virginia to see if your weight class will require a pilot car/escort.
Overhang:  If the front overhang is over 10′ on 2 or 4-lane roads 1 front pilot car (escort) is required.  If the rear overhang exceeds 10′ on a 2 or 4-lane road one rear escort is required.
What's the Cost of Trucking Permits In West Virginia?
Here we have the costs of oversize and overweight permits in West Virginia. We are familiar with the process of acquiring shipping permits in West Virginia. Call us at (877) 792-5056.
Oversize and overweight single trip permits: $20 plus $0.04 per ton-mile for overweight

Superload permits: $20

Regular blanket permit: $200 for an oversize permit and $500 for an oversize and overweight permit

Seagoing blanket permit: $150 for 1 to 15 permits and $15 for over additional permit

Mobile home blanket permit: $200

Mobile home single trip permit: $20

Low impact monitors permit: $150 for the first bridge, $100 for the second bridge, and $50 for every additional bridge upto a maximum of $750
Oversize and Overweight Permit Limits in West Virginia
Below are the maximum dimensions a load can be even with a permit in the state of West Virginia:
Max Length With Permit: Depends on the route
Max Overhang With Permit: 30 ft rear and 15ft front
Maximum Width With Permit: 16 feet
Maximum Height With Permit: 15 feet
Travel Times and Restrictions in West Virginia
No weekend travel is permitted in West Virginia.  However, you can request to travel on the weekend when you apply for your permit.  They have been known to grant weekend travel to loads that are say 14′ in width or a little on the heavy side but do not count on approval.  Travel is not permitted on the following holidays:  New Year's day, Good Friday, Memorial day, Independence day, Labor day, Thanksgiving day, and Christmas day.  The permit office is also closed on these days as well.
Pilot Car and Escort Vehicle Requirements in West Virginia
All pilot cars/escort vehicles must display a bumper or roof-mounted "OVERSIZE LOAD" sign visible from both the front and rear of the vehicle.  The sign must be at least 5′ long and 12″ in height, yellow in color with black letters no less than 10″ tall and 1 1/2″ in width. Vehicle must have 2 safety flags, red or orange in color, and be a minimum of 18″ of length and/or height mounted at a 40 to 70-degree angle on all 4 corners of the vehicle.   Company identification signs must be placed on both sides of the pilot car (escort vehicle) displaying the company's name and phone number and on both the vehicle's left and right-hand sides. These signs must be no less than 8″ tall x 12″ wide, and identity writing must be plainly legible.  The vehicle must be equipped with a horizontally mounted rotating (or strobe) amber-colored flashing light which must be visible from a 360-degree angle from a minimum of 500 feet. Vehicles must be equipped with a CB radio or 2-way communication device, 2 – 5 pound fire extinguishers type A, B, and C, a sign with the word "STOP" on one side and "SLOW" on the other with dimensions of no less than 18″ in diameter with a minimum of 6″ letters.  A red safety-colored flag with a handle no less than 18″ square, 3 reflective emergency road triangles or 18″ traffic cones, 2 OVERSIZE LOAD banners (yellow with black lettering), and a safety colored (red, orange, yellow, or lime green) vest, jacket or shirt (used while directing traffic).
For a vehicle to qualify, all pilot car/escort vehicles must have a gross weight of over 2,000 pounds but also have a manufacturer's gross weight rating of fewer than 26,000 pounds.
Ready To Aquire an Oversize Permit For Your Load in West Virginia? Call (877) 792-5056! 
MORE USEFUL RESOURCES