Wyoming Oversize and Overweight Permits
Contact (877) 792-5056 for Oversize Permits in Wyoming.
Wide Load Shipping is a reputable company that will help you acquire permits for your oversize or overweight load in Wyoming. Learn more about superloads, pilot cars, and legal load limits in Wyoming below.
Oversize Legal Load Limits in Wyoming
Below are the maximum load sizes in Wyoming before you need a permit. 
Length:  60 feet. Width: 8' 6 feet. Height: 14 feet. Weight: 80,000 lbs. GVW, 20,000 single, 34,000 tandem. Overhang: No limit on overhang stated.
When Are Pilot Cars Needed in Wyoming?
Length:
If a shipment is over 110′ long, you will require 1 front and one rear pilot car (escort).
Width:
If a shipment is over 14′ in the width you will be required to have 1 front and 1 rear pilot car (escort).
Height:
It all depends on the proposed routing.  If the height of the load exceeds 15′ you will "probably" be required to have a front high pole escort but not positively. If height is 17′ you will more than likely be required to have a high pole escort in the front of the load.   Call and speak with them directly for clarification.
Weight:
Check with the Wyoming port of to see if your weight class will require a pilot car/escort.
Overhang:
No specified limits.  This is something they like to see for themselves at the ports.  If your load is secure and safe looking but not too long overall and has flags/amber lights, then you will possibly not be required to have a pilot car.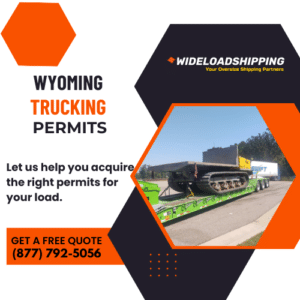 What's the Cost of Trucking Permits In Wyoming?
Here are the costs of oversize and overweight permits in Wyoming. Allow us to help you acquire the right permits for your load. Call us at (877) 792-5056. Oversize single trip permit: $25 plus $0.03 per foot or a fraction more than the legal size Overweight single trip p ermit: $40 minimum. $0.06 per ton or fraction over the legal weight.
We Offer Trucking Permits in the Following Cities in Wyoming;
Cheyenne, WY; Casper, WY; Laramie, WY; Gillette, WY; Rock Springs, WY; Sheridan, WY; Green River, WY; Evanston, WY; Rivertown, WY; Jackson, WY; Cody, WY; Rawlins, WY; Lander, WY; Torrington, WY; Powell, WY; Douglas, WY; Ranchettes, WY; Worland, WY; Fox Farm-College, WY; Buffalo, WY; Fox Farm-College, WY; South Greeley, WY; Mills, WY; Wheatland, WY; Newcastle, WY
We Offer Trucking Permits in the Following Counties in Wyoming;
Laramie County; Natrona County; Campbell County
; Sweetwater County; Fremont County; Albany County
; Sheridan County; Park County; Teton County; Uinta County; Lincoln County; Carbon County; Converse County; Goshen County; Big Horn County; Sublette County; Platte County; Johnson County; Washakie County; Crook County; Weston County; Hot Springs County; Niobrara County
Oversize and Overweight Permit Limits in Wyoming
Here's the maximum weight your load can be, even with a permit in Wyoming:
Single Axle Weight Permits: 25,000 pounds
Tandem axles Weight Permits: 55,000 pounds
Tridem axles Weight Permits: 65,000 pounds
Below are the maximum dimensions a load can be even with a permit in the state of Wyoming:
Length: Up to 90′ long on a single unit and 110′ on a combined unit. Width: Up to 18′ wide, depending on routing. Height: 17′ Overhang: It's pretty good in Wyoming as they have nothing is specified directly.
Notes:  Wyoming like to issue permits at their ports of entry.  Make sure you call well in advance if you plan on traveling through this state.  Any load that is over 18′ wide, 17′ tall or up to 250,000 lbs will need to be reviewed by the state.  It can take up to 2 weeks for approval.  If you have odd axle configurations, expect trouble.
Oversize Load Travel Times in Wyoming
Night time travel is permitted for the shipment of loads under 10′ wide and under 90′ in length overall on interstate roads only.  Shipment must display amber lights and appropriate banners for night movement.  Oversize and overweight shipments may travel one-half hour before sunrise until one-half hour after sunset.  No holiday travel is permitted if you are being escorted on any of the following holidays; New Years day, Memorial day, Independence day, Labor day, Thanksgiving day and on Christmas day.  If the holiday causes a 3-day weekend you will not be allowed to travel on the day before or after the 3-day period.  If the holiday falls on a Saturday and your shipment is required to be escorted you may not travel on Friday morning and travel does not resume again until Monday morning.  If the holiday is on a Sunday and you are required to be escorted you must cease travel on Friday evening and travel does not resume again until Tuesday morning.
Wyoming Pilot Car Requirements to Operate
No motorcycles are allowed.  The vehicle must be equipped with a horizontally mounted rotating (or strobe) amber-colored flashing light no less than 4″ in diameter which must be visible from a 360-degree angle from a minimum of 500 feet.  All pilot cars/escort vehicles must display a bumper or roof mounted "OVERSIZE LOAD" sign visible from both the front and rear of the vehicle. Sign must be at least 5′ long and 10″ in height, yellow in color with black letters no less than 8″ tall and 1 " in width.  The vehicle must have 2 safety flags red or orange in color and be a minimum of 12″ of length and/or height mounted at a 40 to 70 degree angle on top middle section of the vehicle.  Vehicles must be equipped with a CB radio or 2-way communication device,  at least 1 – 5 pound fire extinguishers type A, B and C, 3 reflective emergency road triangles and extra flags.
Recent Load Hauled in Wyoming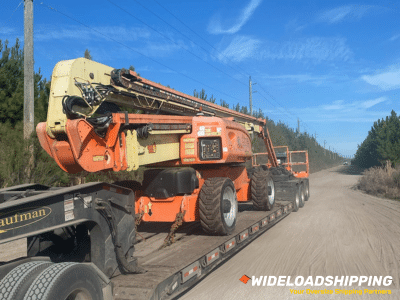 Freight:

2010 JLG ARTICULATING BOOM

Origin:

Ashton, SD 57424

Destination:

Laramie, WY 82071

Specs:

38L x 8W x 10H

Weight:

44,000lbs
MORE USEFUL INFORMATION