Kansas Oversize and Overweight Permits
Contact (877) 792-5056 for Oversize Permits in Kansas.
Transportation of overweight and oversize loads in Kansas requires shipping permits issued by the State's DOT. Wide Load Shipping has a team of over 100 specialists ready to help you acquire the relevant permits to accompany your load during transport. Learn more about limits, superloads, and pilot cars below.

Oversize Load Limits in Kansas
Kansas maximum load limits until a trucking permit is required.
Length: 59'6 feet.
Width:  8'6 feet.
Height: 14 feet.
Weight: 80,000 pounds (GVW).
Overhang: 59'6 feet combined length.
When
Are
Pilot Cars or Escort Vehicles Required in Kansas?
Heavy-haul or oversize loads may be required to be accompanied by an escort vehicle or pilot car if:
Length: If in excess of 90 feet overall, you are required to have 1 rear/chase pilot car or escort vehicle.
Width: Loads over 14 feet wide, one front escort and one rear. 4 lanes or less may eliminate rear escort with amber light on the cab and rear or load.  The light must be at least 2 feet high from the pavement and no more than 8' from the pavement.  Does not apply to super or over 4 lanes. Turnpike restrictions: At least one escort vehicle is required to accompany the movement of loads more than 14 feet wide.
Height: If over 17 feet tall, you need a high pole escort.
NOTES:
Permits will state on them if they are valid for either 3 or 5 days. All signs, flags, and amber lights must be either removed or covered when not in operation.
What's the Cost of Trucking Permits In Kansas?
Here are the costs of oversize and overweight permits in Kansas. We have a team of specialists to help acquire the right permits for your load. Call us at (877) 792-5056.
Single trip oversize permits in Kansas: $20

5-year permit for vehicles allowed to transport bales of hay under subsection: $25

Annual oversize permits: $150

Special vehicle combination permits for qualified companies authorized under K.S.A 8-1915 and amendments: $2000 and $50 fee per year for every power unit operating under this annual permit
We Offer Trucking Permits in the Following Cities in Kansas;
Wichita, KS; Overland Park, KS; Kansas City, KS; Olathe, KS; Topeka, KS; Lawrence, KS; Manhattan, KS; Lenexa, KS; Salina, KS; Hutchinson, KS; Leavenworth, KS; Leawood, KS; Dodge City, KS; Garden City, KS; Emporia, KS; Derby, KS; Gardner, KS; Prairie Village, KS; Junction City, KS. Hays, KS; Pittsburg, KS; Liberal, KS; Newton, KS; Great Bend, KS;
We Offer Trucking Permits in the Following Counties in Kansas;
Johnson County; Sedgwick County; Shawnee County; Wyandotte County; Douglas County; Leavenworth County; Riley County; Butler County; Reno County; Saline County; Crawford County; Finney County; Geary County; Cowley County; Ford County; Harvey County; Miami County; Lyon County; Montgomery County; McPherson County; Ellis County; Franklin County; Barton County
; Pottawatomie County; Sumner County; Seward County; Labette County; Cherokee County; Dickinson County; Jefferson County; Atchison County; Neosho County; Osage County;
Pilot Cars/Escort Vehicle Certifications and Requirements in Kansas
Pilot car or escort vehicle mandatory operator certifications and vehicle requirements in Kansas:
Qualifying vehicles must be passenger vehicles or pick-up trucks with a minimum width of 60 inches and a maximum weight rating of 1 ton. The maximum loaded weight may not exceed 12,000 pounds. Pilot car and escort vehicle operators must be 18 years of age minimum and have a valid driver's license. All pilot cars or escort vehicles must have an
"Oversize Load"
sign either on top of the pilot car/escort vehicle or facing towards the front or the rear of the vehicle, whichever is applicable. Oversize Load signs must be a minimum of 5 feet in length and no less than 18 inches in height with a minimum of 8-inch letters that are black on a yellow background. Amber lights must be attached to the vehicle's roof and either rotate or strobe and be visible from no less than 1,000 feet. Any vehicle used to escort or pilot oversize loads must be fully insured in its registered state. Equipment required is 1 standard 18-inch or 24-inch "Stop" and "Slow" paddle sign. 8 reflective triangles, 8 red road safety burning flares, three orange color 18-inch tall safety cones, one orange hard hat worn when outside of the vehicle, 2 amber flashing lights 6 inches or larger or one rotating or oscillating amber light. A first aid kit, 1 "OVERSIZE LOAD" sign, 1 spare tire, 1 jack and lug wrench, 1 safety-colored orange vest or jacket, 2 – 12 inch (minimum) square red or orange hand-held flags, and 1- 5 pound B and C fire extinguisher.
NOTES: The "superload certification" certificate policy has been discontinued and you no longer need to be "certified" to operate a pilot car or escort vehicle in the state of Kansas. Research this further if you wish. All pilot cars or escort vehicles operating in the state of Kansas are required to have a copy of the Kansas pilot car manual in the vehicle at all times. All signs, flags, and amber lights must be covered or removed when not in operation.
Oversize and Overweight Permit Limits in Kansas
Here's the maximum weight your load can be, even with a permit in Kansas:
Single Axle Weight Permits: 22,000 pounds
Tandem axles Weight Permits: 45,000 pounds
Tridem axles Weight Permits: 60,000 pounds
Quadem axles Weight Permits: 65,000 pounds
Five axle Weight Permits: 95,000 pounds
Six axle Weight Permits: 110,000 pounds
Seven axle Weight Permits: 150,000 pounds
Eight axle Weight Permits: 150,000 pounds
Below are the maximum dimensions a load can be, even with a permit in the state of Kansas:
Max Length With Permit: 126 feet
Maximum Width With Permit: 16'6 feet
Maximum Height With Permit: 17 feet
Superloads Transport in Kansas
If you're in excess of any of the weights or dimensions listed above in the "routine" permit, applicants must fill out a superload permit.
Oversize Load Signs in Kansas |
Lights, Safety Flags, and Warning Signs
Required safety markings, safety flags, and warning lights for heavy haul and oversize loads in Kansas:
The front of the truck and rear of the trailer must have
"Oversize Load"
signs anytime a permit is issued. Red or orange safety flags must be attached to each corner of the widest part of the shipment. That includes the rear of all-over-length loads. The item must be flagged and marked with warning lights on the rear if an overhang exists. In addition, the truck must have a rotating or flashing amber light mounted at the very top that is visible from no less than 1,000 feet. Overweight-only loads require
"Oversize Load"
signs. Signs of being overweight online will be covered during nighttime travel. Sign dimensions should be a minimum of 7 feet wide and 18 inches in height, with black letters no less than 10 inches in height on a yellow background.
Mobile Home Transport Laws in Kansas
Be certain you're aware of the Kansas Mobile home shipping regulations:
All mobile homes must comply with the length, height, and width guidelines. All mobile homes must be towed by a truck-tractor designed and equipped to tow mobile homes. Towing of more than one mobile home at any one time by a single power unit is not permitted. All movement of mobile homes must comply with state rules and regulations regarding flags, lights, signing, and insurance requirements.
Legal Travel Times for Oversize and Overweight Loads in Kansas
Travel times and restrictions for heavy-haul and oversize loads in:
Travel is permitted 1/2 hour before sunrise and 1/2 hour after sunset 7 days a week. No night movements except for overweight only.
Turnpike restrictions
: The movement of vehicles that are more than 14 feet wide is restricted to Monday through Thursday between 8:30 am and 4:30 pm.
Recent Load Hauled in Kansas
Freight:

2019 MORBARK 6400 XT GRINDER

Origin:

Ashton, SD 57424

Destination:

Davenport, IA 33836

Specs:

44L x 11.6W x 11.10H

Weight:

96,500lbs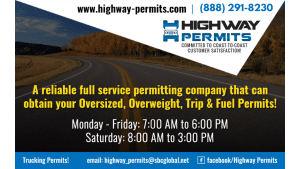 MORE USEFUL RESOURCES
Kansas Road Closures 
Kansas HP rules and regulations
Kansas weight enforcement
KS pilot car and escort certifications