Nebraska
Oversize and Overweight Permits
Contact (877) 792-5056 for Oversize Permits in Nebraska.
Are you transporting a load that's considered oversize or overweight in Nebraska? Wide Load Shipping has a team of over 100 specialists to help you acquire the necessary shipping permits for transport. Below we have detailed information about the shipping permits, superloads, and pilot cars.
Oversize Load Limits in Nebraska
Nebraska maximum load limits until a trucking permit is required.
Length: 85 feet.
Weight: 80,000 pounds GVW.
Width:  8'6 feet.
Height: 13'6 feet.
Overhang: No set rules, case-by-case.
When Pilot Cars or Escort Vehicles Are Required in Nebraska
Heavy-haul or oversize loads may  require to be accompanied by an escort vehicle or pilot car if:
Length: 90' one on the rear. Over 100' needs a rear and a chase pilot car.
Width: They can impose a required pilot car for anything over 8' 6".  In some cases, a lightbar can be used in lieu of a pilot car. Loads over 12 wide on 4 lanes are required one rear escort. A front is required for loads on 2 lane highway over 12' wide. Front and rear are required for loads over 14' wide. Front escort with a height pole is required for 14' 6" and over.
Height: Over 14' 6" needs a pilot car and may need a height pole depending on the route.
Overhang: If over 15', one rear escort is needed.
NOTE:  Allow 1 to 10 days for permits to be approved. Maximum speeds of 45 MPH if 4 or more lanes, 35 MPH is under 4 lanes. Also, read the travel restrictions below.
Pilot Cars/Escort Vehicle Certifications and Requirements in Nebraska
Pilot car or escort vehicle mandatory operator certifications and vehicle requirements in Nebraska:
All escort vehicles or pilot cars must be equipped with an amber light or light bar and must have a left and right side flashing or Rotary amber or yellow light of sufficient size that will be visible 360° from a distance of no less than 800 feet. Lights must be a minimum of 50 candle power bulbs. Lights must be no less than 6 inches in diameter.
What's the Cost of Trucking Permits In Nebraska?
Below is the costs of oversize and overweight permits in Nebraska. We will help you acquire permits for your oversize or overweight load. Call us at (877) 792-5056.
Oversize single trip permit in Nebraska: $15

Overweight single trip permit: $25

Overweight and oversize single-trip permit: $25

Extra long permit: $250

Continuous operation permit: $25 per quarter (highway construction projects and Nebraska-based carriers only) – One fee covers multiple excessive dimensions.
Oversize and Overweight Permit Limits in Nebraska
Here's the maximum weight your load can be, even with a permit in Nebraska:
Single Axle Weight Permits: 20,000 pounds
Tandem axles Weight Permits: 40,000 pounds
Tridem axles Weight Permits: 60,000 pounds
Quadem axles Weight Permits: 80,000 pounds
Below are the maximum dimensions a load can be even with a permit in the state of Nebraska:
Max Length With Permit: 120 feet
Maximum Width With Permit: Case by case basis.
Maximum Height With Permit: 16 feet
Nebraska Superloads Information
Requirements for extra-heavy or over-dimensional (superloads in Nebraska):
For this reading, you can figure superload dimensions are anything that is over the dimensions or weights mentioned above in "routine." If you are close, it will be up to the state to determine if you must file for your permit as a superload. See actual Nebraska state oversize and heavy haul trucking laws.
Legal Travel Times for Oversize and Overweight Loads in Nebraska
Travel times and restrictions for heavy-haul and oversize loads in Nebraska:
Travel time is a half-hour before sunrise and a half-hour after sunset leniency rule.  Weekend travel is permitted, but they do have travel time restrictions around Lincoln, NE, and Omaha, NE, during both weekdays and weekends. In addition, travel is prohibited on most all holidays and the day after Thanksgiving.
Oversize Load Signs in Nebraska |
Lights, Safety Flags, and Warning Signs
Required marking, safety flags, and warning signs for heavy haul and oversize loads in Nebraska:
All loads being shipped in Nebraska must be marked with oversize load signs shipments are also required to have square red or orange fluorescent flags on all four corners to include the power unit and must be 18 inches. Pilot or escort vehicles used during the shipment must have flags in the front if leading or the rear if chasing. One revolving amber light must be on the top of the power unit as well as on the top of the pilot car. All signs must be yellow and background with black letters no less than 10 inches in height. For nighttime moves on shipments over 12 feet wide, a light bar attachment must be mounted on the rear of the load at a height visible to motorists approaching from the rear.
Ready To Aquire an Oversize Permit For Your Load in Nebraska? Call (877) 792-5056!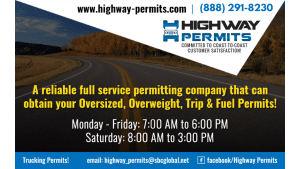 MORE USEFUL RESOURCES