Yukon Territory DOT Shipping Regulations, Limitations, Rules, and Laws for the Trucking of Oversize and Overweight Loads Over the Roads and Highways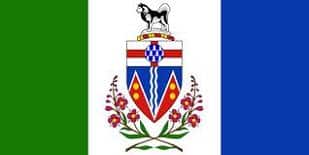 Yukon Territory trucking regulations for oversize and overweight shipping.
Yukon Territory Rules & Regulations – for trucking and transport companies.
Yukon Territory DOT Trucking Information.
USA DRIVERS NOTICE FOR CANADA BORDER CROSSINGS
Legal Loads Limits in Yukon Territory
The following are the allowed weights and size limits in Yukon Territory.
Length: The trailer length maximum is 53'.  Overall length can be up to 75′ 4″ long.
Width: 8' 6" wide.
Height: 13' 7" tall.
Weight: 13,000 steer axle, 20,000 single axle, 36,300 tandem axle, 52,800 tridem axle.
Overhang: no limits, is only restricted by the overall length of load; 75′ 4″
Routine Over-weight, Oversize, Shipping, Trucking, and Transport Permits in Yukon Territory
Loads that are above the following weight and dimensions must be accompanied by shipping permits. 
Length: Since Yukon Territory has no said length restrictions your overall length approval will depend on your proposed route.
Width: 16′ on four lanes roads and highways and 15′ on two-lane roads and highways.
Height: 15′ is about the most you can get away with on routine permits and main routes. Anything taller than that off of the main roads should prepare to have a route survey performed.
Weight: Yukon Territory allows for 29,700 lbs on a single axle, 50, 600 lbs on a tandem axle, and 63,800 lbs on a tridem axle.
Overhang:  Route specific as determined in overall length above.
NOTES: Anything over the above dimensions and weight is likely a superload. Here is the latest superload information. Lights are required in positions of flags at night. Flags are to be positioned on all 4 corners of the outermost extreme corners. Signs should read "WIDE LOAD" for wide loads and "LONG LOAD" for long loads. For loads that are both wide and long, you should have "OVERSIZE LOAD" banners, but a "WIDE LOAD" banner can be used.
FROST & THAW LAW RESTRICTIONS: Yukon Territory does have spring weight restrictions, and the roads and highways are dependent on conditions. Overall weight reductions may be imposed up to 50% reductions have been noted.  Check with the Yukon Territory permit office for clarification.
Travel Times and Restrictions in Yukon Territory
Travel is permitted 24/7 with the following imposed maximums in Yukon Territory;  10′ 6″ in width, 14′ 6″ in height, and 82′ in length.  If the load exceeds these dimensions, only daylight travel is permitted.  No travel on Sunday is permitted, and no travel during the summer months (last Friday in June until the second Monday and September) after 2 pm.  On Fridays and Saturdays, you may resume travel at 4 am the following morning.  Holiday restrictions vary, so refer to your permit or contact the Yukon Territory permit office for clarification.
Pilot Car and Escort Vehicle Information in Yukon Territory
If a load is above the following weight and dimensions, it will require to be recorded by a pilot car/escort vehicle.
Length: If the load is over 85′ 5″ long you need one rear pilot car (escort), over 101′ 9″ long requires 1 front and 1 rear pilot car (escort).
Width: If over 10′ 5″ wide 1 rear pilot car (escort) vehicle is required (beacon light may be substituted if not on highway 97).  Over 11′ 5″ requires one rear pilot car (escort), over 12′ 6" requires 1 front and 1 rear pilot car (escort).
Height: It all depends on your route.  Height is a case-by-case basis for pilot cars (escort).
Weight: Check with Yukon Territory DOT to see if your weight class will require a pilot car/escort.
Overhang: If over 21′  4″ past the last axle in overhang you are required to have one rear pilot car (escort vehicle).
Pilot Car and Escort Vehicle Requirements in Yukon Territory
All pilot cars/escort vehicles must display a bumper or roof-mounted "OVERSIZE LOAD" sign visible from both the front and rear of the vehicle. The sign must be at least 5′ long and 12″ in height and yellow with black letters no less than 10″ tall and 1 1/2″ in width. Vehicle must have 2 safety flags, red or orange, and be a minimum of 18″ of length and height mounted at a 40 to 70-degree angle on all 4 corners of the vehicle. Company identification signs must be placed on both sides of the pilot car (escort vehicle) displaying the company's name, phone number and placed on both the left and right-hand sides of the vehicle. These signs must be no less than 8″ tall x 12″ wide, and identity writing must be legible. The vehicle must be equipped with a horizontally mounted rotating (or strobe) amber colored flashing light which must be visible from a 360-degree angle from a minimum of 500 feet. Vehicles must be equipped with: 
a CB radio or 2-way communication device

2 – 5 pound fire extinguishers type A, B, and C

a sign with the word

"STOP"

on one side and

"SLOW

" on the other with dimensions of no less than 18″ in diameter with a minimum of 6″ letters

A red safety colored flag with a handle no less than 18″ square

3 reflective emergency road triangles or 18″ traffic cones

2

"OVERSIZE LOAD"

banners (yellow with black lettering) 

a safety-colored (red, orange, yellow, or lime green) vest, jacket, or shirt (used while directing traffic).
The information contained in these pages is research information primarily for use by oversize and overweight trucking company drivers, dispatchers, and pilot car companies. While every effort is put into maintaining the accuracy of this information, you must verify this information with the Yukon Territory DOT Permits office before commencing movement.
Transport Services in Yukon Territory
There are a few exceptions to these over-dimensional vehicle permits in Yukon Territory. 
Fire-fighting equipment or other equipment is driven by or for the government, in response to an emergency.

Vehicles registered as farm vehicles under the Motor Vehicles Act, or are towed farm implements exempt from registration under the Motor Vehicles Act, and are being driven between

one-half hour before sunrise

and

one-half hour after sunset

.
IMPORTANT: Carriers must call ahead with all information concerning weights and dimensions and ask for a travel number. Depending on load weight and dimensions, the analysis might be required that will take at least 3 business days (excluding weekends and statutory holidays) to prepare.
NOTE: Both sets of contact info are different but both are for Yukon Territory.
Permits may be issued at Weigh Stations, roadside inspection sites,
Phone: (867) 667-5729 or 1-800-661-0408 local 5729 (toll-free within Yukon) or
Fax: (867) 393-6408 or
Email:  weighstation.whitehorse@gov.yk.ca
Carriers wanting to move several over-dimensional loads may choose to purchase a Multiple Trip Permit. The application for these permits may be approved if driving the vehicle on the highway will be safe and not cause excessive highway damage.
Physical address:
Government of Yukon
Department of Highways and Public Works
Box 2703 (W-17)
Whitehorse, YT Y1A 2C6
Email: road.safety@gov.yk.ca
Telephone line: (867) 667-5832
Toll-free (in Yukon): 1-800-661-0408, (local 5832)
Fax: (867) 667-5799
Hours: Monday – Friday 8:30 am – 4:30 pm
Pacific Time Zone
Click here for the Yukon Territories website for oversize and overweight hauling permits.
Yukon Territory road & highway conditions.
Yukon Territory permits office.
Federal bridge formula.
Frost and thaw laws.