Shipping Equipment in Quebec with Wide Load Shipping
Wide Load Shipping is the best equipment shopping company in Quebec. With over a decade of experience, we know how to transport equipment of all sizes and weights. We're familiar with the shipping regulations and ensure they're followed to avoid fines of non compliance from the Department of Transportation. We use state-of-the-art trailers to deliver your equipment anywhere you need it. Depending on the weight and dimensions of a piece of equipment, some of the trailers we use include RGNs, step decks, flatbeds, hotshots, and lowboys.  Call us now to get a free shipping estimate.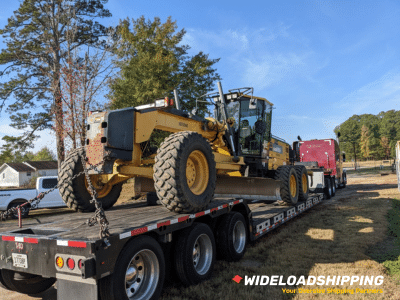 Get Your Shipping Estimate
Transport Your Load With The Best Company In The Industry
Types of Equipment We Transport in Quebec
Whether your equipment is operable, inoperable, used, or new, we will help you transport it safely. We transport equipment models from all manufacturers. These include construction equipment, mining equipment, forestry equipment, agricultural equipment, and more. Below are examples of equipment we transport to and from Quebec.
Oversize Excavator Transport
Oversize Backhoe Transport
Oversize Dump Trucks
Oversize Bulldozer Transport
Oversize Grader Shipping
Oversize Wheel Tractor Haul
Oversize Trencher Transport
Oversize Loader Haul
Oversize Crane Shipping
Oversize Paver Transport
Oversize Compactor Shipping
Oversize Telehandler Transport
Oversize Scissor Lift Shipping
Oversize Forklift Transport
Oversize Crane Transport
Oversize Tractor Transport
Container Transport
Oversize Boom Lift Transport
Semi Truck Transport
Oversize Box Truck Shipping
Oversize Wheel Loader Transport
How To Transport Equipment To and From Quebec 
To safely transport a piece of equipment to or from Quebec, you need to identify a reputable company like us and make a booking. Our services are easily accessible all year round, and you can book through email, form, or call. One of our dedicated specialists will get back to you shortly and receive your shipment details. That information is used to process an estimate, so ensure it's correct. Below is some of the information we require.
Name of equipment

Manufacturer

Model

Year

Pick up location

Drop off location

Dates

Dimensions

Weight
 
Depending on the weight and dimensions of your equipment, the specialist assigned to your shipment will choose the best trailer for transport and get the necessary transport paperwork. If your equipment exceeds the legal dimensions or weight, we pull the right permits to ensure we don't get in trouble which could delay the shipment. Before we load your equipment on a suitable trailer, we inspect it and fill out a bill of lading form that's later used to confirm if it's delivered safely. Our equipment transport services in Quebec are door to door, terminal to terminal, port to port, and every other location you choose. Our equipment trucking services in Quebec are affordable and safe. Call us for equipment shipping services in Quebec! (877) 792-5056
Why Book Our Equipment Transport Services in Quebec 
We're an experienced company that will fully insure your load for transport and hand you a copy of our insurance with your name on it. You're free to use that copy to confirm if your equipment is insured before it's dispatched and to claim compensation if anything were to happen to it. Here are more reasons for booking our equipment transport services in Quebec.
Zero Booking Fees

Personalized services

Dedicated Specialists

12+ Years of Exprience

Free Shipping Quote
Get Your Shipping Estimate
Transport Your Load With The Best Company In The Industry
Equipment Transport Services To and From Quebec 
Wide Load Shipping will transport your equipment to and from every city in Quebec. We have a team of professional and experienced drivers familiar with the best highways to get your equipment delivered on time. Below are the common cities we serve in Quebec.
Montreal, QC; Quebec, QC; Gatineau, QC;  Sherbrooke, QC; Trois-Rivieres, QC; Chicoutimi – Jonquiere, QC; Saint Jerome, QC; Saint Jean sur Richelieu, QC; Chateauguay, QC; Drummondville, QC; Granby, QC; Beloeil, QC; Saint Hyacinthe, QC; Joliette, QC; Victoriaville, QC; Salaberry de Valleyfield, QC; Shawinigan, QC; Rimouski, QC; Sorel, QC; Saint Georges, QC; Val d'Or, QC; Hudson, QC, Rouyn-Noranda, QC; Magog, QC; Sapt-iLes, QC; Varennes, QC;
Border Crossings Used When Shipping Equipment From the United States to Quebec and Vice Versa
We not only transport equipment within Quebec but also across all provinces, the United States, and internationally. When transporting equipment to the United States and vice versa, we have to cross the border. We pay for the customs fees and connect the most suitable highway leading us to the delivery location. Below are some of the border crossings used;
Highgate Springs / St Armand Border Crossing
Your dedicated transport agent provides you with an all-inclusive quote tailored to fit your needs. We pull the permits, handle route surveys, find the best driver, and more.
Once everything is in place, a driver is dispatched to pick up your heavy equipment. Your equipment is safely loaded and secured before setting off.
Your dedicated agent is available throughout the entire journey to answer any questions you may have. Your oversize load is delivered safely and on time. Get your transport quote now!