Shipping Equipment in Ontario with Us
Transportation of equipment to and from Ontario is stress-free when done by a professional like Wide Load shipping. We know how to handle all models of equipment regardless of weight, dimensions, and shape. We offer equipment transport services across Ontario all year round. During winter, we're extra careful when loading and unloading equipment due to the slippery roads, which increase the risk of accidents. We offer door-to-door, port-to-port, and terminal-to-terminal equipment shipping services in Ontario. Our equipment services are affordable, and we offer expedited services for shipments that need to be delivered urgently. Call us now for a free estimate at (877) 792-5056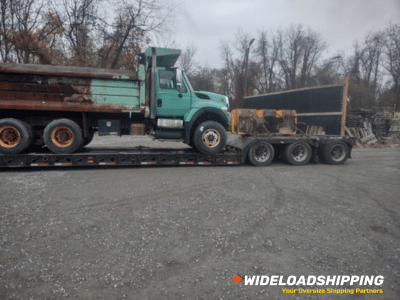 Get Your Shipping Estimate
Transport Your Load With The Best Company In The Industry
Types of Equipment We Transport in Ontario
We transport equipment models from all manufacturers safely. Whether your equipment is operable, inoperable, used, or new, we will transport it. We use cranes to load and unload inoperable equipment safely. Among the equipment we transport are construction, mining, agriculture, forestry, and military. Below are the common examples.
Oversize Excavator Transport
Oversize Backhoe Transport
Oversize Dump Trucks
Oversize Bulldozer Transport
Oversize Grader Shipping
Oversize Wheel Tractor Haul
Oversize Trencher Transport
Oversize Loader Haul
Oversize Crane Shipping
Oversize Paver Transport
Oversize Compactor Shipping
Oversize Telehandler Transport
Oversize Scissor Lift Shipping
Oversize Forklift Transport
Oversize Crane Transport
Oversize Tractor Transport
Container Transport
Oversize Boom Lift Transport
Semi Truck Transport
Oversize Box Truck Shipping
Oversize Wheel Loader Transport
How To Transport Equipment To and From Ontario 
To ship equipment, you have to start by making a booking with a reliable company like us. A company that will handle your equipment carefully and safely delivers it on time. You can call, email, or fill out our quick short form to make a booking. Below is some of the information you need to provide to make a booking.
Name of equipment

Manufacturer

Model

Year

Pick up location

Drop off location

Dates

Dimensions

Weight 
We use the information above to determine the total shipping cost, choose a trailer for transport, and acquire the necessary paperwork. A dedicated specialist will handle all your shipment needs and keep you updated. If your equipment is oversize or overweight, we will acquire the right permits to avoid fines. Before we load your equipment, we record its condition on a bill of lading form that we later use to confirm if it's delivered in a similar state. If something happens to your equipment while in transit, we will ensure you're fully compensated.
Why Book Our Equipment Transport Services in Ontario 
Wide Load Shipping is a reputable equipment shipping company with a track record of successful deliveries. Our reviews from satisfied clients speak for themselves. We work effortlessly to ensure each piece of equipment is delivered on time and in the condition we picked it in. We insure your equipment and make you a holder of our insurance. That means you can contact our insurer before transport to confirm if your equipment is truly insured for transport. Below are more reasons to book our equipment shipping services in Ontario, across Canada, and the United States.
Fully Insured Services

Personalized Services

Over a Decade of Experience

Dedicated Specialists

Free Estimate

Zero Booking Charges
Get Your Shipping Estimate
Transport Your Load With The Best Company In The Industry
Equipment Transport Services To and From Ontario 
Wide Load Shipping will pick up and deliver your equipment to and from every city in Ontario. Our experienced drivers know the fastest and most convenient routes to use based on the location. Below are some of the cities we serve in Ontario. 
Toronto, ON; Ottawa, ON; Mississauga, ON; North York, ON; Hamilton, ON; Brampton, ON; Kitchener, ON; London, ON; Windsor, ON; Oshawa, ON; Vaughan, ON; Barrie, ON; Oakville, ON; Burlington, ON; Greater Sudbury, ON; St. Catharines, ON; Cambridge, ON; Guelph, ON; Kingston, ON; Chatham-Kent, ON; Thunder Bay, ON; Waterloo, ON; Pickering, ON; Brantford, ON; Sarnia, ON; Niagara Falls, ON; Peterborough, ON; Sault Ste. Marie, ON; Kawartha Lakes, ON; Norfolk County, ON;
Border Crossings Used When Shipping Equipment From the United States to Ontario and Vice Versa
When transporting equipment from the United States to Ontario and vice versa, we have to cross the border, where we pay the customs fees and provide the required paperwork to be allowed into the country. Once cleared, our driver connects to the closest highway that will safely lead them to the delivery location and arrive on time. Below are some of the border crossings we use when shipping equipment to or from Ontario.
Detroit-Windsor Tunnel

Ambassador Bridge

Blue Water Bridge
Your dedicated transport agent provides you with an all-inclusive quote tailored to fit your needs. We pull the permits, handle route surveys, find the best driver, and more.
Once everything is in place, a driver is dispatched to pick up your heavy equipment. Your equipment is safely loaded and secured before setting off.
Your dedicated agent is available throughout the entire journey to answer any questions you may have. Your oversize load is delivered safely and on time. Get your transport quote now!