Shipping Equipment in Saskatchewan with The Best in The Industry
Wide Load Shipping is the best equipment transport company in Saskatchewan. With over a decade of experience, we know how to handle equipment of different dimensions and weights and ensure they're delivered safely. Among the trailers we use are the RGNs, step decks, flatbeds, hotshots, and lowboys. We transport equipment to and from every city in Saskatchewan at affordable rates. Our services are door to door, terminal to terminal, port to port, and all other locations. If your equipment needs to be delivered on a short notice, we offer expedited services at an extra cost. Call us now to get started on shipping equipment in Saskatchewan.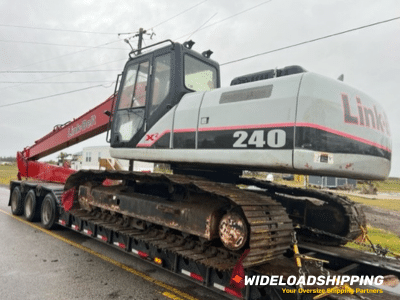 Get Your Shipping Estimate
Transport Your Load With The Best Company In The Industry
Types of Equipment We Transport in Saskatchewan
Wide Load Shipping transports equipment of all sizes and weights. We transport construction equipment, mining equipment, forestry equipment, agricultural equipment, and much more. We've dealt with a lot of equipment models, and we know how to care for them until they're delivered. Below are the common examples of equipment we transport to and from Saskatchewan.
Oversize Excavator Transport
Oversize Backhoe Transport
Oversize Dump Trucks
Oversize Bulldozer Transport
Oversize Grader Shipping
Oversize Wheel Tractor Haul
Oversize Trencher Transport
Oversize Loader Haul
Oversize Crane Shipping
Oversize Paver Transport
Oversize Compactor Shipping
Oversize Telehandler Transport
Oversize Scissor Lift Shipping
Oversize Forklift Transport
Oversize Crane Transport
Oversize Tractor Transport
Container Transport
Oversize Boom Lift Transport
Semi Truck Transport
Oversize Box Truck Shipping
Oversize Wheel Loader Transport
How To Transport Equipment To and From Saskatchewan 
Transportation of equipment in Saskatchewan is stress-free when done by a professional like us. A company with experience and resources. Making a booking is easy and can be done through a call, email, or simply filling out the short form. We use the details you provide us to determine the transport cost. Therefore, ensure it's accurate. Below is some of the information we require.
Name of equipment

Manufacturer

Model

Year

Pick up location

Drop off location

Dates

Dimensions

Weight 


Once you've made a booking, a dedicated specialist is assigned to your shipment, and they will start processing it immediately. That means they acquire the required transport documents, pull permits if your equipment is oversize or overweight, and dispatch it on time. Depending on whether you're transporting operable or inoperable equipment, we load them by driving them onto a trailer or by the use of cranes. We fill out a bill of lading form at the pick-up location to document the state of your equipment and later use it at the drop-off location to confirm if it was delivered safely. Call us now to transport equipment to and from Saskatchewan safely.
Why Book Our Equipment Transport Services in Saskatchewan 
Wide Load Shipping is a reliable equipment transport company with resources and manpower across every city in Saskatchewan. We're here to serve you to the best of our abilities. We ensure your equipment is fully insured for transport and handled by professionals. Elbow are more reasons for booking our services.
12+ Years of Experience

Dedicated Specialists

Free Estimates

Zero Booking Fees
Get Your Shipping Estimate
Transport Your Load With The Best Company In The Industry
Equipment Transport Services To and From Saskatchewan 
We have a team of experienced drivers with knowledge of the most convenient routes to use when shipping equipment to and from Saskatchewan. Below are some of the cities we serve in Saskatchewan.
Saskatoon, SK; Regina, SK; Prince Albert, SK; Moose Jaw, SK; North Battleford, SK; Lloydminster, SK; Yorkton, SK; Swift Current, SK; Estevan, SK; Weyburn, SK; Melfort, SK; Humboldt, SK; Meadow Lake, SK; Melville, SK; Kindersley, SK; Martensville, SK; Nipawin, SK; Warman, SK; La Ronge, SK; Tisdale, SK; Assiniboia, SK; Rosetown, SK; Moosomin, SK; Esterhazy, SK; Maple Creek, SK;
Border Crossings Used When Shipping Equipment From the United States to Saskatchewan and Vice Versa
When shipping equipment across the United States and Canada border, we ensure we have the right paperwork for easy clearance. In addition, we cater to the customs fees. Below are some of the border crossings we use;
Fortuna Oungre Border Crossing
Your dedicated transport agent provides you with an all-inclusive quote tailored to fit your needs. We pull the permits, handle route surveys, find the best driver, and more.
Once everything is in place, a driver is dispatched to pick up your heavy equipment. Your equipment is safely loaded and secured before setting off.
Your dedicated agent is available throughout the entire journey to answer any questions you may have. Your oversize load is delivered safely and on time. Get your transport quote now!