Personalized Equipment Shipping Services in Alberta
A reputable shipper like Wide Load Shipping should carry out equipment transportation. It's a safe way to ensure your equipment is safe during loading, transit, and unloading. Some equipment is extremely heavy and oversized and needs to be lifted using cranes. You risk losing your equipment to a fatal accident without the right resources and knowledge. During winter, the weather in Alberta is harsh, which makes the equipment more susceptible to accidents due to the slippery surfaces. Working with a professional with knowledge of how to load and unload equipment, Therefore, using a professional makes work easier, and you know your load is in good hands.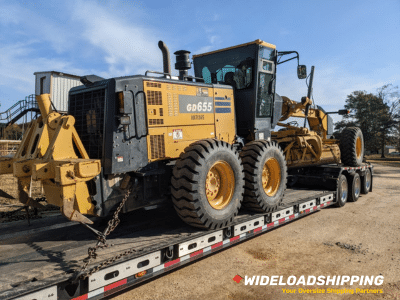 Get Your Shipping Estimate
Transport Your Load With The Best Company In The Industry
Types of Equipment We Transport in Alberta 
Wide Load Shipping is experienced in handling equipment models from every manufacturer. Whether your equipment is new, used, operable, or inoperable, we will transport it. We have modern trailers such as RGNs, lowboys, step decks, flatbeds, and double drop decks to help us safely transport equipment of different weights and dimensions. We transport construction equipment, forestry equipment, military equipment, farm equipment, mining equipment, and industrial equipment, among others. Some of the equipment we commonly transport in Alberta include; 
Oversize Excavator Transport
Oversize Backhoe Transport
Oversize Dump Trucks
Oversize Bulldozer Transport
Oversize Grader Shipping
Oversize Wheel Tractor Haul
Oversize Trencher Transport
Oversize Loader Haul
Oversize Crane Shipping
Oversize Paver Transport
Oversize Compactor Shipping
Oversize Telehandler Transport
Oversize Scissor Lift Shipping
Oversize Forklift Transport
Oversize Crane Transport
Oversize Tractor Transport
Container Transport
Oversize Boom Lift Transport
Semi Truck Transport
Oversize Box Truck Shipping
Oversize Wheel Loader Transport
Learn How To Transport Equipment in Alberta with Wide Load Shipping 
Transporting equipment in Alberta with us is easy and accessible all year round. Bookings can be made by calling, emailing, or filling out our short form. An experienced specialist will get back to you shortly to get the details about your shipment and provide you with an estimate. Always ensure you provide accurate information regarding your shipment to help us with an accurate quote. The information below is some of what determines the cost of transporting equipment to or from Alberta;
Name of equipment

Manufacturer

Model

Year

Pick up location

Drop off location

Dates

Dimensions

Weight

 
When you book our equipment transport services in Alberta, a qualified specialist is assigned to your shipment. They will identify a suitable trailer for transport, process transport paperwork, and pull permits if your equipment is oversize or overweight. On the day of transport, a team will arrive at the pick-up location, where they will inspect your equipment and fill out a bill of lading form before loading it on a trailer. Your representative will keep you updated until your equipment is delivered safely.
Why Book Our Equipment Shipping Services in Alberta
Wide Load Shipping is a reputable equipment transport company with over a decade of transport. We have the knowledge and resources to safely ensure your equipment is delivered within Alberta, across Canada, and internationally. Below are more reasons for working with us. 
Get To Work Work With A Dedicated Specialist

Free and Accurate Shipping Estimate

24-hour Communication 

Zero Booking Fee

Personalized Services

Shipping Credit 

Licensed

Fully Insured

12+ Years of Experience
Get Your Shipping Estimate
Transport Your Load With The Best Company In The Industry
Equipment Shipping Services To and From Alberta
Wide Load Shipping offers affordable and timely equipment shipping services to and from every city in Alberta, every province in Canada, the United States, and internationally. Our team of drivers knows routes to and from every city to pick up and drop off your equipment quickly. They will use shortcuts when possible to ensure your load is delivered on time. When transporting equipment from the United States to Alberta and vice versa, we know the most convenient border crossings to use to ensure your equipment is delivered safely. Below are some of the cities we serve in Alberta.
Calgary, AB; Edmonton, AB; Fort McMurray, AB; Red Deer, AB; Lethbridge, AB; Medicine Hat, AB; St. Albert, AB; Sherwood Park, AB; Grande Prairie, AB; Airdrie, AB; Spruce Grove, AB; Cochrane, AB; Camrose, AB; Leduc , AB; Fort Saskatchewan, AB; Okotoks, AB; Brooks , AB; Canmore, AB; Cold Lake, AB; Wetaskiwin, AB; Sylvan Lake, AB; Lacombe, AB; Strathmore, AB; 
Your dedicated transport agent provides you with an all-inclusive quote tailored to fit your needs. We pull the permits, handle route surveys, find the best driver, and more.
Once everything is in place, a driver is dispatched to pick up your heavy equipment. Your equipment is safely loaded and secured before setting off.
Your dedicated agent is available throughout the entire journey to answer any questions you may have. Your oversize load is delivered safely and on time. Get your transport quote now!