How to start a pilot car business. We're here to help.
Over the last few decades, we've had hundreds of people contact us and inquire how to start a pilot car business of their own and become a pilot car driver. After attempting to deal with all of these inquiries we felt the best thing to do was create a standardized instruction guide or road map that tells it just how it is. Especially when we have a shortage of pilot car companies in so many geographic locations in North America – we need to bring in thousands of new companies. 
Our perspective was changed a few years ago when someone shared a youtube video link with us that depicted a guy stating he could earn an extra $500 a day using his vehicle as a pilot car. He went on to explain how he preferred to be at home more often (but enjoy the opportunity to travel), enjoy an occasional whiskey drink with a cigar, and eating steak. I think you can search for it and purchase their armchair, whiskey steaks recipe for about $350. He seemed a little vague about things like regulations, certification, insurance, safety equipment, a business license but perhaps that's all covered in the "package" offered.
It became immediately clear we needed to get involved with helping others obtain affordable pilot car business start-up knowledge. The entire industry as a whole is affected by this shortage.  Clearly, we needed to become more proactive by stepping up and writing a realistic, affordable plan for those interested in starting a profitable and properly functioning pilot car company. Not only teach folks the basic ropes but offer it for a fair price which is difficult. Most of the information is considered proprietary in a very niche industry that has provided our families incomes for our entire lifetimes. However, with the pilot car shortage, we have in North America someone is going to have to inspire and direct others.
After operating for over 18 years online we've taken it upon ourselves to do what we do best. Help people. So, we designed a detailed and inclusive package that will steer folks interested in starting their own pilot car business in the proper direction. While we do have to charge for our time we feel the price is very affordable considering what we're providing you with inside information on exactly how the industry works and what you will be required to have and expect to get your pilot car company in business and rolling down the road. Plus to help offset the start-up costs we give you a free premium year in our PiloTrac directory (valued at $70).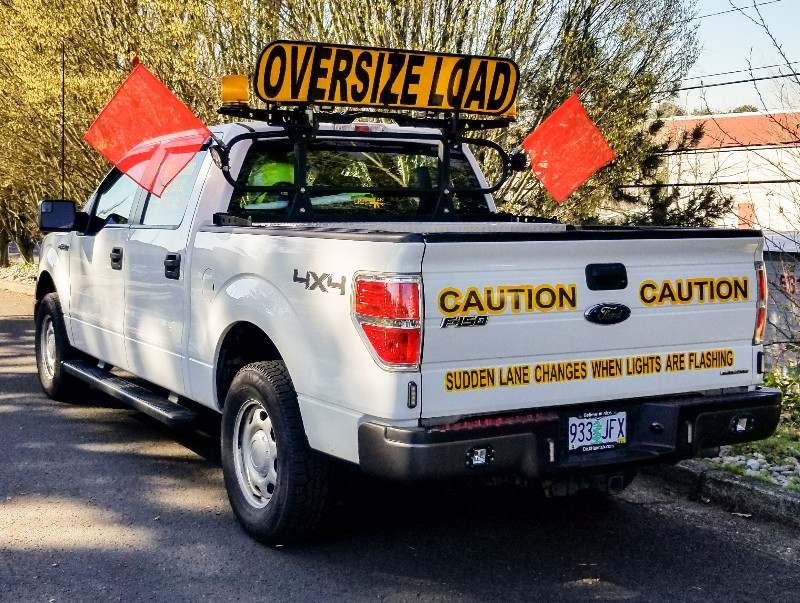 For $100.00 we give you the real information you need to get your company up and running successfully. Clearly, our industry has a shortage of pilot car company business owners and operators. We need for you to succeed.
Below are just a few highlights of the direction we try to point you in.
Pretty much every state is going to want you to register your business with a minimum of a DBA or "doing business as". You may decide you would rather start a corporation (Inc.) or a limited liability company (LLC.) once you get going but a DBA may be the right choice for you depending on the laws in your state. We suggest you speak with a licensed attorney about what entity is best for your business as each person's circumstances are different. There are many factors to consider like taxes, marital status, joint incomes, the amount of money you bring into your household, and of course liability. With a DBA you can get your pants sued off of you in the unfortunate event you made a decision that resulted in property damages or worse caused bodily injury to someone. Have you ever heard someone say: "you can sue my company but please don't sue me"? Well, if your corporation or LLC is properly set up and you are working for it then it would more than likely be the corporate body bearing the responsibility resulting from your actions. But again – consult a professional attorney in your state. Once you've determined your best option you can move on to things like considering obtaining your flaggers license and dealing with any state insurance and training qualifications that may be required. What we teach in our "How to start a pilot car company" kit is to explain all of the ins and outs that are necessary to get your idea off of the ground and get you into our industry. There is ALWAYS a shortage of good, professional pilot car companies.
We teach you the ins/outs of starting and operating your own pilot car company.
How to figure out what type of business model is best for you to start your pilot car company.
Insurance requirements for pilot car companies and issues to consider.
Choosing a vehicle that meets the minimum requirements in order to operate legally in the capacity of a pilot car vehicle.
States/Provinces that require pilot car vehicle operators to have certifications and where to get them.
What NASTO, SASHTO, MAASTO and WASHTO is and what regions they cover.
Required equipment (as suggested by the FMCSA) and minimum requirements.
How to get set up for the height-pole pilot car industry.
How to get customers so your pilot car company can start making money.
Tips on how to operate a pilot car in a professional manner to protect motorists.
Invoice template examples and creating them. So your new pilot car company can get paid quickly.
What is expected of pilot car vehicle operators? From the driver and pre-trip safety checks and planning.
How to create your own "package" to exchange with trucking companies. What you need and what you need from them.
Industry rates and what to charge for your pilot car service based on geographic location.
Online strategies on how to get your name out there and develop a serious online presence affordably if not free.
Basics of how to perform a route survey (done correctly).
Learn how to properly turn your idea into a real company that is up and running. Our simple guide teaches you how to take the path of least resistance. Avoid the pitfalls of "learning as you go" and save time, hassle, money. Run legal, safe, and confident.
Learn exactly what a pilot car company needs in order to safely operate.
There are laws and legalities that govern exactly what needs to be on board a vehicle that is operating in the capacity of a pilot car company. We bring you completely up to speed on exactly what is required in 2020 from professionals that have over 100 years of experience combined. Again, it's pretty easy to get into our industry and make very good money locally and long haul but earning $500 a week easy, and starting tomorrow, legally and properly it's simply not going to happen. However, you can get your foot in the door affordably by following our small course and you can also make a lot more than 500 bucks a week – top runners make that in a day. This is NOT AN UP-SALE.
To own a successful pilot car company you need to know where to get customers.
In order to properly start any company, you need to know where to go in order to get work. In our training kit (How to start a pilot car company) we show you exactly where to go and how to go about getting customers. Not only that but we also show you how to set yourself up where it counts the most so you actually have an online presence and are in the mix with oversize trucking companies. After all, that's the business industry we service: oversize, heavy-haul, and pilot car companies. Not only that but our industry needs more new dependable and reliable pilot car companies so the more we can bring on the better! Think long and hard when considering purchasing our pilot car company business starter kit before trying to just go on your own with web searches and word of mouth. We cut straight to the chase and show you exactly what you will need and where to get it.
Work smarter not harder –  "How to start a pilot car company".
Get our start-up package for over 50% off during 2021 only. We strongly support our industry and need you to succeed so we can ship more goods.