All USA regions are overseen by AASTO (American Association of State Highway and Transportation Officials)
Multi state permits, regional permits. 2018 NASTO, SASHTO, MAASTO & WASHTO regions.
(formerly: NASHTO, SASHTO, MVCSHTO & WASHTO)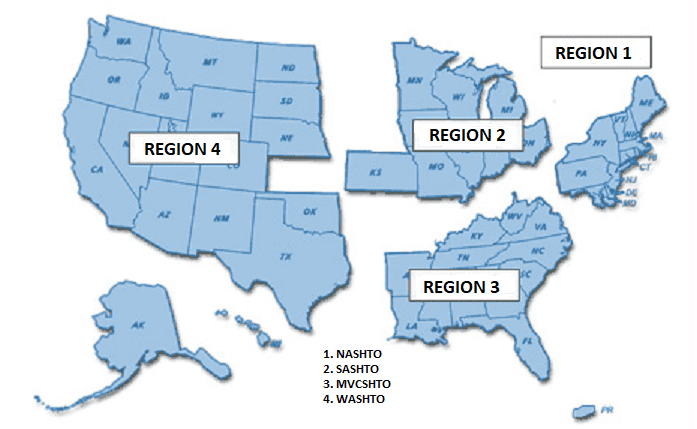 Have you ever wondered about multi state permits or regional permits? What is AASTO, NASTO, SASHTO, MAASTO or WASHTO? How can I learn from this information to help me? If you are involved in oversize or heavy haul trucking and travel through multiple states this is good information to learn about. It can save you time and money when obtaining over-dimensional and heavy haul trucking permits.
As you can see from the map of the United States certain states have created a type of partnership which has been divided up into regions. It is important to know that all of the regions together are overseen by "AASTO" which is an acronym for: American Association of State Highway and Transportation Officials.
Region 1 or "NASTO" consists of Connecticut, Delaware, Maine, Maryland, Massachusetts, New Hampshire, New Jersey, New York, District of Columbia, Puerto Rico, Pennsylvania, New York, Vermont and Rhode Island.
Region 2 or "SASHTO" consist of Alabama, Arkansas, Florida, Georgia, Kentucky, Louisiana, North Carolina, South Carolina, Tennessee, Virginia and West Virginia.
Region 3 or "MAASTO" consist of Illinois, Indiana, Iowa, Kansas, Michigan, Minnesota, Missouri, Ohio and Wisconsin.
Region 4 or "WASHTO" consists of Alaska, Arizona, California, Colorado, Hawaii, Idaho, Montana, Nebraska, Nevada, New Mexico, North Dakota, Oregon, Oklahoma, South Dakota, Texas, Utah, Washington and Wyoming.
Region 1 – NASTO (Northearstern Association of Highway Transportation Officials)
It should be noted that while NASTO has been divided as a "region" not all states have completely agreed to be fully implemented into the NASHTO agreement. So, here is what you have to work woth for the time being: for non-divisible overweight, oversize and over dimensional shipments within the New England Transportation Consortium (NETC) including Maine Massachusetts New Hampshire Rhode Island and Vermont, multi-state permits may be obtained for shipments and loads that are within these size and weight limits.
Maximum weights: 108,000 pounds on five actual units. 120,000 pounds on six or more actual units. You should know that special axle weight and axle spacing requirements of the NETC (read or download) must meet their specific configurations.
Maximum height: 13'6″ or less is the maximum height allowed.
Maximum width: 14'0″ or less is the maximum width allowed.
Maximum length: 90'0″ is the maximum linked allowed.
Note: If You are transporting a modular or mobile home there is a provision that may allow you to have an additional overhang of 6 inches maximum for roofing or window eaves. If the shipment you wish to transport is greater than any of the above limitations you will be required to obtain your oversize or heavy haul permits from each individual state.
Region 2 – SASHTO (Southeastern Association of State Highway and Transportation Officials)
This particular region is fairly straightforward and will issue multi-state permits provided the shipment does not exceed any of the following maximum limitations.
Maximum weights: The overall GVW must not exceed 120,000 pounds. No more than 12,000 pounds on the steer actual or 20,000 pounds on any single axle or 40,000 pounds on any tandem axles. For axle groupings of three or more the limit is 60,000 pounds. If you have questions you can call 804-786-2787 for more information. If the shipment that you wish to transport exceeds any of these limitations then you will need to contact each state individually to apply for your oversize or heavy haul trucking permits.
Maximum height: The maximum over all height allowed is 13'6″.
Maximum width: The maximum with is 14'0″ overall and must not have any overhang.
Maximum length: The maximum length is 100'0″ which includes all combinations as well as overhang. No distance of over than 51'0″ of axle spacing from outer axles.
Note: As long as you do not exceed any of the following maximums the SASHTO region is fairly easy to obtain multi-state oversize and heavy haul trucking permits from. As noted above you can direct any questions you may have about the SASHTO region by calling 804-786-2787.
Region 3 – MAASTO (Mid America Association of State Highway and Transportation Officials)
We're having difficulties obtaining the exact maximums for these states at the time of publish. We will update this as soon as we get good information from this association.
Region 4 WASHTO (Western Association of State Highway Transportation Officials)
The WASHTO region operates seamlessly for the most part for regional permitting and multi-state permitting of over size and heavy haul loads. As long as you are within the maximum limits as well as restriction below you will have no problem in obtaining your multi-state or regional heavy haul or over dimensional load permit.
Maximum weight: The maximum overall weight allowed is 600 pounds per inch of tire width or 21,500 pounds per single axle. 43,000 pounds per tandem axles and 53,000 pounds per triedem axle configurations with a wheelbase that is no less than 8 feet but no more than 13 feet. 160,000 pounds gross weight maximum.
Maximum height: The maximum overall height allowed is 14 feet.
Maximum width: The maximum overall width allowed is 14 feet. Projection from either side of the trailer in the state of Arizona is limited to a maximum of 3 feet on either side of the actual trailer. Except for loads that are less than 12 inches thick above the bed of the trailer. These are limited to 2 feet of maximum projection on either side of the trailer.
Maximum length: The maximum overall length allowed is 100 feet.
Notes: This is where it gets a little tricky as not all states can agree on everything such as overhang: maximum amount is 3 feet in the front and or 20 feet in the rear except for Arizona and Nevada and Utah which state if you are over 10 feet of overhang in the rear you must travel during daylight hours only. If you are in Arizona you can only travel on Monday through Friday during daylight hours. You should also know once you have filed for a permit you will not be eligible for a refund, credit or any kind of substitution. There is no movement allowed when road hazards exist such as ice, snow or frost or if the visibility is less than 500 feet. However the state of Washington allows for 1000 feet of visibility and the state of Texas allows for 2/10 of a mile visibility due to snow, fog, smoke or other conditions. If the shipment wit is in excess of 8'6″ or the overall linked is over 80 foot, except Arizona and Texas where the restriction applies to all movement under permit and Idaho where the carrier makes the determination. However, enforcement may restrict travel. As far as speed limits permitted loads may move at the posted speed limits except for in the state of New Mexico you are limited to a maximum of 55 mph. In Montana you are permitted to drive 65 mph during the day and night on the interstate and 60 mph (if posted) on non-interstate roads during daylight hours,  however 55 mph maximum on non interstate roads during night time travel.