Everything You Need To Know About Millwright Services
Wide Load Shipping provides unmatched millwright services to keep the industry's equipment working optimally. We use state-of-art technology to help deliver top-notch millwright services that will reduce your equipment wear and tear, prolong its life and reduce downtime. Whether you are relocating your company and need your equipment moved, defective parts replaced, or setting up a new plant, Wide Load Shipping millwright industrial services should be your first choice.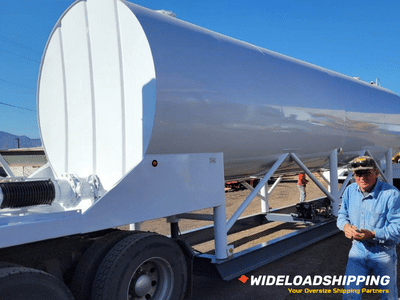 Get Your Shipping Estimate
Transport Your Load With The Best Company In The Industry
Who's a Millwright?
A Millwright is a thoroughly trained tradesman specialized in maintenance, installing, and repairing industrial and mechanical equipment and machinery. They assemble, dissemble and move heavy industrial equipment and install and align machinery components like valves, gears, drives, and bearings. Millwrights use their skills and hand tools like levels and hammers, welding, cutting, and brazing equipment to do their work. Sometimes, millwrights may use trucks and cranes to lift and move equipment to the desired location. Our advanced millwright services are dedicated to supporting your industrial machinery needs. We work with your safety staff, maintenance department, and engineers to provide the best solution to meet your high-end equipment needs.
Safety is our top priority when offering millwright services. Whether it's a small or big project, we ensure our craftspeople maintain high safety standards. We provide our crew with the right equipment to optimally perform the task. They use lift trucks and forklifts, self-propelled crawler systems, and heavy haul tractor fleets to transport oversized loads. We use precision laser alignment to help align couplings and prevent seals and bearing damage. At Wide Load Shipping, we have the expertise and experience to ensure our millwright's equipment services are performed to the highest quality.
When to Consider a Millwright Services Company
Most companies hire millwright services only when purchasing new equipment or relocating a piece of existing machinery. However, the millwright's expertise can be considered when you need repair work, emergency shutdown, replacing equipment parts, aligning and testing machines, precision alignment and leveling, setting and carrying out a maintenance plan, and building a strong foundation for the equipment. 
Our highly-trained millwrights can perform almost every millwright industrial service. They are qualified to work in manufacturing plants, factories, sawmills, pipe mills, power plants, and construction sites to install and repair machinery at the work site.
A millwrights service company provides skilled tradespeople to install, repair, maintain, dismantle, and relocate equipment. The millwrights determine the most appropriate work procedure for equipment installation and maintenance. They utilize specialized rigging to move and align machinery into place. Also, when necessary, millwrights take the role of mechanics, electricians, carpenters, welders, and fabricators to get the job done. 
At Wide Load Shipping, we work with a team of millwright professionals with expertise and experience in various manufacturing sectors. They understand that precision, efficiency, and safety are core to the success of every project.
Wide Load Shipping Millwright Services
Our comprehensive millwright services include the following:
Equipment moving, rigging, and lifting

Laser alignment

Equipment installation, repair, and parts replacement

Precision alignment and leveling

Equipment reassembling

Conveyor installation and maintenance

Welding and fabrications

Plant relocation

Preventive maintenance

Troubleshooting and diagnostics
Frequently Asked Questions
What is a millwright service?
A millwright service is skilled work performed by tradespeople to install, maintain, and repair mechanical equipment and industrial machinery. They also dismantle, assemble and align equipment components.
Wide Load Shipping responds quickly and efficiently when you request our millwright services. Our technicians have the technical expertise to provide cost-effective and timely services to reduce process line breakdown.
Your dedicated transport agent provides you with an all-inclusive quote tailored to fit your needs. We pull the permits, handle route surveys, find the best driver, and more.
Once everything is in place, a driver is dispatched to pick up your heavy equipment. Your equipment is safely loaded and secured before setting off.
Your dedicated agent is available throughout the entire journey to answer any questions you may have. Your oversize load is delivered safely and on time. Get your transport quote now!