Professional Specialized Freight Trucking Services
Specialized freight trucking is a type of transportation service that involves loading, securing, and moving specialized cargo in a specific way to avoid any damages during shipping. Companies offering specialized freight trucking services must have experience handling and transporting special loads like oversized equipment, temperature-sensitive goods, live goods, hazardous products, and fragile or high-value goods.
Wide Load Shipping offers specialized freight trucking services across the states in the US and beyond. We use specialized equipment to ensure your cargo is transported with the highest level of care and safety.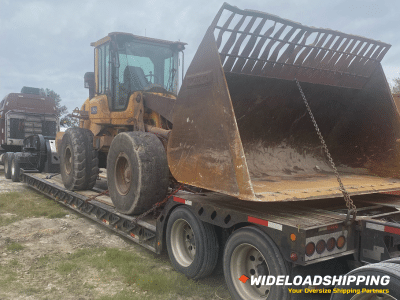 Get Your Shipping Estimate
Transport Your Load With The Best Company In The Industry
Why Consider Specialized Freight Trucking Services
Specialized freight trucking services help businesses or individuals transport goods efficiently and safely. When you work with a reputable shipping company offering specialized freight trucking, you can rest assured your cargo is handled and transported safely without any delays or damage. Additionally, specialized freight trucking services help businesses meet scheduled delivery timelines and guarantee excellent customer service. It's a priceless transporting service assisting businesses to move their goods quickly and safely. Specialized freight trucking service providers will offer expert guidance and advice on transporting your special freight to avoid damage.
Oversized or overweight construction, agricultural, manufacturing, or mining equipment and vehicles should be transported using specialized trailers that accommodate heavy and over-dimensional loads. Transporting gasses or liquids will require specialized tanker trailers, and perishable goods need refrigerated trailers. Specialized trailers like lowboy and Removable Gooseneck Trailer (RGN) transport taller equipment. At Wide Load Shipping, we specialize in moving freight that requires special attention. We have the equipment, expertise, and handling capabilities to transport overweight, oversized, high-valued goods and hazardous materials. We have lowboys, flatbeds, and refrigerated trucks, among others, to transport your special freight where you need it.
Our experienced and licensed drivers have the skills to safely ship your specialized overweight and over-dimensional machinery and equipment. We obtain all the necessary permits and arrange the transportation of your load. In addition, we work closely with state and local agencies to get proper paperwork and plan routes that meet legal requirements while ensuring timely delivery. Wide Load Shipping provides escort services for your specialized cargo to ensure safe and efficient trucking service. Our trained and experienced escort drivers will accompany your oversize or overweight specialized shipment during transit and ensure every regulation and safety protocol is followed.
Examples of Specialized Freight and How They Get Moved
Bulk Liquid
Moving bulk liquids like vegetable oils, petrochemicals, or polymer additives requires special tank trailers. Depending on the content, the bulk liquid will need a :
Petrochemical tanker trailers

Corrosive tanker trailers

Petroleum tanker trailer
Livestock and Agricultural Goods
Transporting animals efficiently and humanely will require special trailers like
Gooseneck livestock trailers

Stock box

Pen system trailers.
Oversized Loads
Oversized loads can be transported using the following:
Forest Products
Logs and timber can be transported using the following:
Flatbeds

Logging trailers
At Wide Load Shipping, we are committed to simplifying your specialized freight trucking process. We have a wide range of special equipment to transport special loads on time, safely, and efficiently. For the best-specialized freight trucking services, call us today!
Your dedicated transport agent provides you with an all-inclusive quote tailored to fit your needs. We pull the permits, handle route surveys, find the best driver, and more.
Once everything is in place, a driver is dispatched to pick up your heavy equipment. Your equipment is safely loaded and secured before setting off.
Your dedicated agent is available throughout the entire journey to answer any questions you may have. Your oversize load is delivered safely and on time. Get your transport quote now!