Wisconsin statewide conditions of roads and highway closures.
Wisconsin road construction delays.
Road construction and repair work can be a real problem for a truck driver. Especially in the over-weight or oversize trucking industry when travel restrictions apply on top of your permit requirements and state regulations. Live information is important to specialized trucking industry truck drivers.  The potential problems that can sometimes be avoided due to road closure or construction delays are well worth researching. Many road construction delays can be avoided by commercial truck drivers by doing a little research.
Wisconsin weather conditions.
Weather conditions can be a real problem for a commercial truck driver. Whenever our dispatchers quote a shipment in order to provide transport service it is based on the amount of time it will take to deliver it. Wisconsin is widely recognized as a state that has fierce winter snowstorms, wind storms, rain, tornadoes, and even hail storms. Rough weather for commercial truck drivers is pretty much the norm. This is why trucking companies count on the data provided by the Wisconsin DOT to inform them of weather conditions so they can make information-based decisions. Weather conditions are one of the biggest factors in all aspects of the commercial trucking industry from heavy haul all the way to a flatbed trailer.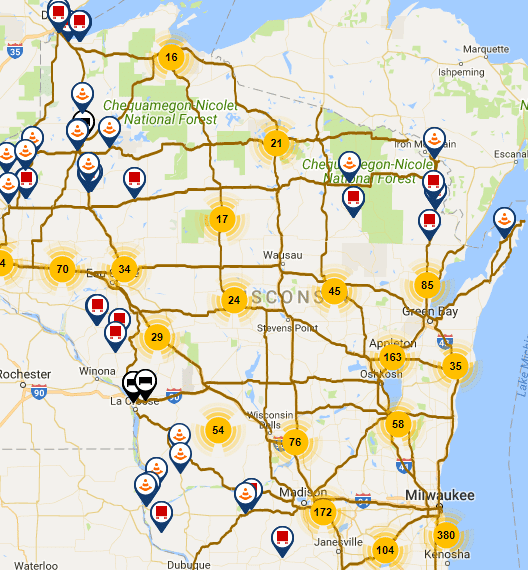 Wisconsin road closures.
Road closures are another big factor in trucking. If the road is flooded out or a bridge is out there's very little chance a semi-truck is going to pass thru it. This is yet another example of why current data is so important in the over-the-road transportation industry. With the number of flash-floods and wind that occurs in Wisconsin a road, you counted on traveling the day before may not be there the next. Especially if your picking up or dropping off the shipment in a remote location which is pretty popular these days with the wind energy industry expanding. It takes all kinds of heavy equipment like cranes, tractors, dozers, excavators, and more to install these facilities. The only way to get them in/out is by trucking them in. Current Wisconsin road closure information is imperative.
Wisconsin bridge repair or construction.
The summer months usually bring in bridge repair crews as the mild weather supports construction and repair crews. Winter bridge repair is usually avoided if possible as the costs of repairs are more as transporting in mud or working under harsh conditions is much harder. At times bridge construction jobs don't have to be concerned with traffic, especially if it's a new bridge. However, the majority of bridge repairs or construction is add-on work to beef up an older bridge in order to keep it in service longer. If the bridge repair work is going to cause traffic delays commercial trucking companies need to know about it right away. If the driver of the truck is forced to go around a bridge if it's closed the miles traveled are further resulting in additional costs. The Wisconsin DOT usually does a great job at getting these notifications out right away so commercial vehicle operators can factor this into their logistics planning and avoid potential delays.
Wisconsin traffic delays
With more and more motor vehicles on the road delays are excepted. The more people the more consumer goods needed which means more commercial trucks are on the roads and highways. Again, we're very appreciative the Wisconsin DOT does a great job at getting traffic delays posted live on traffic maps so commercial vehicle drivers can see them and potentially avoid them. Oversize loads and usually restricted from traveling during peak hours in major cities and on major holidays but traffic delays don't always have to do with volume. Accidents or wrecks, construction crews, lane closures, and weather conditions all play a part in determining how the traffic flows. Commuters and professional drivers all do their best to avoid traffic.