What is a Route Survey and Do I Need It?
Wide Load Shipping provides route survey services across all fifty states. In the trucking industry, a route survey applies to the transportation of specialized shipments. Typically, route surveys are done before a shipment may travel. A vehicle must travel the exact route proposed by the specialized trucking company to ensure the safety of motorists and the protection of public property. When a route survey is being performed, the surveyor is looking for things like low bridges, a tight turn radius, or other signs the shipment may need an alternate route. The route surveyor is also documenting things such as railroad crossings and bridge heights (if applicable) and other potential dangers or obstructions. Specifically, these shipments can either be heavy, tall, long, or wide.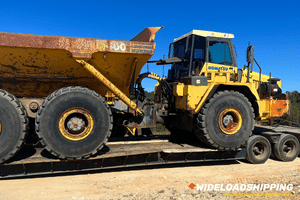 Each state and province in North America has rules and regulations that must be followed to ship specialized loads over their roads and highways. These laws protect motorists and public property, including roads, highways, and bridges. When an oversize or overweight (heavy-haul) item requires over-the-road transportation and is considered too large or heavy to ship under routinely issued oversize or heavy-haul trucking permits, it's classified as a super load. Most super loads require a route survey before shipping. Usually, a pilot car (escort vehicle) will survey the intended route first to make sure the shipment can pass through certain areas or under bridges. Wide Load Shipping provides route survey services and anything you need for oversize and specialized transport. Call today!
Why Are Route Surveys Required for Transport?
Route surveys are necessary to ensure the safety of motorists traveling over the roads and highways. It also protects public assets and property, ensuring extra large or heavy shipments won't damage it. Anytime a shipment is over the legal limits, there is an added level of danger associated with it. Super loads, especially, must be transported adhering to top safety standards. This ensures that shipping any specialized oversize or super load will reduce the risk as much as possible, not only for the transport team, but for other motorists on the road as well. Wide Load Shipping has over twelve years of experience conducting route surveys to ensure our transports arrive safely and on time.
Get Your Wide Load Shipping Quote!
Haul your heavy load with the best transporters in the industry!
Wide Load Shipping offered amazing services. They transported my excavator from Rhode Island to Louisiana and I couldn't be happier with the transport.
This was the third company I called. After having so many problems with the first two, I was grateful to find a hauling company that was professional and affordable. Will go with Wide Load Shipping every time!
I needed a last minute oversize load transport for cold milling machine. Wide Load Shipping expedited the permits, found a reliable driver, and got my freight delivered on time.