Premium Aircraft Airframes Transport Services
We take pride in offering specialized transportation services for aircraft airframes, ensuring the safe and efficient movement of vital components within the aviation industry. Aircraft airframes are the essential skeleton of an aircraft's crucial systems, engines, and components necessary for flight. These intricate structures require the utmost care and precision to maintain their structural integrity when handling and transporting. With years of experience in the field, we have honed our expertise to meet the unique challenges of aircraft airframe transportation. In the highly competitive and demanding aviation sector, where safety, reliability, and timeliness are paramount, our dedicated team understands the critical nature of our services.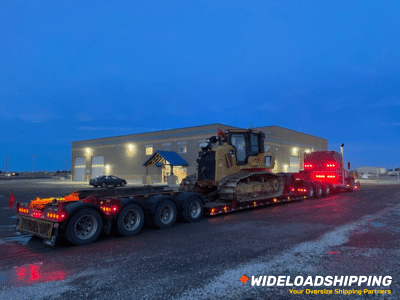 How To Load and Unload Windows on a Truck
We have invested heavily in state-of-the-art equipment, including custom-designed cradles, shock-absorbing materials, and climate-controlled storage facilities to guarantee the pristine condition of the airframes during transit. With a legacy spanning several years, we have established ourselves as a trusted partner in the aviation industry. Our team of dedicated professionals possesses extensive knowledge of aircraft airframes and the nuances involved in their transportation. We understand the importance of adhering to manufacturer guidelines and industry best practices to ensure these essential components' safe and secure delivery. Our commitment to excellence extends beyond equipment to our highly skilled and certified personnel. Our experienced technicians and logistics experts meticulously plan each transport, considering the aircraft airframe's unique specifications, weather conditions, and road or air routes. This meticulous planning ensures a smooth, trouble-free journey for the airframes, minimizing the risk of damage or delays. Our years of experience have enabled us to develop specialized techniques and protocols for transporting aircraft airframes. We utilize cutting-edge technology and equipment, such as custom-designed crating solutions, climate control systems, and GPS tracking, to guarantee the integrity of the airframes during transit. Our team works tirelessly to streamline the shipping process, from pickup to delivery, ensuring that each airframe arrives at its destination in pristine condition and ready for assembly.
Get a Free Transport Quote Today!
Adherence to Manufacturer Guidelines When Shipping Aircraft Airframes
We understand that manufacturer guidelines are the cornerstone of aircraft airframe transportation. These guidelines outline the precise handling and environmental conditions necessary to protect these high-value components. Our commitment to quality and safety means we meticulously follow these guidelines throughout transportation.  We work closely with aircraft manufacturers and suppliers to stay updated on the latest industry standards and recommended practices. Our team undergoes regular training and certification to ensure they are well-versed in the specific requirements for each airframe type. Adhering to manufacturer guidelines and regulations guarantees that our customers receive a transportation service that meets and exceeds industry standards.  Our customers can be confident that when they choose our specialized transportation services, they are entrusting their aircraft airframes to a team that prioritizes safety, precision, and adherence to the highest industry standards. Whether it's a single airframe or a fleet of aircraft components, our dedication to following manufacturer guidelines ensures that each transport is executed flawlessly, maintaining its integrity and preserving its value.
Transport Your Load On The Right Trailer With Us
Double Drop Deck Trailer
Max Dimensions: 29FT Length, 8.5FT Width, and 11.5FT Height
Max Weight: 45,000LBS

Step Deck Trailer
Max Dimensions: 53FT Length, 8.5FT Width, and 11.5FT Height
Max Weight: 48,000LBS

Removable Gooseneck Trailer (RGN)
Max Dimensions: 53FT Length, 8.5FT Width, and 11.6FT Height
Max Weight: 150,000LBS

Flatbed Trailer
Max Dimensions: 53FT Length, 8.5FT Width, and 8.5FT Height
Max Weight: 48,000LBS

Why Choose Us for Your Airframe Shipping Needs
Choosing us for your aircraft airframe transportation needs means entrusting your valuable components to a team of experts dedicated to precision, safety, and efficiency. We offer a comprehensive suite of services, including climate-controlled storage and real-time tracking, to give you peace of mind throughout shipping. Our commitment to quality and years of experience ensure that your aircraft airframes will reach their destination intact and on schedule. Whether you are an aircraft manufacturer, maintenance facility, or aviation supplier, we are your reliable partner for aircraft airframe transportation. Contact us today to discuss your specific requirements and experience the difference of working with a company that puts safety, expertise, and customer satisfaction at the forefront of everything we do. Your airframes are in capable hands with us.
Your dedicated transport agent provides you with an all-inclusive quote tailored to fit your needs. We pull the permits, handle route surveys, find the best driver, and more.
Once everything is in place, a driver is dispatched to pick up your heavy equipment. Your equipment is safely loaded and secured before setting off.
Your dedicated agent is available throughout the entire journey to answer any questions you may have. Your oversize load is delivered safely and on time. Get your transport quote now!