Professional Bridge Beam Shipping Services
Transporting bridge beams requires a shipping services provider with prior knowledge of how to navigate a construction site with precision. When it comes to the seamless and secure transportation of bridge beams, our specialized shipping services are designed to navigate the complexities of construction sites, ensuring that your vital components arrive with precision. As a reputable shipping company, we understand bridge beams' critical role in infrastructure development and construction projects. Our expertise extends beyond transportation – we offer a comprehensive approach that considers construction site logistics and engineering guidelines.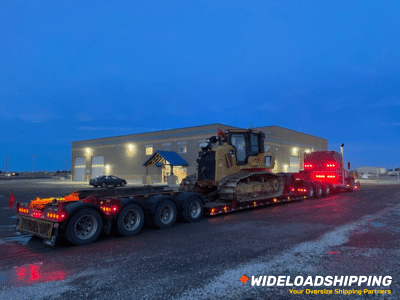 Handling Bridge Beams Of Different Materials
We understand that the services we deliver are part of the efficiency of your operations, and that's why all our bridge beam shipping services are delegated to certified logistics experts.  Our experienced team is adept at coordinating with construction site managers, traffic control authorities, and engineering consultants to ensure the smooth delivery of bridge beams. We meticulously plan the route, considering site access, potential roadblocks, and safety protocols. Our commitment to excellence in bridge beam shipping services guarantees that every detail is taken into account, allowing your components to be delivered precisely where needed. Bridge beams come in various materials, each with its unique characteristics and transportation requirements. Our bridge beam shipping services cater to a range of beam materials, including steel, reinforced concrete, and standard concrete. We recognize that the safe transport of these materials demands specialized handling techniques to prevent damage and ensure their structural integrity. Whether it's the careful securing of steel beams or the delicate handling of reinforced concrete beams, our team is equipped with the expertise to manage different materials. We customize our packaging, securing methods, and transportation plans based on the material's specifications. This versatility enables us to provide reliable and tailored solutions for transporting bridge beams of varying materials, ensuring they arrive at their destination in optimal condition. The transportation of bridge beams involves navigating through different road standards, weight regulations, and construction guidelines. Our team is well-versed in the regulations specific to each region, ensuring that every shipment adheres to legal and safety requirements. 
Get a Free Transport Quote Today!
Fully Insured Bridge Beam Shipping Services
We understand that transporting oversized components requires compliance with weight restrictions and route approvals, which we handle with precision. Additionally, our bridge beam shipping services benefit from the expertise of our consulting partners, who possess intimate knowledge of construction guidelines and engineering specifications. This collaborative approach guarantees that your bridge beams are transported in alignment with the project's engineering requirements. Our commitment to road standards and engineering guidelines sets us apart as a trusted partner in delivering bridge beams for construction projects. Whether it's a remote area or an urban setting, we have what it takes to make the delivery safely and on time. Thanks to our years of experience, clients can look up to us to keep their operations running smoothly. We have a proven track record for transporting bridge beams across the country. You can rely on us as your trusted shipping companion. 
Transport Your Load On The Right Trailer With Us
Double Drop Deck Trailer
Max Dimensions: 29FT Length, 8.5FT Width, and 11.5FT Height
Max Weight: 45,000LBS

Step Deck Trailer
Max Dimensions: 53FT Length, 8.5FT Width, and 11.5FT Height
Max Weight: 48,000LBS

Removable Gooseneck Trailer (RGN)
Max Dimensions: 53FT Length, 8.5FT Width, and 11.6FT Height
Max Weight: 150,000LBS

Flatbed Trailer
Max Dimensions: 53FT Length, 8.5FT Width, and 8.5FT Height
Max Weight: 48,000LBS

Experience Excellence in Bridge Beam Shipping Services
Clients can count on our expert bridge beam shipping services, where we deliver all types of bridge beams. Our bridge beam shipping services are available to engineers and contractors looking for quick solutions for their logistics needs. Our expertise in navigating construction sites, handling diverse beam materials, and complying with road standards and engineering guidelines set us apart as industry leaders. Your bridge beams deserve the best care; we ensure they receive it from start to finish. Contact us today to discuss your bridge beam shipping requirements. Allow us to customize a transportation plan that aligns with your specific needs, ensuring your vital components' secure and timely delivery. Entrust us with the responsibility of transporting your bridge beams and experience our services' excellence. Our consultants are always on standby to discuss your shipping needs. Call us today, and we will have your bridge beam shipping needs assessed by an expert. 
Transporting Domestic Steel Beams
Specs: 47 FT
Origin: Ambridge, PA
Destination: Schenectady, NY
Broker Name: Alton B.
Steel Beams Shipped On a Flatbed
Specs: 47 FT
Origin: Ambridge, PA
Destination: Schenectady, NY
Broker Name: Alton B.
Bridge Beam Shipping Services
Broker Name: William T.
Your dedicated transport agent provides you with an all-inclusive quote tailored to fit your needs. We pull the permits, handle route surveys, find the best driver, and more.
Once everything is in place, a driver is dispatched to pick up your heavy equipment. Your equipment is safely loaded and secured before setting off.
Your dedicated agent is available throughout the entire journey to answer any questions you may have. Your oversize load is delivered safely and on time. Get your transport quote now!