Cylinder Transport 101: Wide Load Shipping
Wide Load Shipping has been in the transportation industry for over a decade. Among the things we transport are different types of cylinders. We all know cylinders are delicate and require to be handled by a team with years of experience since they can blow up and cause a lot of damage. To transport cylinders of any kind, you only need to call, email, or fill out our form, and one of our specialists will get back to you shortly. We have trailers of different capacities and more resources near you, ready to safely transport your cylinders anywhere you need them.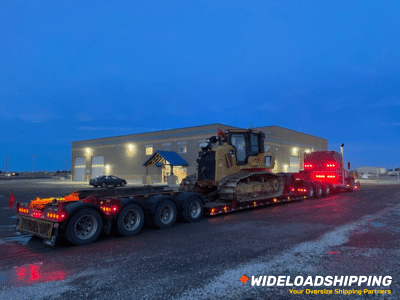 Fully Insured Cylinder Shipping Services
When you book our cylinder transport services, expect your cylinders to be fully protected against any form of damage by our insurance. To prove they've been insured, we will hand you a copy of our insurance that you can carry to the insurer to confirm if your cylinders are truly insured for transport. In addition, we use cranes, among other handling equipment to ensure that the cylinders are safely loaded and secured using strong straps. Below are the different types of cylinders we transport. 
Get a Free Transport Quote Today!
Affordable Cylinder Transportation Services
Wide Load Shipping offers affordable cylinder shipping services all year round. The cost of shipping cylinders depends on the weight, size, distance, and mode of transport, among other factors. For example, the larger the cylinders, the more space is taken, thus needing a specialized truck or trailer to accommodate them. In that case, you will need to pay some more. We offer expedited shipping services at an extra fee if you need your cylinders transported on short notice. Depending on the number and weight of cylinders, we ensure they're loaded on a suitable trailer and well secured before dispatch to avoid sliding while in transit. Hotshots and flatbeds are examples of some of the trailers used to ship cylinders. 
Transport Your Load On The Right Trailer With Us
Double Drop Deck Trailer
Max Dimensions: 29FT Length, 8.5FT Width, and 11.5FT Height
Max Weight: 45,000LBS

Step Deck Trailer
Max Dimensions: 53FT Length, 8.5FT Width, and 11.5FT Height
Max Weight: 48,000LBS

Removable Gooseneck Trailer (RGN)
Max Dimensions: 53FT Length, 8.5FT Width, and 11.6FT Height
Max Weight: 150,000LBS

Flatbed Trailer
Max Dimensions: 53FT Length, 8.5FT Width, and 8.5FT Height
Max Weight: 48,000LBS

Cylinder Shipping Services You Can Rely On
When you book our cylinder shipping services, expect to work with a dedicated specialist until they're safely delivered. They will process the paperwork, choose the best mode of transport, and dispatch the shipment. While we transport your cylinders, you can contact the specialist processing your shipment anytime for updates. We understand one size doesn't fit all. Therefore, we customize our services to ensure the needs of every client are met. Before any cylinder is loaded on a trailer, it's inspected, and its condition is documented on a bill of lading form. That form helps us know if your cylinders arrived safely at the delivery location. We accept various modes of payment and charge zero booking fees. Call Wide Load Shipping today to safely transport single or multiple cylinders across the United States, Canada, and Mexico.
Your dedicated transport agent provides you with an all-inclusive quote tailored to fit your needs. We pull the permits, handle route surveys, find the best driver, and more.
Once everything is in place, a driver is dispatched to pick up your heavy equipment. Your equipment is safely loaded and secured before setting off.
Your dedicated agent is available throughout the entire journey to answer any questions you may have. Your oversize load is delivered safely and on time. Get your transport quote now!