Transport Doors with The Best Company in the Industry
Wide Load Shipping transports a wide range of goods, including doors. Whether you're a homeowner, contractor, or construction worker, we're here to help you ship doors safely. Regardless of how close or remote the construction site is, we will ensure your doors are delivered safely and on time. We have modern trailers and trucks that can safely transport doors of any size, weight, and number. Our services are easy to book by calling, emailing, or filling out the form on our website. Our door shipping specialists are ready to process your shipping request all year round. Call Wide Load Shipping to make a booking today.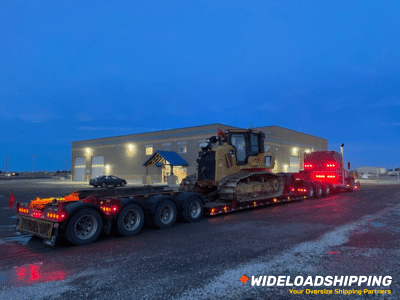 How to Protect Doors During Transport
Doors are delicate and must be handled carefully to ensure they arrive in good condition. We transport various doors, including wooden, glass sliding, and aluminum. Depending on the material, we use different tactics to protect them. For example, when shipping sliding glass doors, we ensure they're well cushioned and loaded upright.  In addition, we ensure the edges against the supporting structure have foam sheets, styrofoam, or cardboard to absorb the impact shock when on the move to prevent the glass from breaking. We use strong straps to ensure the doors are well secured for transport because there's high chance or breaking if they're loose. We use non-slip material on the floor of the trucks to ensure the delicate doors don't slide during movement. 
Get a Free Transport Quote Today!
We Fully Insure Your Doors Before They're Dispatched
The best part about working with Wide Load Shipping is that your doors will be fully insured for transport before they're loaded on a trailer. Doors such as those made of glass are very delicate, and it's better to be safe than sorry. We take photos of them before transport to show if they have dents or cracks and fill out a bill of lading form. That form helps us know if they're delivered in a similar condition. Our loading and unloading team is well-trained to ensure your doors are handled with care throughout the process. Our drivers are experienced and familiar with the most convenient routes to ensure your doors are delivered anywhere you need them on time. Doors can be shipped on trailers or on trucks. During winter or heavy rains, we ensure they're covered to protect them from elements and moisture that pose a danger to the wooden doors. 
Transport Your Load On The Right Trailer With Us
Double Drop Deck Trailer
Max Dimensions: 29FT Length, 8.5FT Width, and 11.5FT Height
Max Weight: 45,000LBS

Step Deck Trailer
Max Dimensions: 53FT Length, 8.5FT Width, and 11.5FT Height
Max Weight: 48,000LBS

Removable Gooseneck Trailer (RGN)
Max Dimensions: 53FT Length, 8.5FT Width, and 11.6FT Height
Max Weight: 150,000LBS

Flatbed Trailer
Max Dimensions: 53FT Length, 8.5FT Width, and 8.5FT Height
Max Weight: 48,000LBS

Affordable Door Shipping Services Across the Country
The cost of shipping doors depends on the number, material, weight, dimensions, and distance. The more the doors, the more you will pay because they require larger and more specialized trucks. Doors made of glass require more resources, such as blankets to protect them than aluminum ones, thus costing more to ship. Our specialists identify suitable trailer for transport based on the specifications of your shipment. The importance of hiring a professional like us when shipping doors is that you know we will take good care of them to the last step. Regardless of the location of your construction site, allow us to transport your doors. Get your free shipping quote today!
Your dedicated transport agent provides you with an all-inclusive quote tailored to fit your needs. We pull the permits, handle route surveys, find the best driver, and more.
Once everything is in place, a driver is dispatched to pick up your heavy equipment. Your equipment is safely loaded and secured before setting off.
Your dedicated agent is available throughout the entire journey to answer any questions you may have. Your oversize load is delivered safely and on time. Get your transport quote now!