Everything You Need To Know About Fiberglass Pool Transport
Fiberglass pools are manufactured on mold, thus the different shapes and sizes. While other types, such as vinyl pools and concrete pools, are constructed on the ground, fiberglass pools arrive in shells ready to be installed and filled with water for use. Wide Load Shipping understands that fiberglass pools can be delicate, and we do our best to ensure they're handled carefully. We have a team of specialists who will choose a suitable trailer for transport, acquire the necessary documents for transport, and plan the shipment. Call Wide Load Shipping today for a free quote.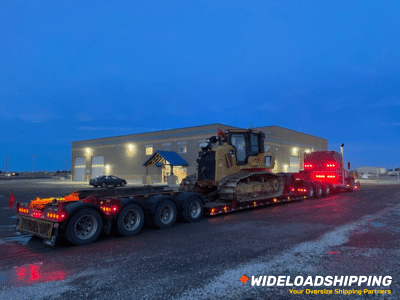 What Are The Benefits of Owning A Fiberglass Pool
We use cranes to load and unload fiberglass pools and secure them for transport. Regardless of the shape and size of a fiberglass pool, we will ship it safely. Compared to vinyl and concrete pools, fiberglass pools have their advantages. Below are some of the benefits of having a fiberglass pool in your backyard. 
Fiberglass pools are less likely to be punctured, which gives them a longer life. Also, unlike other pools that can be damaged by dog claws, ends of pool poles, and other objects, these pools aren't easily damaged.
As mentioned above, fiberglass pools are very durable, reducing maintenance costs. In addition, they have a smooth surface that prevents algae growth, which is a common problem with pools with more crevices. Therefore, they require less cleaning.
3. No Liner Replacement or Resurfacing is Needed
Swimming pools that have vinyl liners require replacement from time to time. However, since fiberglass pools don't have liners, they don't require replacement or resurfacing. In addition, they don't need to be washed with acid every few years like concrete pools. 
These pools are manufactured as one piece, which can be installed within a week. In addition, unlike concrete pools and vinyl liner pools that require to be installed under specific weather to prevent damage, fiberglass pools can be installed at any time. As a result, they're not susceptible to harsh weather conditions like high temperatures or rain.
All swimming pools require to be maintained to protect them from damage. Despite fiberglass pools having a higher upfront cost than vinyl liner pools, they cost less to maintain in the long run. 
Get a Free Transport Quote Today!
The Best Manufacturers of Fiberglass Pools
Wide Load Shipping transports fiberglass pools from every manufacturer. Below are the common ones we move across all 50 states, Canada, and Mexico; 
Aquatechnics Pools

Barrier Reef Pools

Hatteras Fiberglass Pools

Latham Pools

Alaglass Fiberglass Pools

Leisure Fiberglass Pools

Sun Fiberglass Pools

Tallman Fiberglass Pools

Lonestar Fiberglass Pools

Thursdays Pools

American Fiberglass Pools

Custom Fiberglass Pools

Water World Fiberglass Pools

San Juan Pools

Aviva Fiberglass Pools

Imagine Fiberglass Pools
Transport Your Load On The Right Trailer With Us
Double Drop Deck Trailer
Max Dimensions: 29FT Length, 8.5FT Width, and 11.5FT Height
Max Weight: 45,000LBS

Step Deck Trailer
Max Dimensions: 53FT Length, 8.5FT Width, and 11.5FT Height
Max Weight: 48,000LBS

Removable Gooseneck Trailer (RGN)
Max Dimensions: 53FT Length, 8.5FT Width, and 11.6FT Height
Max Weight: 150,000LBS

Flatbed Trailer
Max Dimensions: 53FT Length, 8.5FT Width, and 8.5FT Height
Max Weight: 48,000LBS

Transport Your Fiberglass Pool At Affordable Costs
Wide Load Shipping will deliver your fiberglass pool safely and at affordable rates. We have resources such as cranes to help us load and unload fiberglass pools safely. We understand fiberglass pools are delicate, and we ensure they're handled with total care for safety.  Every fiberglass pool we transport is fully insured against damage. If your fiberglass pool exceeds the legal limits, we will ensure the right permits accompany it. We transport fiberglass pool models from all the manufacturers. Call Wide Load Shipping for a free quote.  
Transporting a Fiberglass Pool
Specs: 40L 15.5W 4H
Weight: 3500Lbs
Origin: Miami, FL
Destination: Ambridge, PA
Broker Name: Corey A.
Fiberglass Pool On a Hotshot
Specs: 40L x 10W x 12H
Weight: 4800lbs
Origin: Friant, CA
Destination: Camdenton, MO
Broker Name: Andrew R.
Shipping a Fiberglass Pool
Broker Name: William T.
Your dedicated transport agent provides you with an all-inclusive quote tailored to fit your needs. We pull the permits, handle route surveys, find the best driver, and more.
Once everything is in place, a driver is dispatched to pick up your heavy equipment. Your equipment is safely loaded and secured before setting off.
Your dedicated agent is available throughout the entire journey to answer any questions you may have. Your oversize load is delivered safely and on time. Get your transport quote now!