Local and International Sailboat Shipping Services
Have you bought your dream sailboat and want to transport it to your location, or do you wish to relocate it to a different sailing destination? The first step is to look for a reliable sailboat shipping company with the equipment, expertise, and networks to safely and timely ship your sailboat. Wide Load Shipping provides unmatched local and international sailboat shipping solutions. Also, our logistics experts will provide a tailored sailboat shipping solution that will take care of all your sailboat transport needs.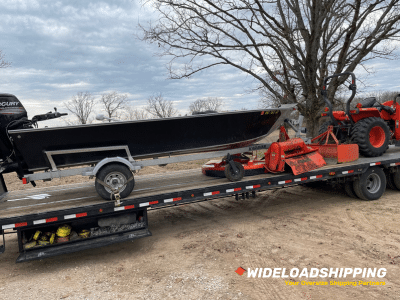 Get Your Shipping Estimate
Transport Your Load With The Best Company In The Industry
How to Load and Unload a Sailboat on a Trailer
Loading and unloading a sailboat onto a trailer requires careful preparation and execution to ensure the safety of your sailboat and the crew involved. The first step is to remove detachable items from the sailboat, such as rigging, radar, winches, wind indicators, and lights from the mast. Our transport experts will use the travel lift at the marina to load your sailboat onto the trailer for transport. Once the sailboat is fully loaded onto the trailer, we will attach the bow and stern straps to secure it in place. We will ensure the boat is evenly balanced and well-secured on the trailer. Once we arrive at your destination, we will safely unload your sailboat. Our skilled driver will remove the stern straps and bow and gradually ease the sailboat into the water. We will reattach the detachable items and ensure everything is properly secured and installed. The loading and unloading process varies depending on the weight and size of your sailboat. Common dimensions and weight of sailboats include small boats with a length of 8 to 20 feet and a weight of 100 to 600 pounds, sailboats weighing 2,000 to 15,000 pounds and a length of 20 to 40 feet, and offshore sailboats that weigh 15,000 to 60,000 pounds and 60 feet long. Also, if your sailboat weighs over 60,000 pounds and is 100 feet, we have the right trailer to transport it.
Common Sailboats we Transport include:
Cruising Sailboats Transport

Daysailers Sailboat Transport

Motorsailers Sailboat Shipping

Racing Sailboats Transport

Racer-Cruisers Sailboat Shipping

Sailing Dinghies Sailboat Transport
Why Choose Wide Load Shipping Sailboat Shipping Services
With over a decade of experience in the logistics industry shipping oversized loads, we can help ship your sailboat safely and timely. When you work with us, you receive a sailboat shipping solution fully tailored to your needs. Our logistics agents will arrange the pick-up as soon as possible and plan the best routes. They will also guide you through every step of the shipping process. We are transparent in all our dealings and will provide you with an all-inclusive shipping quote that includes everything you require, from pilot cars to loading assistance and other necessities for shipping a sailboat. The top benefit of choosing Wide Load Shipping for transporting a sailboat is that you get top-quality services from an experienced and reliable team of experts. Our drivers are thoroughly vetted, bonded, and skilled to transport your sailboat where it needs to be. Call now, and let's get started! ((877) 792-5056
Get Your Shipping Estimate
Transport Your Load With The Best Company In The Industry
Ship with the Best Sailboat Shipping Company
A sailboat is a costly investment that can be difficult to transport without a suitable trailer and the best expertise. Wide Load Shipping has the resources, expertise, and specialized equipment to provide clients with safe and fast sailboat transport services. Common trailers we use to ship sailboats include flatbed, double-drop deck trailers, step deck trailers, and removable gooseneck trailers (RGN). Once you contact us, we will walk you through every detail of the sailing process and plan the best route to ship your sailboat. We will also get the necessary permits for transporting oversized loads. Call us today for a free sailboat shipping estimate! (877) 792-5056
Your dedicated transport agent provides you with an all-inclusive quote tailored to fit your needs. We pull the permits, handle route surveys, find the best driver, and more.
Once everything is in place, a driver is dispatched to pick up your heavy equipment. Your equipment is safely loaded and secured before setting off.
Your dedicated agent is available throughout the entire journey to answer any questions you may have. Your oversize load is delivered safely and on time. Get your transport quote now!