How To Transport Roofing Shingles Safely
The first step in ensuring your roofing shingles are shipped and delivered safely is identifying a qualified shipping company like Wide Load Shipping. A company that has to have resources and experience to ensure your roofing shingles are handled with utmost professionalism. Roofing shingles are delicate, and a wrong move could mean a big loss. To protect your roofing shingles, Wide Load Shipping will fully insure them and add your name to a copy of our insurance. If anything were to happen to your roofing shingles while under our care, we will compensate you. We have modern state-of-the-art trailers of different sizes that will transport roofing shingles of any number, size, and weight. Wide Load Shipping offers roofing shingles shipping services across all 50 states, Canada, and Mexico. Call today for a free estimate.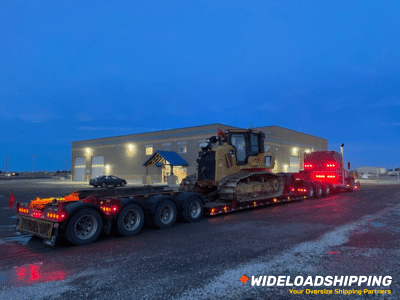 Roofing Shingles Transport 101: Wide Load Shipping
Roofing shingles are used for decorating and protecting houses from harsh weather. They can be rectangular pieces of asphalt, flat, or composite. Roofing shingles are installed from the base of the roof upwards in an overlapping technique to protect materials underneath, such as vapor barrier and plywood. Shingles are packed in bundles, depending on the size. For example, standard-size shingles (12''by36") are 29 per bundle, asphalt 3-tab roof shingles are 26 per bundle, and architectural shingles are 21 per bundle. Below are the common types of shingles we transport.
3 Tab Shingles

Dimensional Shingles

Luxury Shingles

Aluminum Shingles

Standing Seam Metal

Corrugated Steel

Wood Shingles

Wood Shake Shingles
Clay Tiles

Concrete Tile

Slate Tile

Impact-Resistant Shingles

Composition Shingles

Solar Panels

Copper Shingles

Strip Shingles

Rubber Roof Shingles
Get a Free Transport Quote Today!
Affordable and Timely Roofing Shingles Shipping Services
Wide Load Shipping offers affordable roofing shingles transport services. Whether you're a homeowner, a contractor, or a construction worker, we will help you transport roofing shingles safely. We know the best techniques to ensure your roofing shingles are loaded and unloaded safely. A rigger crew is present at the pick-up and drop-off location to oversee the process and ensure they're well secured before being dispatched. We use cranes to load and unload roofing shingles because they're fast and efficient. Flatbed trailers, dry vans, or full truckload freight do transportation of roofing shingles. Less than truckload mode of transport can also be used when transporting roofing shingles in small numbers. 
Transport Your Load On The Right Trailer With Us
Double Drop Deck Trailer
Max Dimensions: 29FT Length, 8.5FT Width, and 11.5FT Height
Max Weight: 45,000LBS

Step Deck Trailer
Max Dimensions: 53FT Length, 8.5FT Width, and 11.5FT Height
Max Weight: 48,000LBS

Removable Gooseneck Trailer (RGN)
Max Dimensions: 53FT Length, 8.5FT Width, and 11.6FT Height
Max Weight: 150,000LBS

Flatbed Trailer
Max Dimensions: 53FT Length, 8.5FT Width, and 8.5FT Height
Max Weight: 48,000LBS

Transport Your Roofing Shingles With The Best Company
When shipping roofing shingles with us, your shipment is handled by a dedicated specialist who will identify the best method of transport, process paperwork, and acquire permits if necessary. We understand the shipping regulations of all states, and we will ensure they're followed to avoid being fined. Our roofing shingles transport services are available all year round, and you can make a booking through a call, email, or fill out the short form on our website. We have over a decade of experience, and we will take good care of your roofing shingles until they're delivered safely. Wide Load Shipping offer door to door and terminal to terminal roofing shingles shipping services. Call us today for a free quote.  
Your dedicated transport agent provides you with an all-inclusive quote tailored to fit your needs. We pull the permits, handle route surveys, find the best driver, and more.
Once everything is in place, a driver is dispatched to pick up your heavy equipment. Your equipment is safely loaded and secured before setting off.
Your dedicated agent is available throughout the entire journey to answer any questions you may have. Your oversize load is delivered safely and on time. Get your transport quote now!