Heavy Duty Truck Shipping Services You Can Rely On
Step into a world where shipping excellence meets unwavering efficiency. With a legacy steeped in outstanding service and an unyielding dedication to client satisfaction, we have etched our name as a frontrunner in the transportation industry. With a team of seasoned professionals and a wealth of experience, we proudly stand as your go-to destination for all things related to heavy-duty truck shipping services. Our journey is defined by safety, reliability, and unparalleled attention to detail that ensures every heavy-duty truck reaches its intended destination securely and precisely on schedule.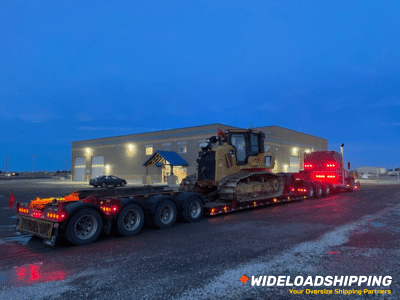 Transport Heavy Duty Trucks With Us All Year Round
Unraveling the essence of our expertise, heavy duty truck shipping services encompass the intricate process of transporting trucks designed for difficult tasks across diverse industries. From construction and mining to agriculture and logistics, we do it all. These industries heavily rely on the uninterrupted transportation of these robust vehicles to fuel their productivity and ultimate success. Our specialized shipping services play an integral role in safeguarding these indispensable assets. We ensure their seamless delivery to their intended destinations. The significance of our services is best illustrated when considering the multifaceted challenges presented by heavy duty truck shipping. These challenges extend beyond the sheer physical dimensions of the vehicles and encompass factors such as strategic route planning, secure loading and unloading procedures, meticulous compliance with stringent transportation regulations, and the prevention of potential damage during transit. By selecting our services, you're embracing a partner that not only comprehends the complexities of heavy duty truck shipping but also surpasses expectations at every juncture.
Get a Free Transport Quote Today!
Modern Solutions For Heavy Duty Transport Services
Our services serve as the crucial conduit between manufacturers, dealers, and end-users, facilitating the smooth transition of heavy-duty trucks from their origin to their ultimate purpose. Within the diverse tapestry of industries we serve, our heavy duty truck shipping services emerge as a driving force behind growth, productivity, and operational continuity. Our services extend a lifeline for businesses aiming to expand their fleets by ensuring the seamless incorporation of new vehicles into their ongoing operations. Similarly, enterprises seeking to retire aging equipment can confidently rely on us to facilitate the efficient removal of unusable vehicles and the timely arrival of their state-of-the-art replacements. Furthermore, our services lend a helping hand to organizations undertaking ambitious relocation projects, guaranteeing that their heavy duty trucks traverse the distance to their new home without a hitch. Ensuring a smooth and secure transit provided by our services is priceless, allowing clients to focus their energy on core operations while entrusting the intricate transportation task to our seasoned professionals. All our heavy-duty truck shipping services are brought to you by well-trained experts.
Transport Your Load On The Right Trailer With Us
Double Drop Deck Trailer
Max Dimensions: 29FT Length, 8.5FT Width, and 11.5FT Height
Max Weight: 45,000LBS

Step Deck Trailer
Max Dimensions: 53FT Length, 8.5FT Width, and 11.5FT Height
Max Weight: 48,000LBS

Removable Gooseneck Trailer (RGN)
Max Dimensions: 53FT Length, 8.5FT Width, and 11.6FT Height
Max Weight: 150,000LBS

Flatbed Trailer
Max Dimensions: 53FT Length, 8.5FT Width, and 8.5FT Height
Max Weight: 48,000LBS

Industry's Leading Heavy Duty Truck Transport Company
Our company's heartbeat pulses with an unwavering commitment to delivering unparalleled heavy duty truck shipping services that go beyond transportation. We are not just movers of vehicles; we are facilitators of growth and innovation across industries. Our holistic approach encompasses meticulous planning, unwavering adherence to stringent safety standards, and an unshakeable customer-centric ethos that prioritizes your needs. If you seek a partner that comprehends the essence of heavy duty truck shipping services and is armed with the expertise to deliver results that exceed expectations, your search concludes here. Connect with us today to experience a service that epitomizes heavy-duty truck shipping services commitment – not just in name but in every aspect of our service delivery. Your heavy duty trucks deserve nothing precision and professionalism, and with us, they're set to journey to their destinations in the most capable hands. Embrace reliability and an elevated standard of service by selecting our heavy duty truck shipping services – where your satisfaction is not just our goal but our driving force. Contact us today, and one of our consultants will be right with you. 
Bell B30E Articulated Dump Truck Haul
Specs: 32.7L 10.8W 11.2H
Weight: 44,800Lbs
Origin: Canastota, NY
Destination: Aledo, TX
Broker Name: Jamie H.
Transporting a 2008 Mack GU713 TA Dump Truck
Specs: 28L 9.6W 11.1H
Weight: 32,000Lbs
Origin: Punxsutawney, PA
Destination: Bristol, RI
Broker Name: Ronald T.
Kenworth Mixer Concrete Truck Haul
Specs: 27L 8.5W 12.6H
Weight: 30,000Lbs
Origin: Omaha, NE
Destination: Salem, OR
Broker Name: Eric H.
Your dedicated transport agent provides you with an all-inclusive quote tailored to fit your needs. We pull the permits, handle route surveys, find the best driver, and more.
Once everything is in place, a driver is dispatched to pick up your heavy equipment. Your equipment is safely loaded and secured before setting off.
Your dedicated agent is available throughout the entire journey to answer any questions you may have. Your oversize load is delivered safely and on time. Get your transport quote now!