Tailored Custom Equipment Hauling Services
We have diverse carriers ready to cater to varied needs. Our custom equipment shipping services offer a diverse range of carriers to match the unique requirements of your specialized cargo. As a leading shipping company, we understand that custom equipment comes in various sizes, shapes, and configurations, each requiring distinct handling methods. From oversized machinery to delicate scientific instruments, our fleet of carriers is equipped to accommodate a broad spectrum of custom equipment, ensuring their secure transit. In our years of offering custom equipment shipping services, we have accumulated resources to help make our clients' shipping needs more manageable.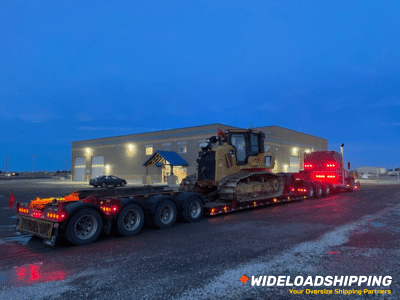 Specialized Custom Equipment Shipping Services
We have adopted emerging technologies to develop the best custom equipment shipping services that allow clients to ship any size and shape of equipment they need. We have what it takes to be your trusted shipping companion.  Our experienced team evaluates the specific characteristics of your custom equipment to determine the most suitable carrier for transportation. We possess a variety of carrier options, including flatbed trucks, enclosed trailers, and specialized containers. This diversity enables us to tailor our custom equipment shipping services to your cargo's precise dimensions, weight, and sensitivity. With our commitment to excellence, your custom equipment will be transported using the carrier best suited to its unique specifications. Our consultants are always on standby to discuss options with you.Our status as industry leaders in custom equipment shipping services is a testament to our unwavering dedication to precision, reliability, and customer satisfaction. We have consistently demonstrated our ability to handle intricate shipments, meeting the complex demands of transporting custom equipment. As a trusted shipping company, we have earned the respect and trust of our clients by delivering exceptional service beyond conventional transportation methods. 
Get a Free Transport Quote Today!
Pioneers in Custom Equipment Shipping
Our extensive experience in custom equipment shipping has enabled us to refine our processes, ensuring seamless execution from start to finish. We have consistently adapted to industry advancements, incorporating the latest technologies and methodologies to enhance our services. Our reputation as pioneers in custom equipment shipping services showcase our commitment to innovation and our clients' success. By choosing us, you're selecting a partner with a proven track record of excellence. When you select our custom equipment shipping services, it means you are partnering with an award-winning team that upholds the highest industry standards. From the moment your custom equipment is entrusted to us, we take on the responsibility of its secure handling, meticulous packaging, and timely delivery. Our expertise guarantees proper care and precise execution, ensuring that your custom equipment arrives at its destination in optimal condition.
Transport Your Load On The Right Trailer With Us
Double Drop Deck Trailer
Max Dimensions: 29FT Length, 8.5FT Width, and 11.5FT Height
Max Weight: 45,000LBS

Step Deck Trailer
Max Dimensions: 53FT Length, 8.5FT Width, and 11.5FT Height
Max Weight: 48,000LBS

Removable Gooseneck Trailer (RGN)
Max Dimensions: 53FT Length, 8.5FT Width, and 11.6FT Height
Max Weight: 150,000LBS

Flatbed Trailer
Max Dimensions: 53FT Length, 8.5FT Width, and 8.5FT Height
Max Weight: 48,000LBS

Award-Winning Provider of Custom Equipment Transport Services
Our dedication to exceeding expectations has not gone unnoticed – we have been recognized as the best provider of custom equipment shipping services in the industry. Our commitment to precision, safety, and customer-centric solutions has garnered prestigious awards that underline our status as leaders in the field. These accolades reflect our continuous efforts to elevate the standards of equipment transport services and offer unparalleled quality to our clients. Our shipping company is your premier choice when you require efficient, reliable, and expert custom equipment shipping services. Our diverse carrier options, industry leadership, and award-winning status showcase our commitment to delivering unmatched service. Your custom equipment deserves the best care; we ensure they receive it from start to finish. Reach out to us to discuss your custom equipment shipping requirements. Experience excellence in custom equipment shipping services with our year-round available services. Allow us to customize a transportation plan that aligns with your specific needs, ensuring your specialized cargo's secure and timely delivery. Entrust us with the responsibility of transporting your custom equipment and experiencing our services' excellence. Your custom equipment represents your innovation and deserves the finest shipping solutions.
Your dedicated transport agent provides you with an all-inclusive quote tailored to fit your needs. We pull the permits, handle route surveys, find the best driver, and more.
Once everything is in place, a driver is dispatched to pick up your heavy equipment. Your equipment is safely loaded and secured before setting off.
Your dedicated agent is available throughout the entire journey to answer any questions you may have. Your oversize load is delivered safely and on time. Get your transport quote now!